Sam Elliott's Wife And Their Daughter Cleo Have A Troubled Relationship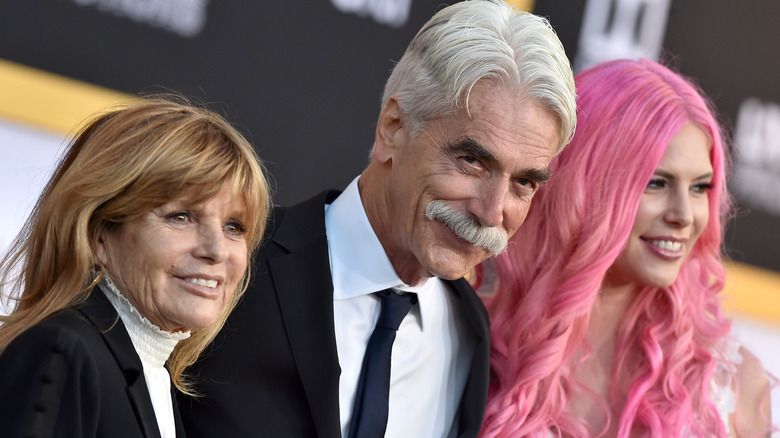 Axelle/bauer-griffin/Getty Images
Sam Elliott and his wife, Katharine Ross, have one of the longest-lasting marriages in Hollywood, having been married for nearly four decades. The pair first crossed paths on the set of the Western drama "Butch Cassidy and the Sundance Kid" in the late '60s. However, it wasn't until they worked together in the 1978 horror film "The Legacy" that they actually connected. Since tying the knot in 1984, the "Yellowstone" star and his wife have been going strong. "I think really what it boils down to is we love each other, and we work at it," Elliott told NPR in 2017. "And I think more importantly than anything, it takes wanting to be married." He added, "The two things that I wanted in my life were to have a movie career and to be married, to have a family. And it's an embarrassment of riches that I've got both."
Elliott and Ross welcomed their daughter, Cleo Rose Elliott, on September 17, 1984 — just four months after they got hitched. Cleo followed in her parent's footsteps by joining the entertainment industry as a musician. Speaking with Parade in 2017, Elliott said there's nothing that he loves more than being a father to Cleo. "It completes me. I've been married one time and I have one daughter, who I love more than anyone in the world. And that's where my world is." But while Elliott and his daughter share a strong bond, her relationship with Ross is much more troubled.
Katharine Ross once filed a restraining order against her own daughter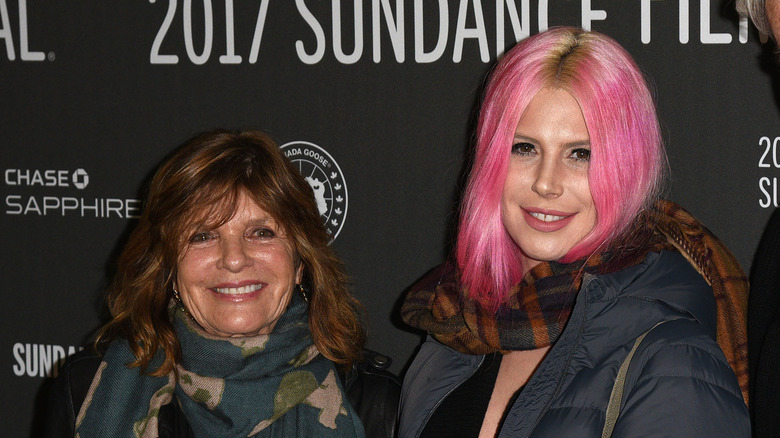 C Flanigan/Getty Images
Sam Elliott's wife, Katharine Ross, and their daughter, Cleo Rose Elliott, didn't always get along. In 2011, Ross — who played the young Miss Robinson in the Oscar-winning film "The Graduate" — filed a restraining order against their daughter after she allegedly attacked her with scissors, as reported by TMZ. In documents she filed in Los Angeles County Superior Court, Ross alleged that Cleo threatened to kill her during a violent outburst at their family home in Malibu, California, on March 2, 2011. She claimed that when she tried calling the police for help, Cleo cut the phone line with scissors and then repeatedly stabbed her in the arm at least six times, "using enough force to pierce my skin through my shirt and leave me with marks that are still visible today," according to People. 
It's unknown what may have started the incident, but according to Ross, Cleo was violent and abusive even as a small child. She added that Cleo became increasingly troublesome during her adolescent years. Per TMZ, a judge approved a restraining order against Cleo, instructing her to stay at least 100 yards away from her mother and move out of their family home. A formal hearing was also scheduled. Nevertheless, a representative for Ross told People that he was not aware of said documents and that Ross has refused to comment on the matter.
Katharine Ross and Cleo Elliott are now on good terms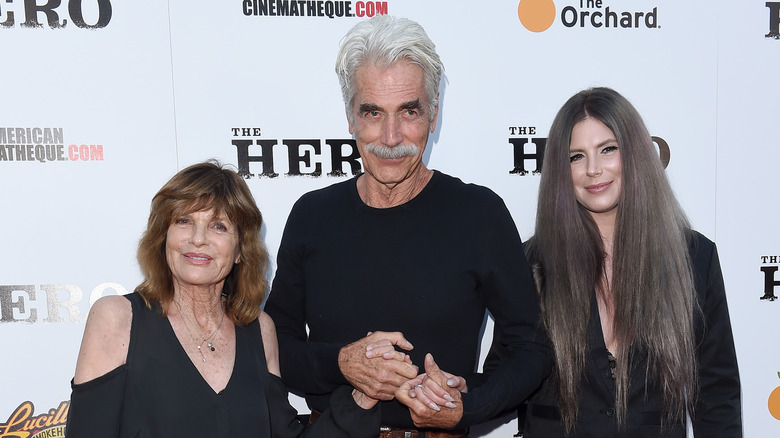 Axelle/bauer-griffin/Getty Images
Fortunately, it seems Katharine Ross and Cleo Rose Elliott have buried the hatchet and put their conflict behind them. In 2017, six years after their alleged feud, the mother-and-daughter duo appeared united as they attended the Los Angeles premiere of Sam Elliott's comedy film "The Hero." As seen in the photo above, the family arrived on the red carpet dressed in matching black outfits, with Elliott holding the hands of both his wife and daughter as they posed for the camera.
In 2018, Ross and Cleo were also seen with Elliott at a special screening of the film "A Star Is Born" in Los Angeles. To mark the occasion, Elliott and Ross dressed in black-and-white suits while Cleo donned a white lace gown with bright pink hair. Moreover, the "Yellowstone" actor and his wife also attended the 91st Academy Awards with Cleo and her then-fiance, Randy Christopher Bates, in 2019. 
Last June, Cleo opened up about her relationship with Ross in a sweet tribute post in honor of Mother's Day. Sharing a photo of the two on Instagram, the singer wrote that Ross is her "best friend in the whole world." She added, "Thank you for being you, and for being the best mom I could ever ask for." Despite feuding in the past, Cleo said, "No amount of gossip or speculation will ever erode our special bond. Happy Mother's Day."