Are Taylor Swift And Emma Stone Still Friends?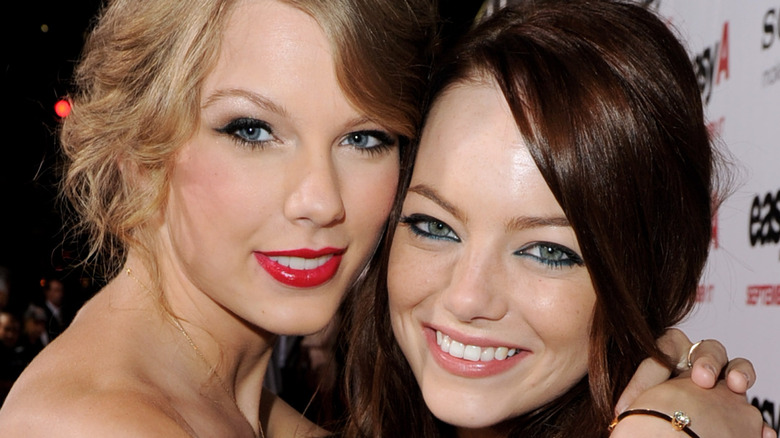 Kevin Winter/Getty Images
Taylor Swift is one of the most famous celebrities in the world, so it only makes sense that she's friends with other famous people, too.
Over the years, we've witnessed how Swift's posse of BFFs evolved, as evidenced in her well-documented trips and parties. She once surrounded herself with big names like Karlie Kloss, Selena Gomez, Cara Delevingne, Gigi Hadid, and more, but her circle became smaller in recent years, with the singer saying how much she values lifelong friendships now. In a 2019 essay penned for Elle, she said that her big squad stemmed from her childhood insecurity of "never being the popular kid." She wrote, "In my twenties I found myself surrounded by girls who wanted to be my friend. So I shouted it from the rooftops, posted pictures, and celebrated my newfound acceptance into a sisterhood, without realizing that other people might still feel the way I did when I felt so alone."
While Swift has chosen to keep her circle smaller and more tight-knit now, fans can't help but wonder if she has remained friends with certain pals, like Emma Stone, whom she has apparently been friends with for decades.
Taylor Swift and Emma Stone go way back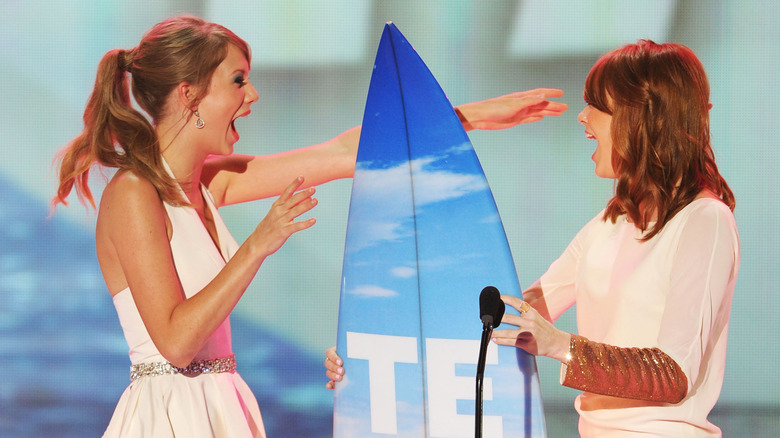 Kevin Winter/Getty Images
Even before they reached superstardom, Taylor Swift and Emma Stone were already the best of friends. In a 2011 interview with PopSugar (via HuffPost), Swift referred to Stone as her sister. "My friends are amazing and I'm so thankful to have them, [but] the ones that are like sisters to me are Selena Gomez and Emma Stone ... They can predict my thoughts; I've known them for so long it's really cool to have friends that are that close."
According to Stone, the two first linked up at an awards show in the late aughts and have become inseparable since. "We met at the Young Hollywood Awards for Hollywood Life magazine," Stone shared with MTV News. "We met there three years ago, and then I listened to some of her music, and I wrote her an e-mail saying I liked her music, I swear. And then we started talking and hanging out."
What's more interesting is that while Swift and Stone's friendship remained relatively low-key through the years, Stone has reportedly played a big part in the singer's relationship with current beau Joe Alwyn. Daily Mail claimed that the actor had introduced the two to each other when she starred with Alwyn on "The Favourite." What are friends for, right?
Taylor Swift and Emma Stone may have drifted apart
Christopher Polk/vf11/Getty Images
But just like with friendships between regular folk, celebrity friendships can fizzle out, too. And that may be the case with Taylor Swift and Emma Stone. While there are no reports that there's some bad blood between them, the two are barely spotted together anymore, nor do they share pictures of them hanging out.
In her Elle essay, Swift wrote about how friendships come and go, and that she's learned to accept that. "Something about 'we're in our young twenties!' hurls people together into groups that can feel like your chosen family. And maybe they will be for the rest of your life. Or maybe they'll just be your comrades for an important phase, but not forever," she shared. "It's sad but sometimes when you grow, you outgrow relationships. You may leave behind friendships along the way, but you'll always keep the memories."
We'll never really know if the two really outgrew each other, but once upon a time, they'd been the best of friends. "We're very different, but she has such a sick sense of humor," Stone told MTV News of their friendship in 2010. "Nobody knows that. She's so great. People know how hilarious she is. They've seen her on 'SNL.' People are seeing it more now, and she's so funny and she's exactly who you think she is, and I love that."