Inside The Real-Life Romance Between The Bold And The Beautiful Stars Darin Brooks And Kelly Kruger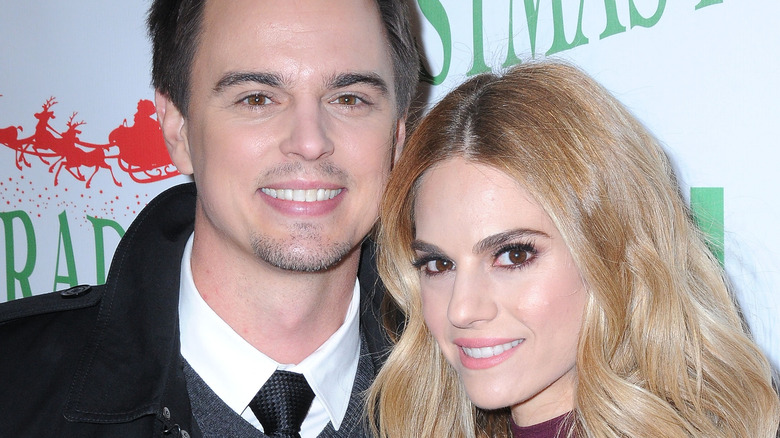 Barry King/Getty Images
Daytime television is filled with some of the greatest romances of our time. Luke Spencer and Laura Webber's wedding on "General Hospital" is still one of the most-watched television events of all time, with 30 million fans clamoring to tune in for their ceremony. And that's only one example of the great romances featured on popular soap operas (via Entertainment Weekly).
That relationship is fictional, but occasionally, chemistry from the set bleeds over into real life, the lines blur, and fiction becomes fact. "The Bold and the Beautiful's" Darin Brooks (Wyatt Spencer) and "The Young and the Restless'" Kelly Kruger (McKenzie Browning) are an example of soap stars cultivating a real-life relationship, building a future — and a family — together. Per Soap Hub, even though their on-screen characters have had a difficult journey in love, Brooks and Kruger seem to have had an easy path since first encountering one another on the series, "Blue Mountain State."
However, like any couple, the journey has been one filled with personal and professional achievements, including the initial dating phase, their luxurious wedding, multiple starring roles together, and of course, the birth of their children. Their story reads like somewhat of a Hollywood fairytale, and for Brooks and Kruger, it's anything but fictional. Their love story transcends the genre they originate from, leaving behind the drama of soaps and instead crafting more of a Hallmark romance. 
Their Hawaiian wedding had a luxurious French theme
The CBS soap opera stars aligned in 2010 when "The Young and the Restless'" Kelly Kruger began dating the man that would ultimately become one of "The Bold and the Beautiful's" leading men. They initially only met because of her appearance on his hit series "Blue Mountain State," which was the catalyst for the emerging love story. Throughout their relationship, a recurring theme is the couple's love affair with Paris and all things French. 
One of their first international dates was in Paris, a location that also served as the backdrop of their 2014 engagement. Brooks popped the question while in France, and he couldn't wait to share the news with his Instagram followers, saying, "Well, I asked her..," followed by an engagement ring emoji. However, their affinity for everything Parisian didn't stop there, as it also played a pivotal role in their 2016 wedding. 
Brooks and Kruger were married in Hawaii, and the entire thing played out like a Parisian fantasy. They incorporated the french style into the wedding decor and infused it with a Hawaiian-inspired menu (via Soaps). Around the same time, the couple starred in a "Blue Mountain State" film together. However, another monumental milestone occurred a few years later for the couple. In April 2019, People broke the news that they were expecting their first child together three years after their wedding. 
Kruger and Brooks have welcomed two daughters since marrying
Darin Brooks and Kelly Kruger welcomed their first daughter, Everleigh Jolie Brooks, on September 22, 2019. The happy couple documented Everleigh's birth in an Instagram post, saying, "Everleigh Jolie Brooks 9/22/19. After a really long journey (and a really long labor!) our precious baby girl is finally here! She was definitely worth the wait! We couldn't be more in love."
If the birth of Everleigh wasn't exciting enough for the husband and wife, they welcomed their second child, daughter Gemma Wynter, in January 2022. Per Soap Opera Digest, the couple was thrilled with the newest addition to their family, telling People, "We are just overjoyed! We couldn't be happier!"
However, advancements in their family life haven't been the only thing keeping the romance alive between Kruger and Brooks. For the 2022 holiday season, the spouses teamed up for an all-new Christmas movie, once again playing love interests. Even though Brooks' appearances on "The Bold and the Beautiful" are few and far between these days, and Kruger hasn't appeared on "The Young and the Restless" in years, they're still making memories together on-screen, albeit a different genre altogether. Their latest endeavor, titled "The Art of Christmas," is slated to premiere on Great American Family on December 10 (via Soaps In Depth).