Cara Delevingne Had A Close Relationship With Karl Lagerfeld Before His Death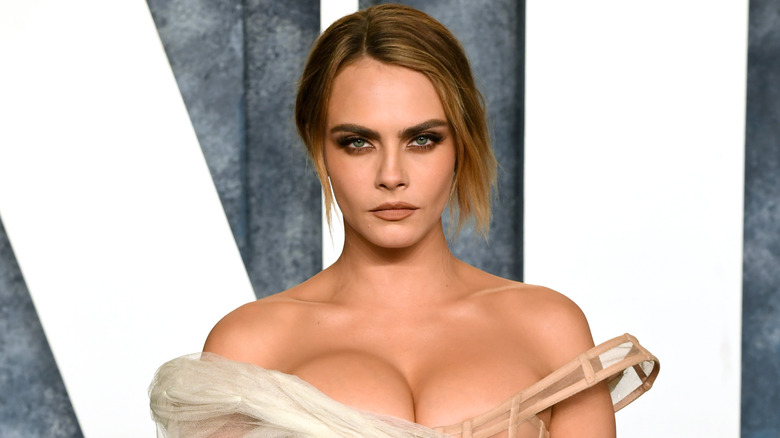 Jon Kopaloff/Getty Images
On February 19, 2019, the fashion industry lost an icon. Karl Lagerfeld, longtime creative director of the luxury fashion brand Chanel, died after suffering complications from pancreatic cancer. Expectedly, the tragic news of his death was met with an outpouring of love and tributes from stars from across the entertainment industry. "So incredibly sad to hear this. Karl was a genius and always so kind and generous to me both personally and professionally. RIP," Victoria Beckham, the former Spice Girl turned designer wrote.  Similarly, Italian designer Donatella Versace of the Versace brand took to social media to pay her last respects to Lagerfeld. "Karl your genius touched the lives of so many, especially Gianni [Versace, her brother] and I. We will never forget your incredible talent and endless inspiration," she penned.
Outside of his many colleagues in the fashion industry, Lagerfeld also had a close relationship with some of the models he worked with over the years. "Karl was my magic dust; he transformed me from a shy German girl into a supermodel. He taught me about fashion, style, and survival in the fashion business. I will be eternally grateful to him," former model Claudia Schiffer once told W Magazine of the late designer. 
But while his relationship with Schiffer might have eventually fallen apart, Lagerfeld's friendship with Cara Delevingne, another of his favorite muses, lasted till the very end. And yes, it was more than just fashion!
Cara met Karl when she was only 20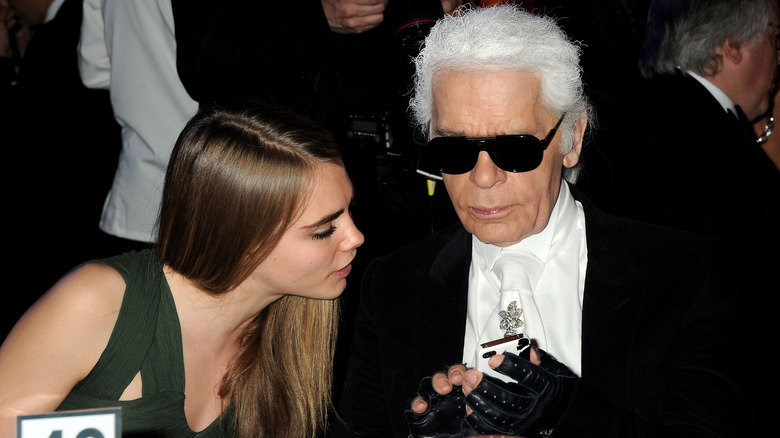 Dave M. Benett/amfar12/Getty Images
2011 was when Cara Delevingne got her big break. That year she walked on the runway for the first time, modeling the Burberry Prorsum A/W collection. The following year, she got an even bigger break when Karl Lagerfeld approached her to walk in his 2012 Chanel couture show. "The first time I met him, I was immediately blown away by his kindness and generosity," she told Grazia of her first time meeting the famous designer. His kindness was, however, not restricted to their first meeting. Right before walking the show, Delevingne recalls her nerves kicking in. That is until Lagerfeld showed up with the exact words she needed to hear. "I couldn't believe I was actually asked to do the show. He walked straight up to me and told me 'You are meant to be here," she recounted in an interview with Vogue.
After her first Chanel show, Delevingne went on to become a regular on Lagerfeld's runway. But fashion was only one of the many ways their relationship blossomed. According to the British model, Lagerfeld was more than just a fashion legend — he was also a mentor to many, including her. "Karl really taught me the importance of embracing your weirdness. He was uniquely himself and didn't care what anyone else thought. I try to live with that attitude every day," she explained in her interview with Grazia.
Karl Lagerfeld influenced Cara in a lot of ways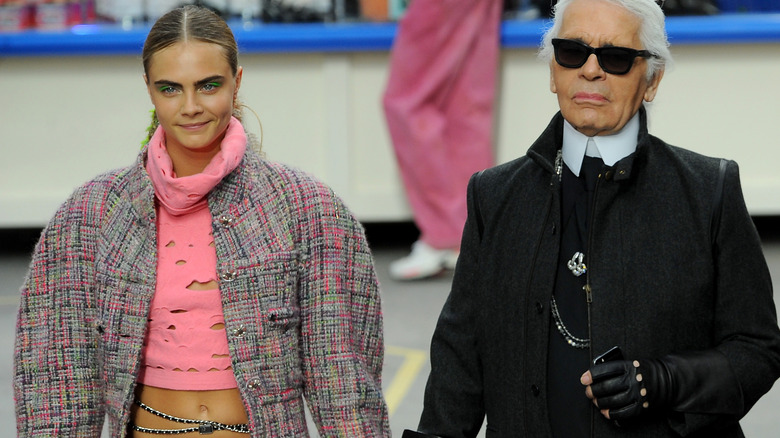 Francois Durand/Getty Images
On February 20, 2019, one day after Karl Lagerfeld's death, Cara Delevingne took to Instagram, penning a heartwarming tribute to the late designer. "Every time I try and write about this man, all I do is cry. He changed my life, he believed in me when so many others didn't including myself," Delevingne started. In her tribute, the British model described Lagerfeld as a friend, adding that he truly cared about those around him. "I am so lucky and grateful to have had him in my life, worked with him, and been able to spend time with him ...  Although now, I wish it had been more," she added. But not even death could hold back Lagerfeld's many influences in Delevingne's life.
In September 2022, Delevingne launched the Cara Loves Karl collection, a gender-neutral line that, according to the website, was inspired by her friendship with Lagerfeld. "I personally dress in a way that allows me to play with gender. So when I was thinking about a collection I wanted to exist but also to be true to my personal style, I knew it needed to be genderless," she said of the collection.
And even though he is long gone, Lagerfeld's legacy lives on in all the lives he touched. Speaking to WWD, Delevingne admitted to having been heavily influenced by the late designer and his works. "He taught me so much more about fashion in terms of its possibilities," she shared.