Celebs Wear Pro-Trump Fashion At The 2019 Grammys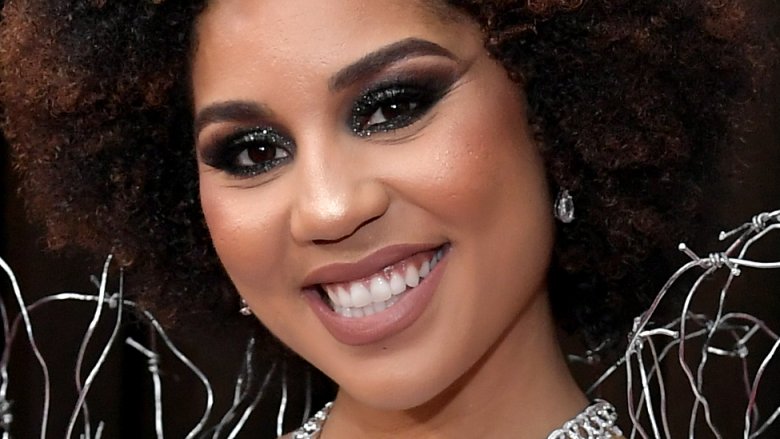 Getty Images
Some stars took the 2019 Grammys as an opportunity to display their support for President Donald Trump.
On Sunday, Feb. 10, 2019, celebs walked the red carpet ahead of the 61st Annual Grammy Awards, and a select few used fashion to show off their political opinions. One such star was singer-songwriter Joy Villa, who donned a gown clearly inspired by the Texas-Mexico border wall that Trump wants to build. As noted by The Hollywood Reporter, she wore an off-the-shoulder silver cape that mimicked steel, under which she donned a white deep-neck gown designed by Desi Lee Allinger-Nelson of Desi Designs Couture that featured a brick-like pattern. On the gown's back were the words "Build the wall" in red.
But Villa didn't keep her message only on her dress. Villa also wore a pointed headpiece, what appeared to be barbed wire around her shoulders, and a red handbag with Trump's motto "Make America Great Again" on it.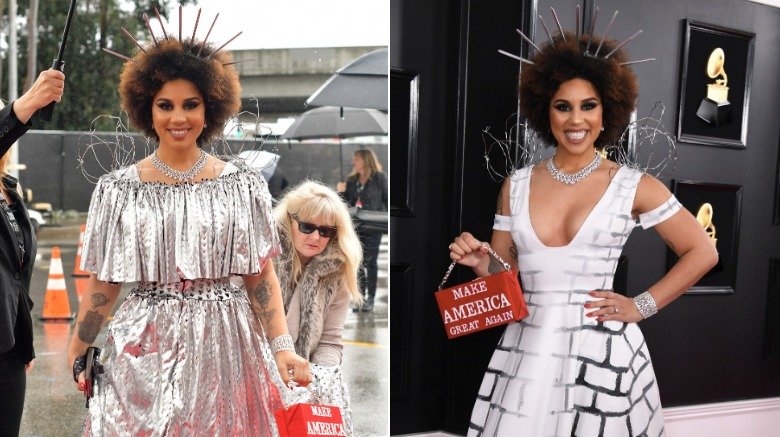 Getty Images
On the Grammys red carpet, Villa, who called herself a "trailblazer," told THR, "I'm here to support the wall, not the president. I love what the president is doing. Higher economy, lowered unemployment for black Americans, Latino Americans, I am both." She continued, "This is my representation of the steel wall. Barbed wire shoulder pieces. A Statue of Liberty. I'm having fun with it."
To Variety, Villa added, "This is what I believe in," explaining, "I believe in the President, I just released an album called Home Sweet Home and it's all about my love for America, barbed wire, I'm having fun with it."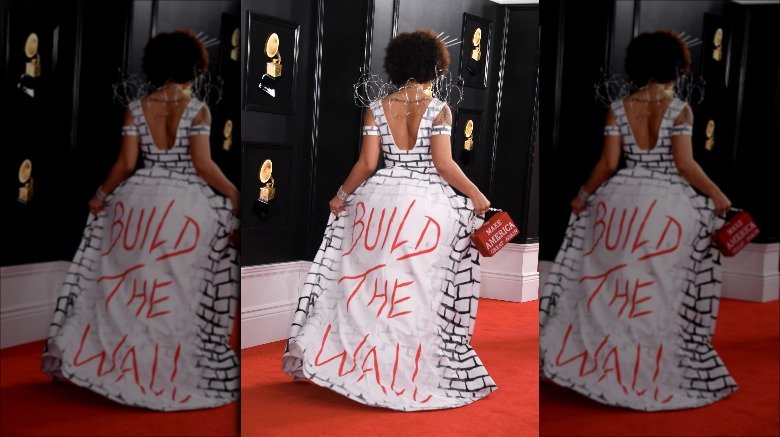 Getty Images
Singer Ricky Rebel also wore a Trump-inspired ensemble to the Grammys. He walked the red carpet in a blue jacket that read "Keep America Great" on its front with "Trump" on its back (via THR). As noted by Entertainment Tonight, Rebel, whose real name is Ricky Godinez, also showed off the year "2020" on his suit jacket in obvious support of a 2020 presidential bid from Trump.
"Well, I'm Ricky Rebel, I have a new album called The New Alpha so I wanted to wear something that represented what an alpha is and who an alpha is and I am the new alpha," Rebel shared with ET. "And I'm reflecting millions of Americans out there who voted for Trump. Keep America great. That's right, baby. We are here. We're here all around the world, 50 million of us."
He went on, "My name is Ricky Rebel and I'm a reflection of America."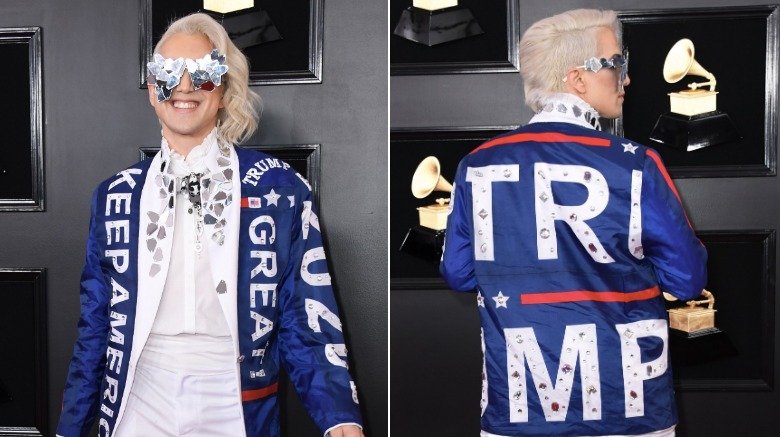 Getty Images
As noted by THR, Rebel's outfit was designed by Andre Soriano ... the very same designer who created Joy Villa's blue pro-Trump gown that she wore at the 2017 Grammy Awards. That gown read "Make America Great Again" on its front and "Trump" on its train. So, it'd appear that Andre Soriano has a clear preference for a certain controversial politician. That or Soriano enjoys rocking the fashion world with unexpected red carpet looks.
As it so happens, Rebel's jacket was reversible. On its opposite side, the jacket was white and featured glitzy embellishments and the words "American Rebel" on its back.
Unsurprisingly, many viewers watching the Grammys red carpet coverage at home were not too pleased seeing Villa and Rebel's outfit choices, as they took to social media to air their grievances.
In response to Villa's gown, one Twitter user wrote, "God joy villa is so annoying," while someone else posted, "We dont need to pay attention to Joy Villa." Another tweeted, "#JoyVilla is back in pure trash box form." Ouch.
As for Rebel, at least one person criticized him for supporting Trump when the singer has advocated for LGBTQ+ rights before, though he told Out magazine in September 2018 that he doesn't consider himself "to be queer, non-binary, gender fluid, or transsexual." One tweet read, "Had to unfollow Ricky rebel because he supports trump and I'm super bummed about it and also very confused ??? I never understand LGBTQ+ people who support him."
As noted by GLAAD, Trump has positioned himself to be notoriously against LGBTQ+ rights.
Another person tweeted two photos of Rebel posing on the red carpet and wrote, "This is Ricky Rebel, who I dont know but who I get a sense is exhausting." So, yeah. It's safe to say that not everyone was a fan of Rebel's look.
While we're all for celebs taking a stand for what they believe in, we have to wonder if these stars even genuinely support Trump and his policies or if they're simply trying to cause a stir in order to get their name in headlines. After all, they both mentioned in red carpet interviews that they have new albums out.