O.J. Simpson Smiles In Creepy New Mugshot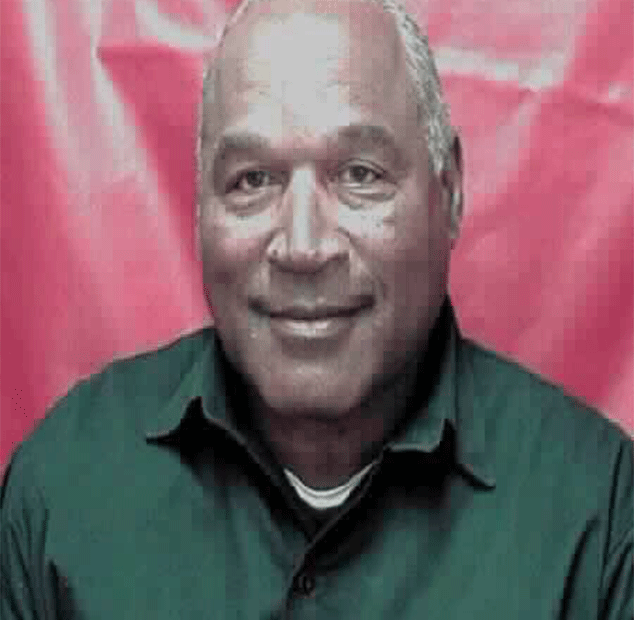 O.J. Simpson is doing something many people haven't seen him do in awhile: smile.
Nevada's Department of Corrections released a brand new mugshot of Simpson, who is currently serving a 33-year sentence for armed robbery in Las Vegas in 2007. In the photo, reportedly taken in May 2016, the 63-year-old Simpson appears to be relaxed as he grins for the camera—a striking contrast from his previous mugs.
This is the first mugshot we've seen of Simpson since 2013. According to ABC News,"fresh photos of inmates are periodically taken to ensure their records are updated."
Interest in the former NFL player escalated in 2016 due, in part, to the critically acclaimed FX miniseries The People v. O.J. Simpson: American Crime Story. The series documents the behind-the-scenes drama that unfolded as Simpson was accused of and later acquitted of murdering ex-wife Nicole Brown Simpson and her friend, Ron Goldman, in 1994. Eyes have also been glued to O.J. because he will be eligible for parole in 2017.
The Juice has already been granted parole on some of the other charges stemming from his shakedown of two sports memorabilia dealers at the Palace Station Hotel in Las Vegas in 2007, but because his sentences were ordered to run consecutively, he still owes some time behind bars. On the day of the crime, O.J. was reportedly trying to reclaim some of his memorabilia.
The disgraced football legend was previously found liable for the deaths of Nicole and Goldman in a wrongful death civil trial in 1997.