Hamilton Wins Big At Tony Awards On Somber, Yet Historic Night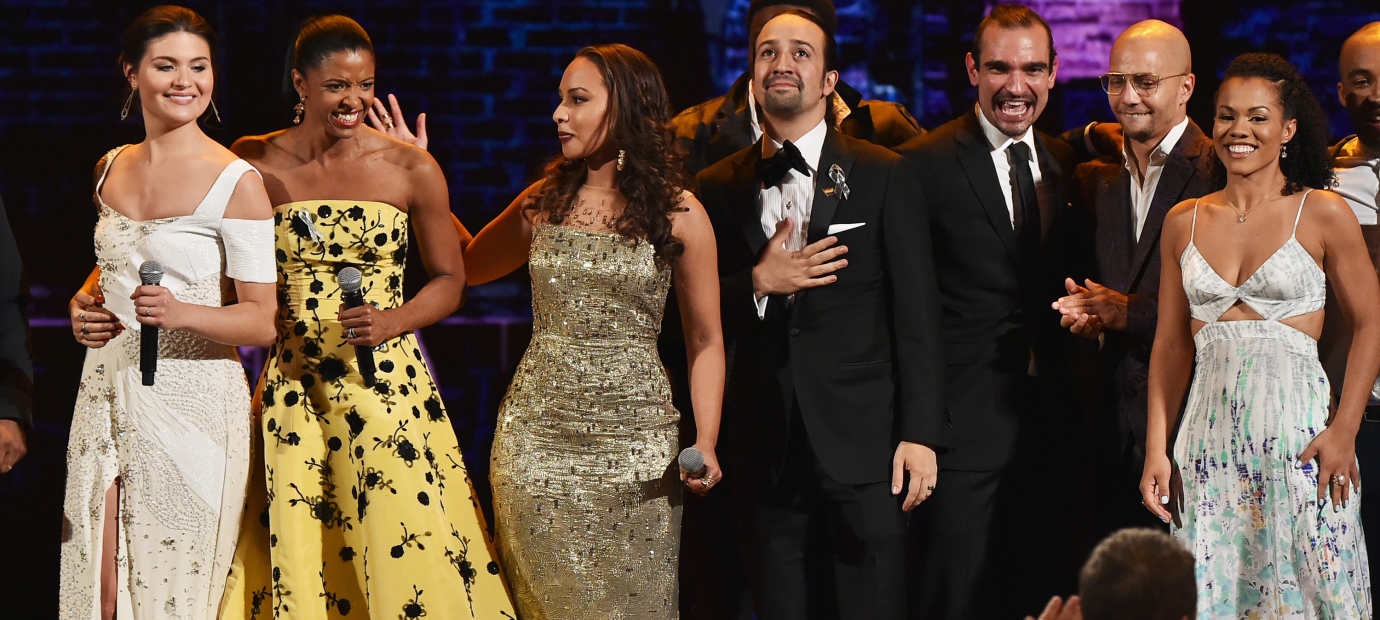 Buying a ticket to Hamilton just got even more difficult.
Lin-Manuel Miranda's critically acclaimed Broadway musical about the rise and fall of America's first Treasury secretary, Alexander Hamilton, dominated the 70th annual Tony Awards on June 12, 2016, taking home 11 trophies, including best musical. The hit show—which has become so popular with audiences that producers have raised its top-priced ticket to a jaw-dropping $849—fell just short of The Producers' record-breaking 12 wins in 2001.
The show helped make history at a crucial moment in the entertainment industry: for the first time ever, all four acting winners in the musical categories were black. Three of those awards went to Hamilton stars Renee Elise Goldsberry, Daveed Diggs, and Leslie Odom, Jr.; the fourth award went to Cynthia Erivo for The Color Purple.
The Tony Awards marked a stark contrast from the 2016 Academy Awards, which received an overwhelming amount of negative press for not including any black nominees for the second-consecutive year. The contrast was mentioned during host James Corden's monologue. "Think of tonight as the Oscars, but with diversity," he quipped.
Additional awards for Hamilton included best original score and best book of a musical.
Though it was a night of celebration, the Tony Awards took on a somber tone throughout much of the telecast, which aired the night after 49 people were shot dead by a gunman at a gay nightclub in Orlando, Fla. The show opened with a brief message from Corden, who announced that the evening was being dedicated to the people affected by Sunday's mass shooting, the deadliest in U.S. history. "You are not on your own," he said. "Your tragedy is our tragedy. Hate will never win. Together we have to make sure of that."
"The show is proof that history remembers," added Miranda later in the show while reading a sonnet he wrote as his acceptance speech. "We live through times when hate and fear seem stronger; we rise and fall and light from dying embers remembrances that hope and love last longer."
Other big wins for the night included Jessica Lange for Long Day's Journey Into Night; Frank Langella for The Father; and the family drama The Humans, which won four prizes, including best play.