Why Jennifer Lopez Thought About Not Getting Married To Alex Rodriguez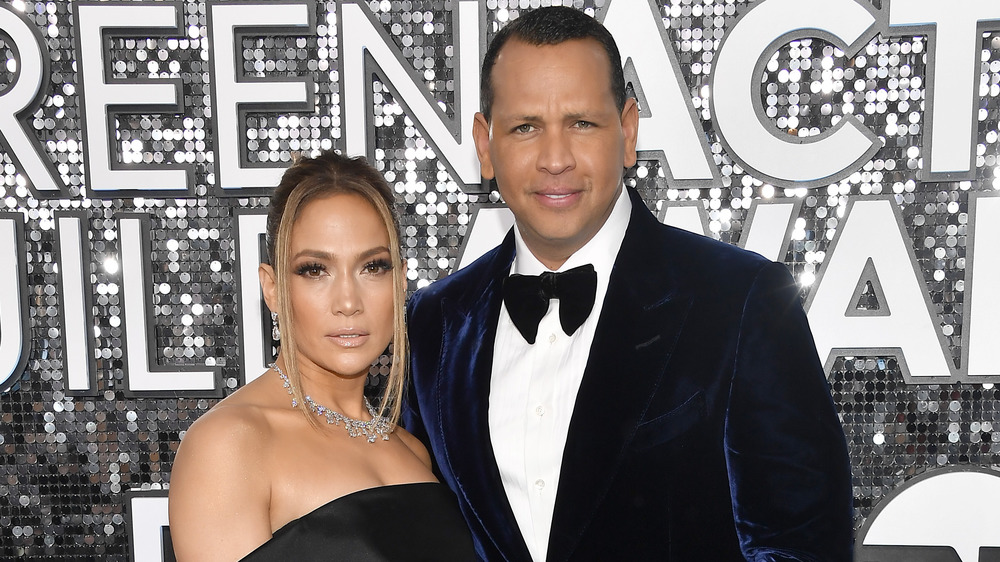 Frazer Harrison/Getty Images
Power couple Jennifer Lopez and Alex Rodriguez first got together in 2017 and have been inseparable ever since. The pair had met a few times throughout their careers, but Rodriguez described the moment when things changed after reconnecting when they saw each other out at a restaurant. On The Ellen DeGeneres Show, Rodriguez noted, "She's dressed up as Harlee from Shades of Blue, and she's in her jeans and her big boots. And it took me about four or five seconds. And she said, 'It's Jennifer! It's Jennifer!' I go, 'Oh my God, Jennifer, you look beautiful.' I was so embarrassed and then I got a little nervous, and I'm like, This is so goofy, we all know who Jennifer is and she's everywhere" (via Elle).
After two years together, Rodriguez popped the question on a vacation in the Bahamas in 2019 with a 15-carat emerald-cut diamond worth a whopping $1.4 million (via Us Weekly). Would you expect anything less than the best from these two? The couple broke the news themselves on their respective Instagram accounts, sharing the same photo of the ring with a gorgeous sunset backdrop. Read on for more details about the pair's original wedding plans and what their future holds.
Jennifer Lopez and Alex Rodriguez were planning to have an Italian wedding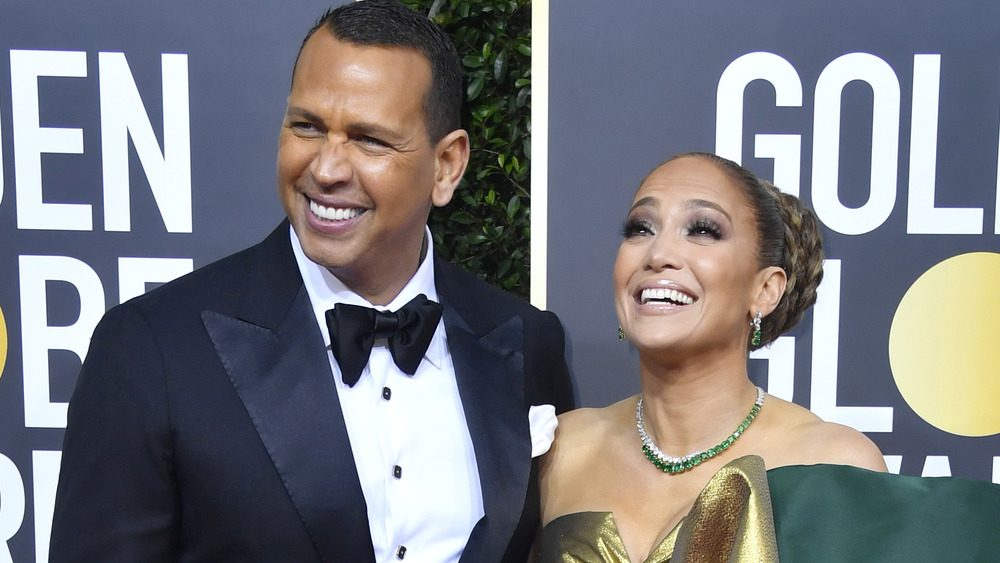 Frazer Harrison/Getty Images
Jennifer Lopez, who gave a jaw-dropping Super Bowl halftime performance alongside Shakira in February 2020, revealed to Andy Cohen on his SiriusXM radio show Radio Andy that she and fiancé Alex Rodriguez were planning on getting married in June 2020 in Italy. "It was really sad because we were supposed to get married in June and we had planned it all. So in March or April, we're looking down the pipe and we're going, 'This is maybe not going to happen,'" the "On the Floor" singer said. "'Italy's the worst place in the world. And we were going to get married in Italy. I was like, 'Okay, we got to cancel everything.' And we had to put out all this money and all this stuff, we were like, 'We gotta cancel it.' So we, we canceled it," she added (via Daily Mail). Lopez also revealed that the couple had thought about trying to get married later in the year, but they ultimately put those plans on hold, too, as the COVID-19 situation was not improving.
During the interview, Cohen brought up Kurt Russell and Goldie Hawn, who have been together for 37 years and never married. To that, Lopez replied, "'Oh yeah, we've talked about that for sure" (via Daily Mail). Lopez added, "I mean at our age, we've both been married before, it's like, do we get married? Do we not? What does it mean for us? And it's just, it comes down to like personal, like, what do you want to do?'" What does this mean for their future, though?
Jennifer Lopez and Alex Rodriguez bought a $30+ million mansion in Miami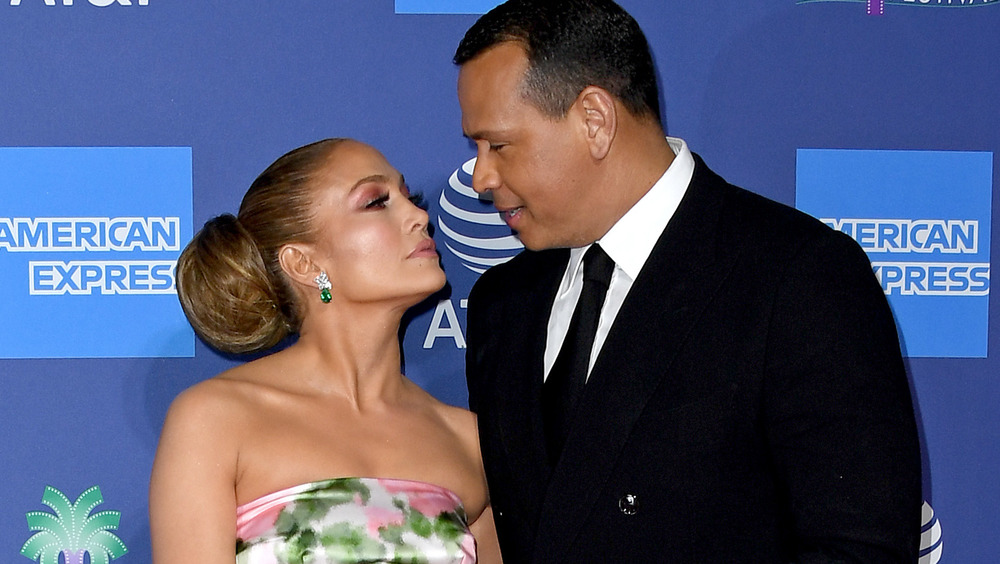 Jon Kopaloff/Getty Images
Jennifer Lopez and Alex Rodriguez's paused wedding plans have not stopped them from making some big real estate moves. The pair purchased a $32.5 million, 10-bedroom mansion in Miami, Fla. on the star-studded Star Island. Current and past residents of the island include Shaquille O'Neal, Sean "Diddy" Combs (who happens to be Lopez's ex), Gloria Estefan, and Rosie O'Donnell. Their new residence is 15,000 square feet and comes with a wine room, a pool, Jacuzzi, and a wooden dock (via Wall Street Journal). Perhaps the couple is looking to spend more time in Miami, as they listed their oceanfront Malibu home for $7.9 million, which they remodeled with the help of Joanna Gaines, according to People. 
Between the Shades of Blue actress and the retired MLB player, the couple has four children. Lopez shares twins Maximilian and Emme with ex-husband Marc Anthony, while Rodriguez shares custody of Natasha and Ella with ex-wife Cynthia Scurtis. And, no matter what Lopez and Rodriguez have planned for the future, we now know they will be living it up in the lap of luxury!