Hugh Jackman Celebrates 21st Anniversary With Wife Deborra-Lee Furness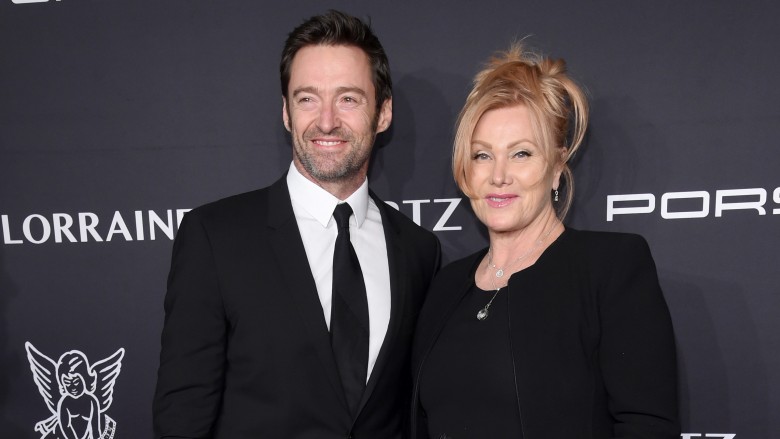 Getty Images
After over 20 years of marriage, Hugh Jackman and Deborra-Lee Furness are still totally aw-worthy.
The Wolverine (2013) star proved as much when he took to Instagram on April 11, 2017 to celebrate their milestone 21st anniversary with an adorable selfie. The photo featured the two smiling together while taking a break from hitting the tennis court. The actor paired the image with a sweet caption: "To the love of my life. 21 glorious years. I love you with all my heart."
And that love has apparently been there from the very beginning. During his Feb. 2016 appearance on The Ellen DeGeneres Show, the triple-threat star couldn't help but excitedly recount the story of how he met his actress-producer wife. As the story goes, they met in 1995 on the set of Corelli (1995), an Aussie TV crime drama. It was Jackman's first job, Furness was the star, and he had a major crush on her.
"I was so embarrassed that I didn't talk to her for about a week," he revealed. But when she later confronted him about the silent treatment, he finally admitted his feelings, and it turned out they were mutual. The sparks flew, as they say, and the Les Misérables (2012) actor concluded, "That was it."
As Entertainment Tonight reported, Jackman, 48, and Furness, 61, married a year later on April 11, 1996 in Melbourne, Australia. The happy couple now boast a beautiful family of four with their two children, Oscar, 16, and Ava, 11.
Last year, Jackman shared a photo from their big day to commemorate their platinum anniversary —and the two look just as happy and in love today as they did back then. Around that time, Jackman gushed again about his wife to Entertainment Tonight. "I was a very, very happy single man when I met my wife, and the moment I met her it was like, 'This is 10 times better than my own life,'" he said. "It's just continued to be like that."
Happy anniversary!