How Much Did Pete Davidson Really Make On SNL?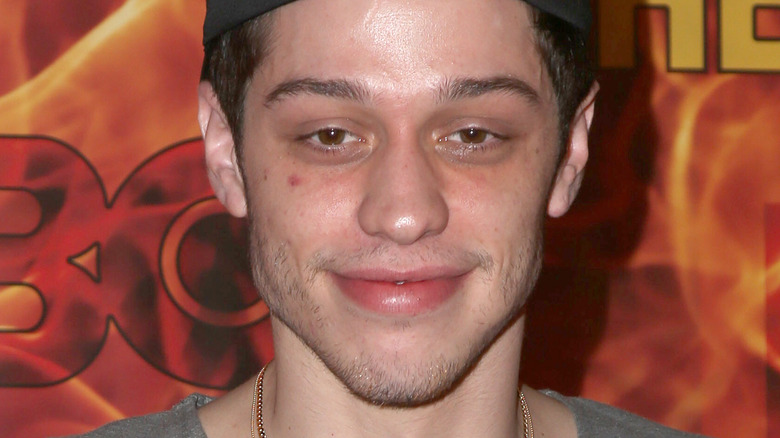 Kathy Hutchins/Shutterstock
Pete Davidson was known as the "Saturday Night Live" funny dude since he joined the show in 2014 at age 20. However, thanks to his high-profile romances, he became a tweenage household name. Anybody who wasn't a social media fanatic was surprised by Davidson and Ariana Grande's seemingly strange relationship. But Bustle notes they were dropping breadcrumbs all over Twitter and Instagram before they officially started dating. 
Davidson and Grande continued to socially share the love throughout their romance, resulting in websites fangirling over his comment game. In fairness, the bar wasn't set high. Elite Daily decreed "Ummmmmm hiiiiiiiiiiii. I'm the luckiest contest winner ever" as one of his "gushiest" and "cute AF" Instagram messages ever. Luckily, "SNL" has a league of writers behind the scenes.
After Grande and Davidson broke up, he somehow managed to outdo his previously unlikely and bizarre relationship. Per Capital FM, Davidson began seeing Kim Kardashian, fresh off her split from Kanye West. She gushed to Ellen DeGeneres that dating Davidson finally provided the happiness she'd always been hunting for. "It feels so good, and I want to hang on to it forever," she said on "The Ellen Show." They were over in nine months. But Davidson had something to hang on to forever — two Kardashian-related tattoos and "Kim" literally branded on his chest.
So, how does Davidson land all the beauties? Is he all Cristal, Maybach, diamonds on your timepiece, jet planes, islands, tigers on a gold leash? How much did Davidson make on "SNL"?
Pete Davidson's lifestyle went from grim to Grande thanks to SNL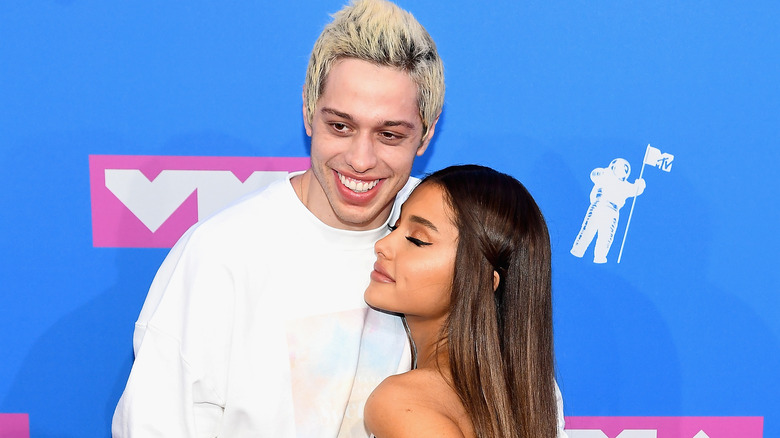 Nicholas Hunt/Getty Images
Pete Davidson's career skyrocketed after he scored his "Saturday Night Live" gig. Before joining the comedy staple, Davidson's star had been rising. Still, he struggled to make it in the notoriously tough world of stand-up. "I'm really depressed, everybody. I'm gonna be 20 next week, and it's over, that's it," Davidson announced during a 2013 performance. "I'm gonna die, and I'm not gonna make it." He couldn't have been any more wrong.
Cinema Blend reports a year later, Davidson was signed by "SNL" head honcho Lorne Michaels to join the show in its 40th season. Davidson was one of the youngest cast members in history and the only one born in the '90s. His lifestyle went from poor to grandeur in the swipe of a signature. Cosmopolitan estimates that during his first season on "Saturday Night Live," Davidson raked in around $147,000. That definitely beats the $25 to $40 a show that most up-and-coming stand-ups make on the comedy club circuit, per Vulture.
Davidson was just starting to make bank, though. Celebrity Net Worth reports that the show's cast members' earnings increase as they work their way up the popularity ranks. The site claims "SNL" A-listers command "$25,000 per episode, roughly $500,000 per year." Given that Vanity Fair claimed in 2020 that "Saturday Night Live" needed Davidson more than he needed them, it's safe to assume he'd joined the half-mill club by the time he left in 2022.
Pete Davidson admits he owes his life to SNL
According to Celebrity Net Worth, Pete Davidson banked $8 million thanks to "Saturday Night Live" — which is not too shabby for a 28-year-old college dropout. Straight off the bat, the comedian had earned rave reviews from "SNL" fans, critics, and contemporaries alike. "Great first time out at the desk for Pete Davidson!" Seth Myers tweeted. Meanwhile, Patton Oswalt tweeted that Davidson's premiere sketch "DELIGHTFUL." While Dr. Love raved via Twitter, "This kid is s star."
However, Davidson threw in the towel in May 2022. When he announced it was his last episode, nobody was sure if Davidson would be gone for good. While rocking a '70s porn 'stache, he confirmed he was officially outta there. "[Lorne Michaels] accidentally gifted me a sock, so I'm free," he quipped. When asked what he'd miss most, Davidson said it would be Michaels' advice. "I called him when I got engaged. I called him and said, 'Lorne, I just got engaged to Ariana Grande after dating for two weeks.' And he said, 'Oh, hold on for dear life.'"
Davidson doubled down on the confirmation he was dunzo in a message posted alongside a video on "SNL" writer and producer Dave Sirus' Instagram. He said he couldn't believe it was his last show and thanked the crew and cast. "We were together through the good and the bad, the happiest and the darkest of times," Davidson wrote. "I owe Lorne Michaels and everyone at 'SNL' my life."