Tori Spelling Is Mourning A Tragic Loss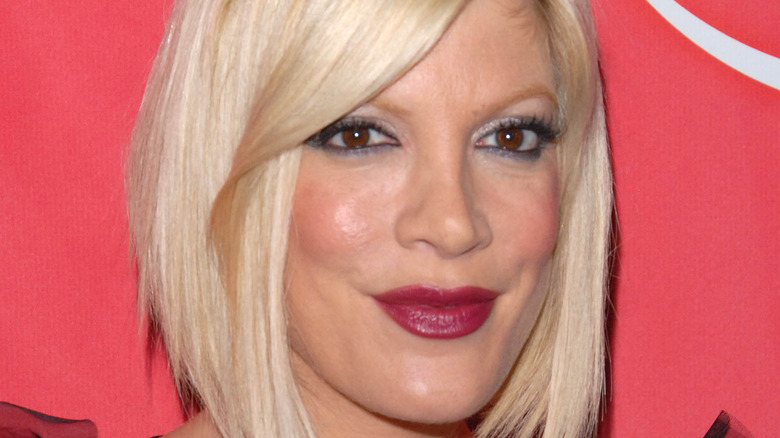 s_bukley/Shutterstock
"90210" star Tori Spelling has been in the news a lot lately, though you won't catch her on TV much anymore — you'll see her private life splashed across the tabloids. For more than a year, Spelling has been bombarded with rumors that her marriage to Dean McDermott is on the rocks. In March 2021, Spelling let slip that she and McDermott no longer slept in the same bed, per Page Six. "Right now, my kids and dogs sleep in my bed." Spelling explained on an episode of "Jeff Lewis Live." The actor added that things changed when McDermott had to be on set for six months, taking him away from home. "So I currently still have four in the bedroom with me who have yet to go back to their rooms, yes," she said.
More recently, Spelling has seemed to hint that her issues with McDermott may be far more serious than just sleeping in separate beds. In a September interview with People, the actor referred to her relationship with McDermott as that of "co-parents" and not much else. "Dean and I definitely have different parenting strategies. I'm kind of the feelings mom and he's more procedural," she said. Though Spelling didn't mention anything about a divorce, the word choice — most commonly used to non-romantically linked parents — seemed odd.
Whatever is happening with Spelling and McDermott remains up for debate, but Spelling is back in the news again. This time as she navigates the loss of a dear friend and mentor.
Tori Spelling lost a good friend
On September 12, Tori Spelling took to Instagram to mourn the death of her close friend Scout Michael Masterson. Masterson, a famed publicist and social media personality, died unexpectedly the day before, per E! News. "I struggled with this post today. But, sadly it is real. Yesterday, our friend Scout passed away. This unbelievably kind human who was the best dad, husband, son, dog dad, friend, and Guncle was taken way too soon," Spelling wrote in an emotional Instagram post.
"No matter what he was going thru health wise and personally he was always making sure to make others feel loved and to make them laugh and smile. He was a constant ray of positivity," she continued. Spelling added that Masterson would be especially missed by her kids, who lovingly called him "Uncle Scouty." Spellings post was flooded with supportive comments from other celebrities and fans. One person wrote, "So sad – such a good guy . My condolences to Bill and the family." Another read, "I'm so sorry to hear this sending love to his beautiful family."
Masterson will be remembered by his husband, Bill Horn, and their two kids. In his own social tribute on Instagram, Horn referred to Masterson as a "loving husband, kind friend, a good son, and an amazing parent."