The Eyebrow-Raising Reason Aubrey Plaza Once Met Donald Trump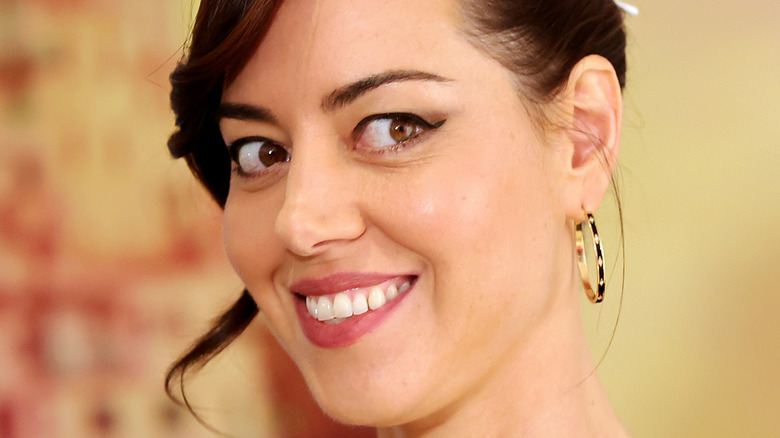 Matt Winkelmeyer/Getty Images
"Parks and Recreation" is a show that satirizes politics, so it's not surprising that its cast members are often asked about their own political views. They've specifically had a lot to say about former President Donald Trump.
In 2017, Nick Offerman told a SXSW audience that his "Parks and Rec" character, Ron Swanson, wouldn't be a Trump voter. "Regardless of your politics, you can't deny the fact that Trump is a cheese-d*** criminal," he said, per IndieWire. A year earlier, Offerman's co-star Rashida Jones told People, "I'm looking forward to defeating [Trump] like the monster at the end of the video game." When Trump was up for re-election in 2020, Adam Scott tweeted his hope that Elizabeth Warren would be the Democratic candidate to play the presidential game and send the final boss packing.
One star of "Parks and Rec" has even interacted with Trump. When Trump called in to "Fox and Friends" in 2011, guest Rob Lowe begged him to run for president, per Politico. As for Amy Poehler, during an interview on "The Tonight Show," Tina Fey recalled how her friend and colleague slumped down in her seat to avoid speaking with Trump during Adele's 2015 holiday concert in NYC. Aubrey Plaza, however, once went out of her way to get a photo with Trump at the behest of her boss.
Aubrey Plaza was in costume when she met Donald Trump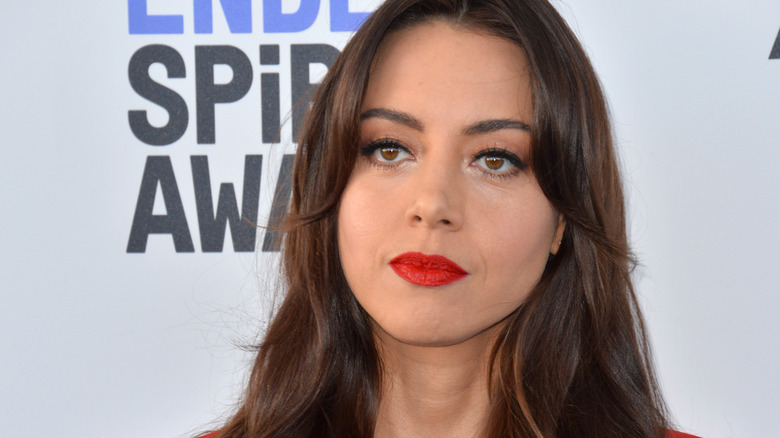 Featureflash Photo Agency/Shutterstock
Aubrey Plaza didn't meet Donald Trump at Trump Plaza. In a 2011 appearance on "The Late Show with David Letterman," Plaza revealed that she was in desperate need of cash in 2007 when she applied for a job that she found on Craigslist: dressing up the like the children's book character Noddy the Elf for events. She revealed that she got paid $7 per hour to rock the whimsical costume, which included a huge cartoonish head with a permanent smile plastered on it (April Ludgate most certainly would not approve of the cheery vibe).
On "The Late Show with Stephen Colbert," Plaza recalled how she found herself on the receiving end of a very Trumpian threat during a gig at the FAO Schwarz toy store in New York. "My boss at the time said, 'The only thing you have to do tonight is to get a picture with Donald Trump. That's all I need you to do. Do it or you're fired.'" Plaza tried to accomplish this by breaking out her jolliest dance moves while approaching Trump, but he wasn't having it. "He kept shooing me away," she recalled. However, her persistence eventually paid off, and she got the shot.
In 2018, Plaza posed with Trump again — sort of. During the anti-Trump protests in London, she snapped a photo in front of a giant inflatable Trump baby and shared it on Instagram with a baby bottle emoji.
Aubrey Plaza also met Joe Biden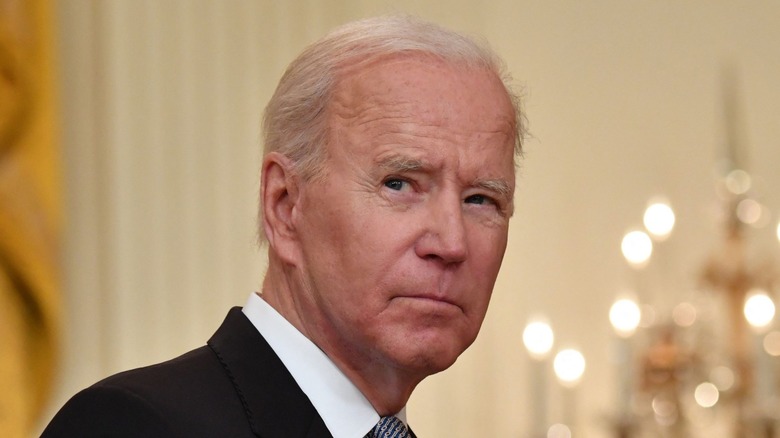 Shag 7799/Shutterstock
When the "Parks and Recreation" cast filmed in Washington, D.C., they got to work with guest star Joe Biden, who was still second-in-command to former President Barack Obama at the time. On "The Late Show with Stephen Colbert," Aubrey Plaza confessed to falling asleep on President Joe Biden's couch and snatching a souvenir from his desk. 
During a 2012 PaleyFest appearance with the "Parks and Rec" cast, Plaza said that she actually met Biden for the first time when she was 15. She and Biden are both Delaware natives, so she got the opportunity to watch him speak at an event for students interested in government. She recalled being told that the students would get to voice their opinions, but all day long, they just listened to adults speak to them. At the end of Biden's speech, she confronted him about what she viewed as an unfulfilled promise. "I went off, and we had a weird stare-down," she recounted. 
Plaza later trolled Biden on Twitter after finishing ahead of him in a 2018 poll asking Delawareans to name their state's biggest celebrity, and she channeled Donald Trump while joking about refusing to relinquish the honor to Biden after he became president in 2020. "I will not concede, and in fact, I have many lawsuits coming after the Delaware News Journal ... it was an online poll, and I want those clicks counted," she said on "The Late Show." She was, however, happy when Biden won the presidency.