Pete Davidson Made Fun Of Kanye West On SNL Long Before Their Feud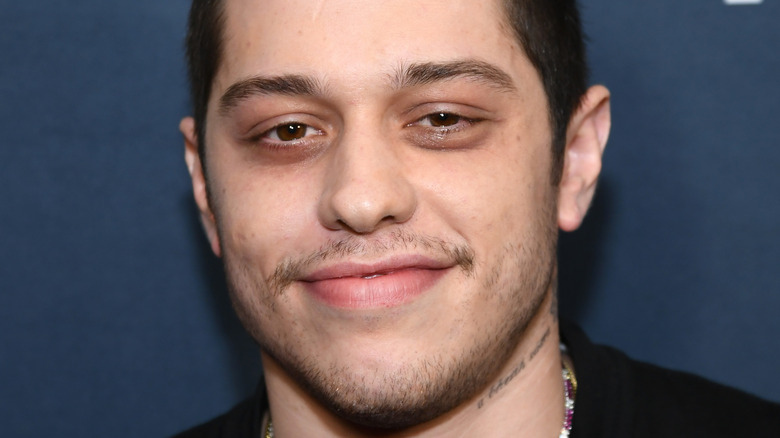 Dimitrios Kambouris/Getty Images
The feud between Kanye "Ye" West and Pete Davidson dominated headlines at the start of the year. The feud began after reports suggested that Ye's ex-wife, Kim Kardashian, was romantically involved with the comedian. Rumors of Kardashian's relationship started brewing shortly after the SKIMS founder shared a kiss with the comedian during a skit on "Saturday Night Live" in October 2021.
As Kardashian and Davidson's relationship developed, her ex-husband, Ye, made no secret of his disapproval of the new couple. In January 2022, Ye dropped the first of many disses toward Davidson in the song "Eazy." Ye rapped on the track: "God saved me from that crash / Just so I can beat Pete Davidson's a**." In the months that followed, the Grammy-winning musician fired off a series of online attacks against Davidson, much to the dismay of Kardashian.
Although it may appear as Ye's quarrel with the stand-up comic started out of nowhere, Davidson once made fun of the rapper during a skit on "SNL."
Pete Davidson poked fun at Ye's mental health
Long before Pete Davidson's brief romance with Kim Kardashian, the comedian had a history with Kanye "Ye" West." While it's unclear what prompted Ye to repeatedly attack the comedian on social media, their feud may have begun after a "Saturday Night Live" skit in 2018. That year, Ye was tapped to replace Ariana Grande as the musical guest for an episode of the sketch comedy show. Following his performance, Ye — wearing a "Make America Great Again" — went on a rant suggesting that he was "bullied" backstage for wearing the political paraphernalia.
On the "SNL" episode that followed Ye's appearance, Davidson slammed the rapper's pro-Trump speech. He called Ye's performance and accompanying speech the "most awkward" thing he ever witnessed on the show. The "Big Time Adolescence" star further suggested that Ye could have been off his medication at the time. "Take them! There's no shame in the medicine game. I'm on them, it's great," he added. Davidson ended his rant by emphasizing that Ye's mental health issues were "not an excuse to act like a jack***."
If you or someone you know needs help with mental health, please contact the Crisis Text Line by texting HOME to 741741, call the National Alliance on Mental Illness helpline at 1-800-950-NAMI (6264), or visit the National Institute of Mental Health website.
Pete Davidson and Kanye West got over the SNL skit
Despite Pete Davidson hilariously roasting Kanye "Ye" West for his political beliefs, the pair seemingly reconciled for Kid Cudi's birthday in 2019. Kim Kardashian shared a photo set from the dinner celebration on Twitter, which showed Ye, Davidson, Cudi, and actor Timothée Chalamet peacefully enjoying their time together.
Davidson later opened up about the dining experience and revealed that he thought Ye and Kardashian made an adorable couple. "By the way, I just want to say, Kim and Kanye, the cutest couple ever," he said during a 2019 visit to "The Tonight Show starring Jimmy Fallon." He added, "Very, very sweet people. I had a really good time with them." Davidson also revealed that he got stuck with the bill after the event, and joked that Ye ordered an array of custom food items.
Kardashian and Davidson have since split up, after nearly nine months as an item. Sources close to the couple revealed to E! News that their relationship became strained due to their busy work schedules. Meanwhile, another insider made it clear that Kardashian had no intentions of rekindling her relationship with her famous ex-husband.