The Real Reason Travis Barker Has So Many Tattoos
John Shearer/Getty Images
Travis Barker might be best known to the younger generation as Kourtney Kardashian's rock-and-roll husband who has a penchant for PDA's — but to the rest of us, he'll always be the frenetic drummer who aggravated our teenage angst as part of the pop-punk trio, Blink-182. The musician knows a thing or two about ink, and we're not talking about penning hits. Long before artists like Post Malone and Lil Peep ushered in the facial-tattoo era of hip-hop, Barker was turning heads with his head-to-toe body art — and he hasn't slowed down.
Tattoos will always be deeply ingrained in Barker's DNA. He laid bare this fact in his autobiography, "Can I Say: Living Large, Cheating Death, And Drums, Drums, Drums" (via GQ), where he confessed that "they're all memories," with each representing an "experience" the famed drummer went through. The real reason Barker opted to collect memories on his skin might surprise you, but we think it's the most rock-and-roll thing you'll read all day.
The rocker never wanted a normal job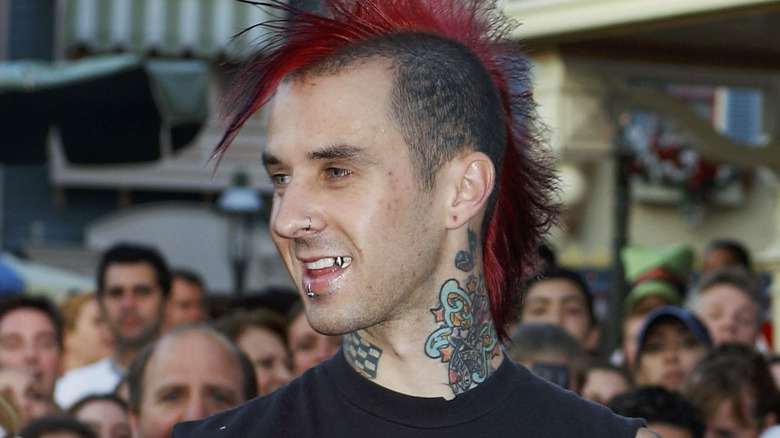 Amanda Edwards/Getty Images
Travis Barker might as well have been born with drumsticks in his hands. The rocker told Slate that his dream of drumming began at age 5, and his tattoos played a pivotal role in making it happen. "There was nothing that came along between the ages of 5 and until my mom passed away when I was 16 that I wanted to do more than play the drums," Barker said. "On her deathbed, my mom told me to play the drums. So, my future was mapped out for me."
Of course, not everybody believed that music was a viable option for Barker, but his determination remained unshakable. After his father suggested that he have a "plan B" in case his ambitions didn't pan out, he took a drastic step. "I started getting tattoos and what I called 'job stoppers' everywhere. I wanted tattoos, and I knew it would prevent me from getting a normal job. I positioned myself with my back against the wall so I had no other choice than to do what I absolutely loved." 
The rocker shared in a 2016 interview with GQ that he had "like ... 70% of my body" covered in ink. Given his permanently etched love for Kourtney Kardashian, we're sure that percentage is much higher years later...
He has over 100 tattoos, though not everybody likes them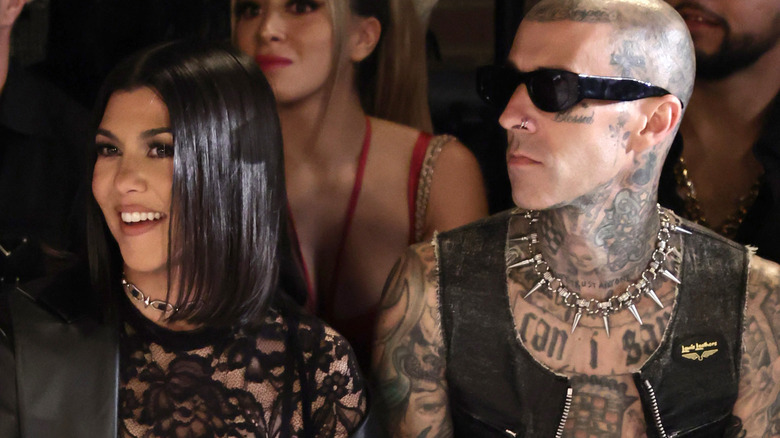 Jamie McCarthy/Getty Images
In 2021, Travis Barker showed off his impressive tattoo collection with a shirtless shot shared on Instagram, but at least one fan had some choice words for the famed Blink-182 drummer. "The tattoos really look ridiculous, Travis. When you get older, you are going to regret it," the fan wrote in a scathing rebuke of the musician's tats (via Page Six). The comment must have peeved Barker because he quickly shot back at the user. "When I'm older I'm probably gonna hang out with other badass tattooed dudes and generally look awesome," he wrote. "What are you gonna do when you just look like every other old person?"
According to People, the rocker has over 100 tattoos. His favorite? The words "I love you" stylized in the handwriting of his wife, Kourtney Kardashian, who also gave him the tat. Before the two married, Barker got the Poosh founder's name tattooed across his chest. If you're curious to see what Barker might look like without his hallmark ink, the rocker appeared in Machine Gun Kelly's music video for his song "Emo Girl" sans any tats.