Prince William's Face At The Queen's Vigil Says It All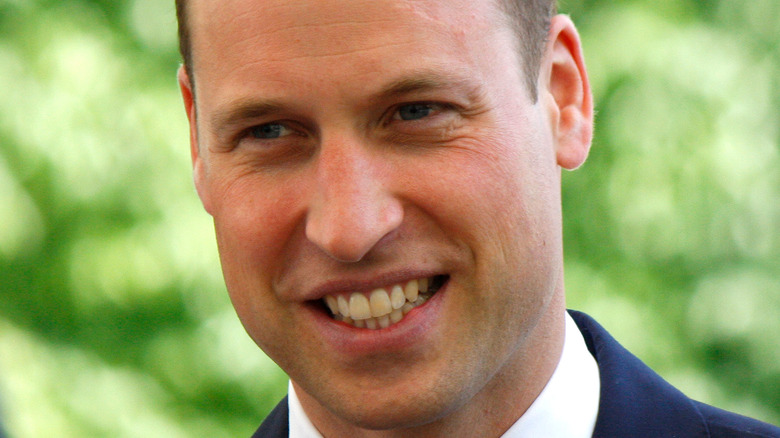 360b/Shutterstock
Following the death of Britain's longest serving monarch Queen Elizabeth II on September 8, King Charles III and his heir apparent Prince William, along with other members of the royal family, have put up a united front to honor the late queen. As reported by Elle, Prince William joined his family on September 13 to welcome the queen's coffin to Buckingham Palace ahead of her state funeral on September 19.
The Duke of Cambridge, who now doubles as the Prince of Wales, has also viewed floral tributes left for his grandmother outside of the Sandringham, had a quick chat with members of the public on queue to see the queen lying in state, and has continued to exhibit strength amid what is no doubt a difficult time for him. For this, he has continued to receive praise from the public. "It's heartening to see Prince William gather strength and good cheer from the people," a Twitter user wrote. "He's really showing an absolutely charming side in his openness with well wishers." Another royal fan tweeted, "What courage and strength of character Prince William has shown since his grandmother's death. It must have been so hard for him looking at the flowers bringing back so many sad memories of Princess Diana's passing."
But amid this strength and his sense of duty to those whom he will one day serve, we must be reminded that Prince William, alongside his family, are in mourning just like the rest of the world.
Prince William is grieving his beloved grandmother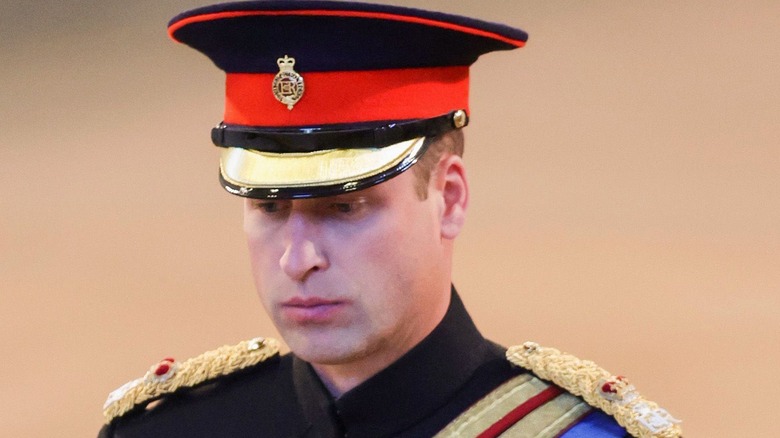 Chris Jackson/Getty Images
On September 17, Prince William and his brother Prince Harry — as well as six of their cousins — stood vigil over the queen's coffin as she lay in state in Westminster Hall. While Harry stodd at the foot of the coffin, William stood tall at the head, paying his respects to the one he so fondly called "grannie." And if there were any doubts as to how heartbroken William has been since the queen's passing, his face at the vigil was all the proof needed. "Grief is the price we pay for love," one Twitter user wrote alongside a photo of William at the vigil. "Such a moving photo of the Prince of Wales. You can see the grief etched on his face!" another fan wrote.
On September 10, Prince William shared a personal Instagram tribute, calling the queen "an extraordinary leader" who remained absolutely committed to her role as head of state of the U.K. and its realms. "I, however, have lost a grandmother," Prince William added. "And while I will grieve her loss, I also feel incredibly grateful. I have had the benefit of the queen's wisdom and reassurance into my fifth decade."
The Prince of Wales finished up his tribute reflecting on the queen's relationship with his wife Catherine, Princess of Wales, and their three kids, Prince George, Princess Charlotte and Prince Louis. "I knew this day would come, but it will be some time before the reality of life without Grannie will truly feel real," he wrote.
Prince William shared a special bond with the queen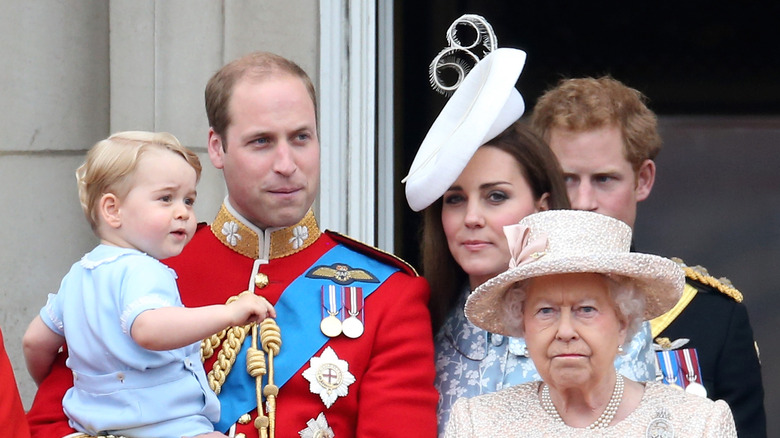 Chris Jackson/Getty Images
Known for her ever bright and infectious smile, Queen Elizabeth II was largely loved by the public and members of the royal family. Most memorable, however, was the unrivaled love between the queen and her grandson, Prince William. Following the death of his mother, Princess Diana, in 1997, William looked to the monarch for both motherly love and guidance as a future king. "Growing up, having this figurehead, having this stability above me has been incredible," William said of his grandmother in an ITV documentary (via Metro). "I have been able to explore, understand, slightly carve my own path. I greatly appreciate and value that protection."
The queen on the other hand was also very fond of William, sharing several lovely moments with him in public and behind closed doors. "There has always been a special closeness between William and the queen, and she has taken a particular interest in him," historian Robert Lacey told People in 2017. "When William became a teenager, she would have him at Windsor Castle and would open the state boxes and guide him through the papers. It was William's constitutional education."
Of course, outside of their professional relationship, William and the queen also had a personal relationship, one in which she offered him required support and guidance in his relationship with his wife. "She spends a lot more time supporting and nurturing the relationship between William and Catherine than she did with Charles and Diana," royal biographer Andrew Morton told OK!.