Why Mary J. Blige Isn't A Fan Of Christina Aguilera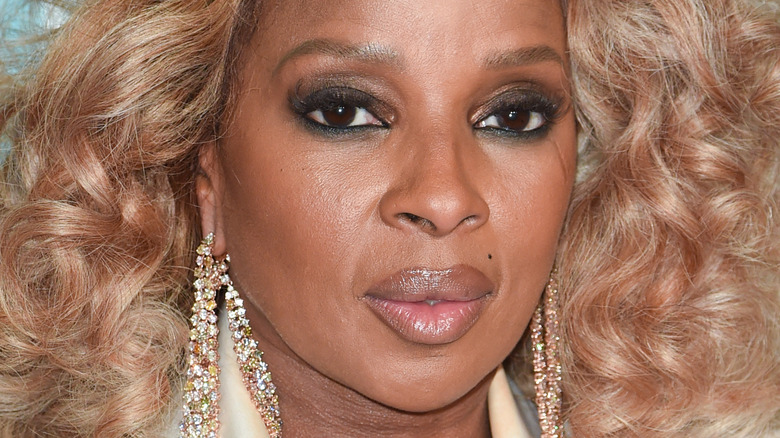 Featureflash Photo Agency/Shutterstock
Mary J. Blige is a potent powerhouse with some pipes and a massive legacy behind her. While she isn't known for being a problematic figure, she has bumped heads with a few of her peers.
Blige hasn't always seen eye to eye with fellow soulful singer Faith Evans, for instance. During the early part of her career, Evans signed to Diddy's iconic Bad Boy label and was heavily compared to Blige. During a 2017 radio interview with HOT 97, she was asked if Evans was "a little bit of a take-off of how you were moving." Blige kept it classy, and admitted that she felt it was. When pushed to answer whether it annoyed her, she refused to answer and laughed it off. 
During the period where they were going head-to-head with one another, Blige teamed up with rapper Lil' Kim to release "I Can Love You" in 1997. As previously reported by ThisIs50, an industry source told the outlet that the song is a diss track against Evans, who Blige blames for her estranged relationship with Diddy at the time. In 2018, it was reported that Blige and Evans had a fight at Diddy's bash. However, in an interview with Page Six, Blige set the record straight. "Of course that was made up. I was shooting a movie in Louisiana," she said. 
Evans isn't the only diva who left Blige feeling a certain way, however. Upon meeting Christina Aguilera, Blige was completely turned off.
Mary J. Blige said Christina Aguilera has a 'nasty attitude'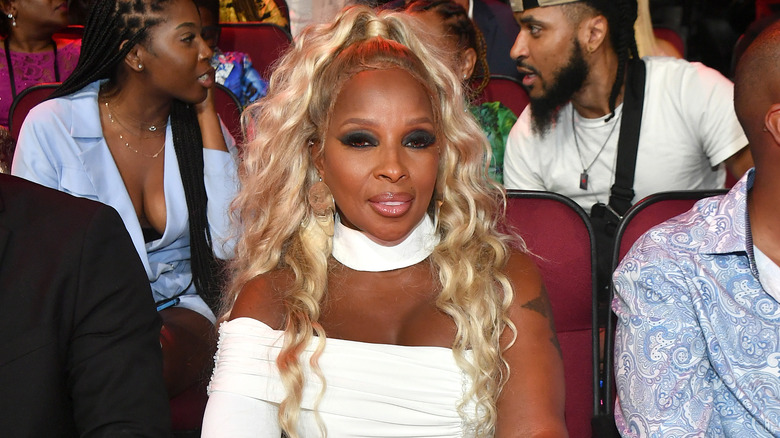 Paras Griffin/Getty Images
When Mary J. Blige met fellow singer Christina Aguilera for the first time, she wasn't pleased with how she was greeted by the "Genie in a Bottle" hitmaker. During a vintage radio interview, Blige detailed the experience and explained why she was immediately turned off by Aguilera's presence. "I don't like her because she has a nasty attitude. I was trying to greet her properly and she stuck her hand out for me to kiss it. I said, 'Oh, OK. You're headed down the wrong path already,'" Blige said, adding, "Britney Spears can't sing like you but she will go further than you because she knows how to respect and treat her people."
"She was just nasty," Blige continued before admitting she'd heard from others that Aguilera wasn't the nicest person. The "Mudbound" actor stated that she'd never be interested in doing a song with Aguilera in the future, either, insisting that the "first impression is the last impression to me."
In 2003, Aguilera joined Spears, Madonna, and Missy Elliott onstage at the MTV Video Music Awards to perform the iconic mashup performance of "Like A Virgin" and "Hollywood." When Aguilera entered the stage and sang her first line, the camera turned straight to Blige, who appeared to be staring at Aguilera, completely unimpressed with what she was watching. Ouch.
Mary J. Blige isn't the only celebrity Christina Aguilera has rubbed the wrong way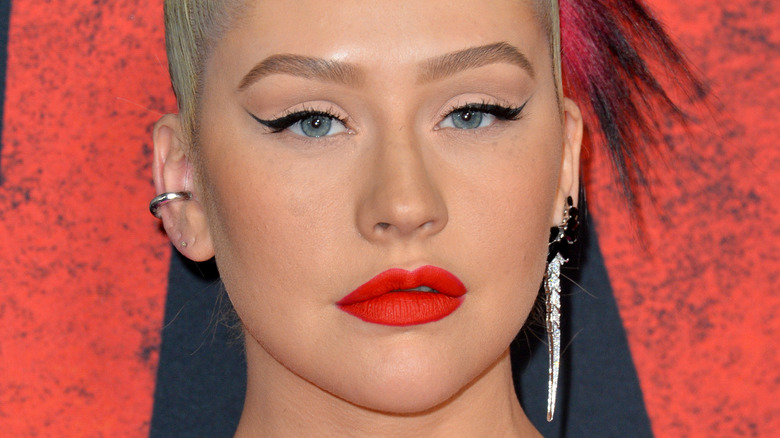 Featureflash Photo Agency/Shutterstock
Mary J. Blige isn't the only singer Christina Aguilera left with the wrong first impression. During a televised interview at the BRITs aftershow party in 2011, Canadian star Avril Lavigne unexpectedly revealed that Aguilera wasn't pleasant when she greeted her. After informing viewers that Culture Club frontman Boy George was "super nice" to her when Lavigne approached him that night, the "I'm With You" hitmaker expressed that it was the complete opposite when she bumped into Aguilera. "Unlike Christina Aguilera, who was really mean to me when I said hi to her," Lavigne blurted out, adding, "You know what, I said to my friends, 'I'm gonna go over to Boy George and hopefully he won't pull a Christina on me.'"
Rapper Eminem wasn't happy with the pop diva after she put his love life on blast. During Aguilera's MTV Special, "What A Girl Wants," she selected Eminem's video for "My Name Is," and quickly started to discuss his relationship with the world and revealed that he was married to Kim, the woman he mentions in many of his songs. "She heard a rumor, she didn't know if I was married or not," Eminem stated in a later interview. As a result, he dissed and mimicked the singer in his smash hit "The Real Slim Shady" by referencing what she'd said.