The Tragic Death Of RuPaul's Drag Race Star Cherry Valentine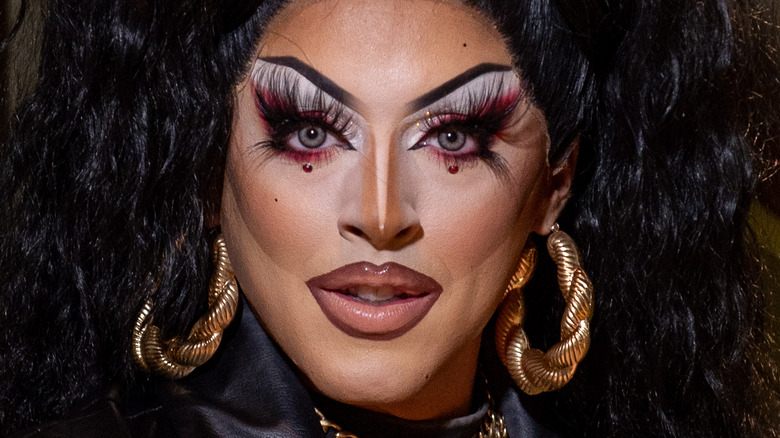 Shirlaine Forrest/Getty Images
George Ward, a drag queen who performed under the name Cherry Valentine, has died at age 28, TVLine reports. Ward is probably best known for competing on Season 2 of "RuPaul's Drag Race UK" and appearing in the BBC Three documentary "Cherry Valentine: Gypsy Queen and Proud," which is about their struggle to be accepted as a LGBTQ+ member of the Traveller community.
In a statement announcing the tragic news, Ward's parents did not reveal how the beloved drag queen died. "This will come as a profound shock to most people and we understand there is no easy way for this to be announced," they said. "We understand how much [they are] loved and how many lives [they have] inspired and touched. All we ask is for your patience and your prayers in this time." The production company for "RuPaul's Drag Race UK" also released an emotional statement about Ward's death on Instagram. "As an artist, nurse and an activist Cherry will always remain a beloved member of our Drag Race family," it read. "Cherry's love and irresistibly infectious laugh touched the lives of so many."
Ward was a mental health nurse who balanced their day job with their drag career, and they didn't give up the former when the pandemic hit and put the lives of medical professionals at risk. In an interview with Attitude UK, Ward credited their stage work with providing them with a much-needed respite from the stress of being on the frontlines.
The drag community mourns Cherry Valentine's death
In a 2022 interview with BBC Three, George Ward opened up about what it was like to fear coming out as gender fluid to members of their family. "I'd never had open conversations with anyone in my family about my sexuality or gender, apart from my mother," they said. Ward explained that the Traveller community they grew up in is not accepting of people that aren't heterosexual and cisgender, saying, "The community is very traditional in their views and it's quite stereotypical." But when they started performing drag, Ward found a welcoming community. "It sounds over the top, but drag really did save my life," they said.
Upon hearing of Ward's death, drag performers took to social media to pay tribute to their fellow queen, including a number of contestants who competed on "RuPaul's Drag Race" and its British counterpart. On Instagram, Yuhua Hamasaki wrote, "Fly high and dance the angels, our Queen!" Ginny Lemon reminisced about some of the good times they shared with Ward on "RuPaul's Drag Race UK" and added, "Cherry my darling, I love you so much, my heart is broken."
A'Whora was another queen who got to know Ward on the show, and on her Instagram Story, she revealed that she and Ward had become close friends. "We had so much planned and you had so much greatness ahead, and I know your legacy and talents will forever live on," she wrote.