Becky G Opens Up About Huge Family Secret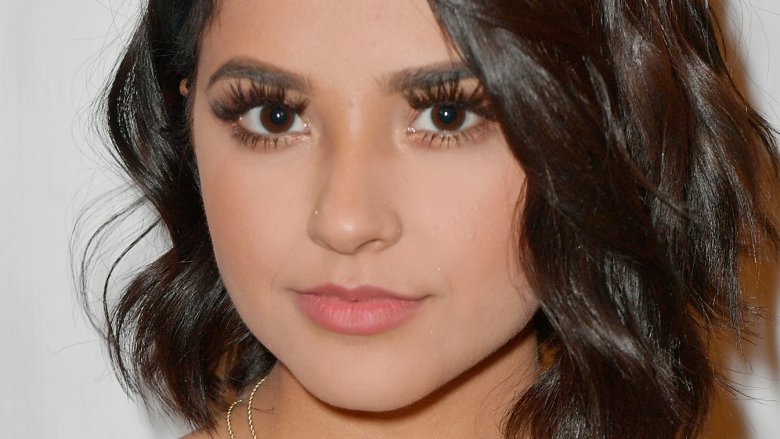 Getty Images
The "Can't Stop Dancin'" singer just shared something major.
On Friday, Dec. 29, 2017, Becky G (full name Rebbeca Marie Gomez) took to Twitter to share a lengthy post about a secret she's kept from the public for years: She has a half-sister. "I've always been 100% honest with you from day one," Becky G began, addressing her fans. "I've made a promise to you, to always keep it real. Today is a day that we will all become even closer."
Noting that her family, while strong in its love for one another, is "far from perfect," Becky G stated, "For the first time, I will be opening up about something that [my siblings] Frankie, Alex, Stephanie and I, have lived with within our four walls, that I now feel ready in my heart to share with you guys, my extended family."
She announced, "Today is my half sister's 18th birthday," adding, "Yes I said it. My half sister."
Becky G revealed that she'd known about her half-sister, Amber, since she was 13 years old. She and her siblings, who learned about their half-sister's existence when they were older, "all had questions and dealt with the information in different ways." However, she noted, they worked through it all together "as a unit."
The singer noted that Amber hadn't been a part of the family for "reasons bigger" than themselves.
Becky G went on to add that she had met Amber for the first time in 2017. "Her relations to the family in the past were always through my dad. At least up until recently. Although there has been effort on both sides to move forward in a positive direction, it takes time to catch up on 18 years and to process it all. It's not something that happens over night," she said, calling the entire ordeal, "an emotional rollercoaster."
"The history behind it all, is something that I'd like to keep private for the sake of Amber's family and my own family's privacy," the Power Rangers star continued. "There is no hate or negativity towards her or her family. I say that from the bottom of my heart."
However, Becky G added that she'd promised herself that she'd reach out to her half-sister once she turned 18 years old, when there was "no influence from either side, no baggage or bad blood from the past."
Addressing Amber directly, Becky G wrote, "Amber, you are not forgotten, locked away in a closet, hidden, or hated. I don't know what your journey has been this far in life. But since I've learned about you I can tell you, I've always thought about you, I've always prayed for you, & I've tried to put myself in your shoes a million times. What happened between our parents was not our fault."
The singer added that she'd chosen to talk about Amber publicly in an effort to show her half-sister that she is not ashamed of her.
With love... pic.twitter.com/qP1bwX2K72

— Becky G. (@iambeckyg) December 29, 2017
While we wait to hear if Becky G patches things up with Amber, read all about Hollywood's most messed up families.