How Sofia Vergara And Heidi Klum Really Get Along On America's Got Talent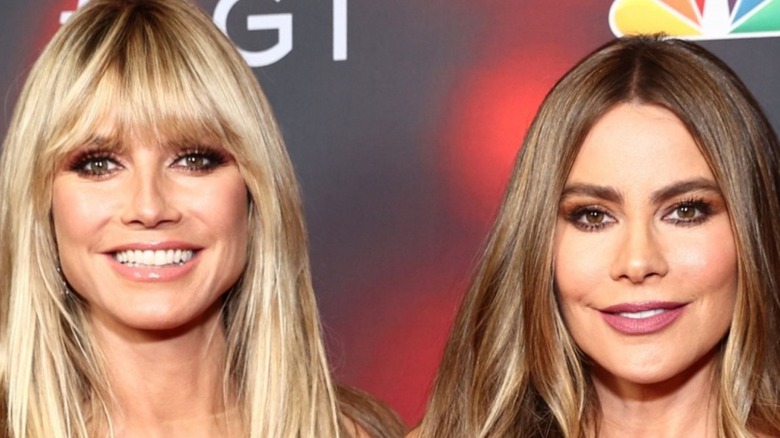 Matt Winkelmeyer/Getty Images
Sofia Vergara and Heidi Klum have been judges on "America's Got Talent" since 2020, and Klum praised the "Modern Family" star from the start. When Vergara came onboard the hit competition show in 2020 — joining Klum, Simon Cowell, and Howie Mandel — the German-born supermodel raved about the new judge to Entertainment Tonight. "It's been amazing! We've only filmed one day so far, and on the first day, she was like, 'I'm really nervous. I don't wanna do anything wrong,'" Klum shared. "And I said to her, 'You cannot do anything wrong. You just speak your truth. You just say what you just saw, if you like it and if you don't, and if you just elaborate on that, that's it." The "Making the Cut" star added that on "America's Got Talent," there are no scripts to memorize and that the show lets the judges give their honest opinions.
The "America's Got Talent" judges have a mutual fan club. In 2020, the Columbian actor posted a photo with the "Project Runway" star on Instagram and wrote: "Why u so pretty @heidiklum? #AGT." The two judges also appear to have fun together while working. In 2021, Daily Mail reported that Klum and Vergara were laughing and messing around while shooting an outdoor segment for the competition show.
Still, some fans wonder if Vergara and Klum really get along after the cameras are off on "America's Got Talent."
Sofia Vergara calls Heidi Klum her German sister
Sofia Vergara and Heidi Klum have become friends thanks to their time working together on "America's Got Talent" — and Vergara says Klum is more than a coworker to her. "It's amazing! You know what, it's like [she's] my German sister," Vergara told Entertainment Tonight in August 2022. "You might think that a Latin girl and a German girl would have nothing in common, and it's amazing. We have such a great time, we like the same things, we kind of have the same energy." She added, "I really have felt like [I've been] falling in love with her in these three seasons."
On August 30, Vergara tweeted a photo with Klum posing for a parody of Taylor Swift's upcoming album "Midnights." Except, the two "America's Got Talent" besties named their new album "Midnightsnacks." Vergara joked with ET, "I saw Howie posted [a version]. And so I copied it." According to Newsweek, Swift broke the internet by announcing her new album at the MTV Video s.
Sofía Vergara and Heidi Klum are #FriendshipGoals
We're calling it: Sofia Vergara and Heidi Klum are #FriendshipGoals. Klum has plenty of videos and photos on Instagram with Vergara. In June 2020, the supermodel posted a video with Vergara on Instagram and wrote: "Loveeee youuuu @sofiavergara ❤️👯‍♀️#AGT." And on September 14, Klum posted a video with Vergara pretending to cry on Instagram since it was the "America's Got Talent" finale. The Columbian-born actor has Klum all over her social media as well. On September 15, the "Modern Family" star posted a selfie with Klum and two others at a restaurant on Instagram and wrote: "Luuuv uu @heidiklum @lorraineschwartz @foxxyo ❤️❤️❤️."
The "America's Got Talent" judges are likely friends not only because of their shared spunk and humor but because they are both successful businesswomen. According to Celebrity Net Worth, Klum is worth a whopping $160 million. Klum earns $19 million per year through her businesses, which include multiple TV shows and a line of Disney villain clothes with Amazon. Thomas Hayo, Klum's co-host on "Germany's Next Top Model," told Forbes that Klum "has a great instinct that connects with her audience and the masses." Klum's "AGT" BFF does too.
Celebrity Net Worth reported Vergara has a net worth of $180 million. The actor's "Modern Family" gig certainly boosted her wealth. Still, Vergara has a growing business empire, according to The Hollywood Reporter, including a clothing brand at Walmart, perfumes, and a brand of glasses with Foster Grant. No wonder these two queens are friends! Together, they could take over the world.