How Brett Goldstein Really Feels About Working With Hannah Waddingham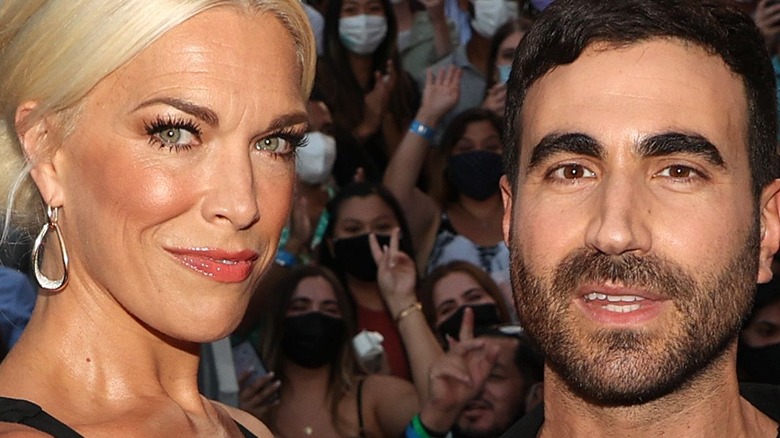 Kevin Winter/Getty Images
"Ted Lasso" took the world by storm when it began airing in 2020. While the show follows Ted Lasso, played by Jason Sudeikis, becoming a football coach in Britain, "Ted Lasso" focuses on more than just football. In fact, the show works to showcase the kindness every person possesses and how we can all work to give and receive that kindness more.  
And two characters who became the epitome of that meaning in the past season are Roy Kent and Rebecca Welton — played by Brett Goldstein and Hannah Waddingham, respectively. Showing that kindness firsthand, during Season 2, Kent gives Welton a tough heart-to-heart after explaining to her that the man she is dating doesn't deserve her. But Kent doesn't do this to Welton because he wants to date her — rather he just wants to show her what she doesn't see in herself, per Decider. This energy is even reciprocated off-screen, as series writer Goldstein revealed he had a similar heart to heart with Waddingham when it came to her taking the role of Rebecca Welton.
Brett Goldstein 'stalked' Hannah Waddingham before working on Ted Lasso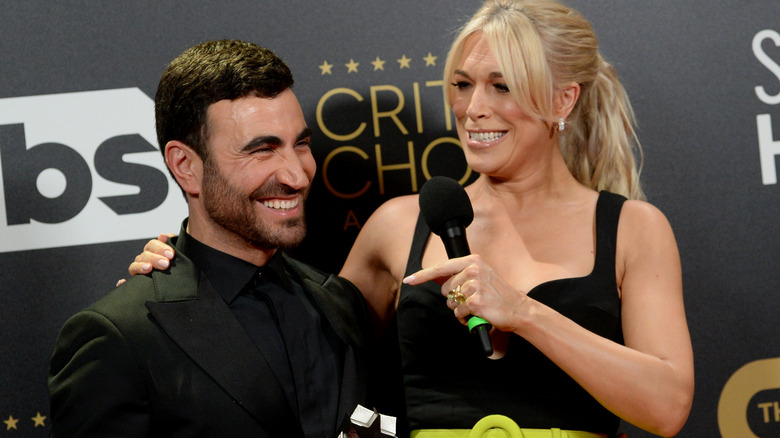 Eamonn M. Mccormack/Getty Images
Speaking to Entertainment Weekly in August, Brett Goldstein and Hannah Waddingham laughed when Goldstein revealed that he had been "stalking" Waddingham for years before she got the job on "Ted Lasso." Waddingham said Goldstein "wasn't joking" when he said that. "And so when I found out she was in the mix, I was like 'F***ing yes!" Goldstein revealed. Despite the fact Goldstein was watching Waddingham, it only happened because Goldstein wanted Waddingham to star as Rebecca Welton. "We're about to make this football show with Jason Sudeikis and I think you'd be great for it but you need to meet Jason and see if you get it on," Goldstein explained he said to Waddingham to get her to agree. 
And what Goldstein said, worked. From there, Waddingham began starring as Rebecca Welton with Goldstein starring as Roy Kent. And even though Goldstein had to stalk Waddingham to get her to star as Rebecca, it was all worth it — because he knew she deserved it, just like her on-screen character. "I can't imagine anyone else on God's earth playing this part," Waddingham said. "...Same to you," Goldstein retorted.
Talking to TV Insider, Waddingham had a lot of praise for the character that Goldstein wrote for her. "I am so invested in Rebecca's world that I struggle to think that I will not see her and feel her coursing through my bloodstream anymore. I genuinely get quite emotional about it."
The Ted Lasso cast is like one big family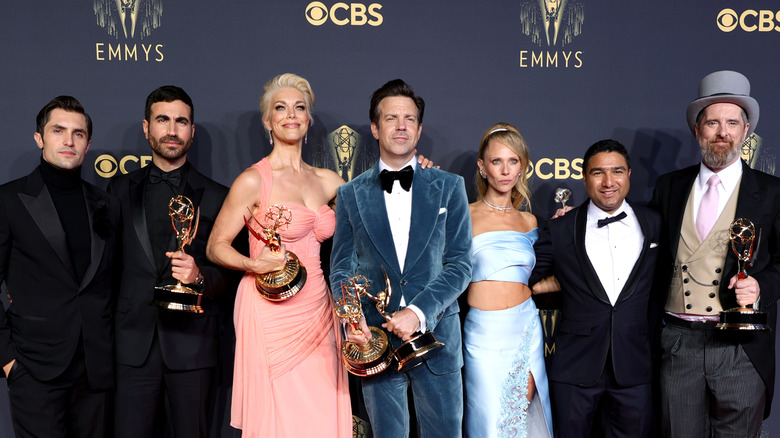 Rich Fury/Getty Images
Hannah Waddingham and Brett Goldstein aren't the only ones on the show who have found a newfound family within their "Ted Lasso" castmates. In fact, the whole cast of "Ted Lasso" became one giant family throughout the past three seasons.
And that has only happened because of the success of the show — which creators attribute to the viewers. "None of us were prepared to the degree to which people love this show," Brendan Hunt, who plays Coach Beard on the show said, per Entertainment Weekly. "We're kind of in no man's land here, still being discombobulated by the response and I think I could make hard-hearted old Sudeikis soften up a little bit."
Now as the show, at the time of writing, enters its third season, cast members hope the show — and the new season — only continue to remind people of the importance of kindness, generosity, and family. "I think it's what everybody needed at the time," Waddingham explained, talking about the 2020 premiere of "Ted Lasso," per CBS. "They needed a hug and a reminder to be kind to each other. A reminder to include each other. A reminder to check in with each other."