Small Details You Missed In Jay-Z's 'Family Feud' Video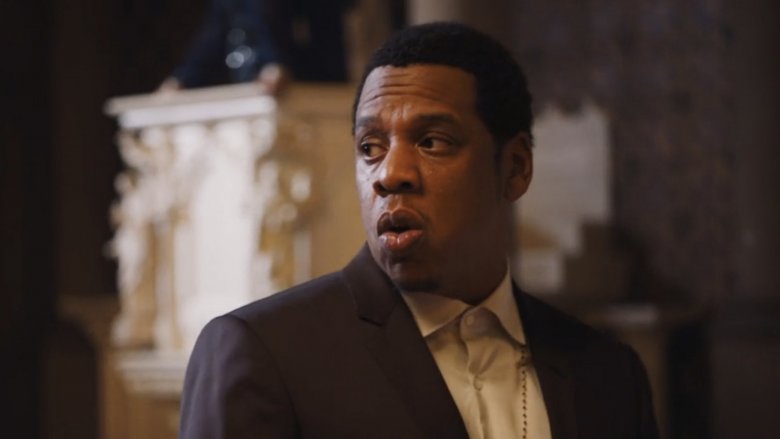 Months after the release of his 4:44 album, Jay-Z dropped the video for "Family Feud," and the Brooklyn-born rapper did not disappoint. 
With Selma director Ava DuVernay at the helm, the song's visuals foreshadow a future government while simultaneously displaying striking sets and jaw-dropping wardrobes, but there's more to Jay-Z's video than its complex storyline. 
Read on to learn all about the small details you missed in the rap legend's music video.
The color blue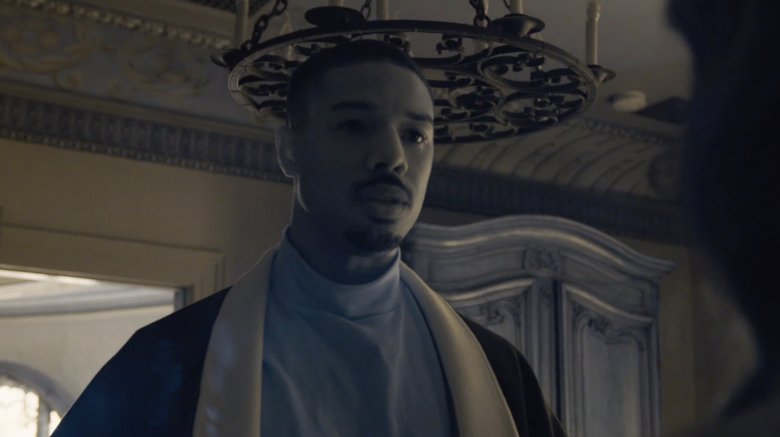 In the opening scenes of "Family Feud," actor Michael B. Jordan walks in on his character's sister, played by Westworld's Thandie Newton, in bed with a man. After the man, portrayed by Moonlight star Trevante Rhodes, kills Jordan's character, Newton's character stabs her lover, claiming, "It's not his. It's not yours. It's my throne." Pretty action-heavy, huh? 
While viewers were likely distracted by the characters' fighting, there's a pretty big Easter egg hiding in plain sight—the blue color scheme.
Blue is a particularly important color to Jay-Z and his wife, Beyoncé. After all, they did name their first-born daughter Blue Ivy. But the color means more to them than just their kiddo's name. In 2012, Beyoncé shared a passage from the 2005 novel A Field Guide to Getting Lost by Rebecca Solnit on her Tumblr page, explaining the significance of blue (via the Daily Mail). "The world is blue at its edges and in its depths. This blue is the light that got lost." As Solnit notes, this same light "gives us the beauty of the world."
References to 4:44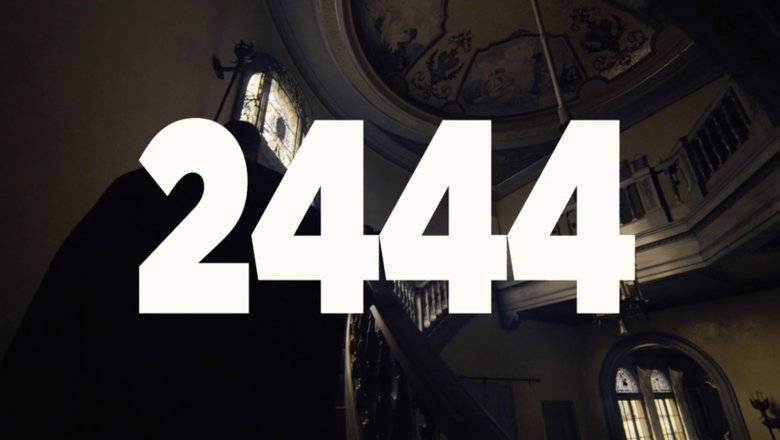 Jay-Z's thirteenth studio release, 4:44, is quite a feat — arguably the most personal record the rapper has ever released — so it seems fitting that he drop references to the album throughout the video for "Family Feud." 
The first instance of this comes within just seconds of the video's start. As Jordan climbs a flight of stairs, the year 2444 is stamped over the frame. Later, when speaking about the government's revisions to the constitution, Mister President, played by Omari Hardwick, states that the legal changes occurred "over 444 years ago." So what's up with this number? 
First off, not only is Jay-Z's album titled 4:44, it's also the name of a track on the record — one that hints at his infidelity. Calling the song "the crux of the album," Jay-Z told iHeartRadio (via Rolling Stone) that he "woke up, literally, at 4:44 in the morning, 4:44 a.m. to write this song."
The number four also carries some weight for Jay-Z's family. While promoting her album, 4, in 2011, Beyoncé told Good Morning America (via BET) the number means something special to her. "My birthday is on the fourth. My mother's birthday is on the fourth. My husband's birthday is on the fourth. I got married on the fourth."
Star-studded cast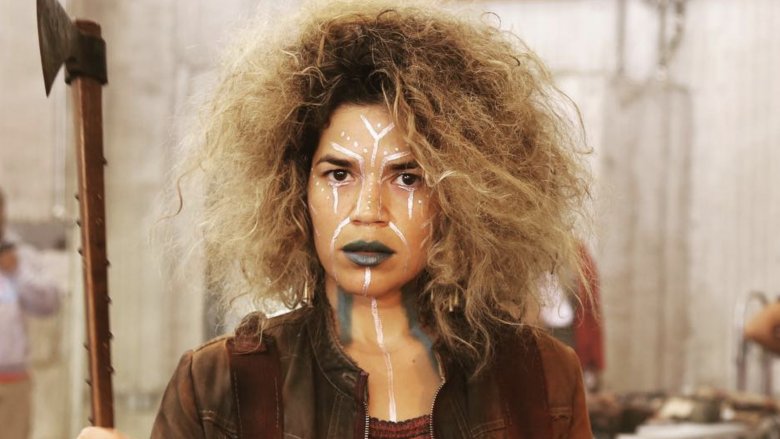 Instagram
Besides Jordan, Newton, and Rhodes, there are many celebrities that make appearances in "Family Feud." Among them are America Ferrera, who plays a warrior from the year 2096, and Irene Bedard, who portrays Madam President. Jessica Chastain, David Oyelowo, Emayatzy Corinealdi, Storm Reid, Aisha Hinds, and Henry G. Sanders also make cameos in the eight-minute video, according to Refinery29. And that's without mentioning Jay-Z himself, wife Beyoncé, and daughter Blue Ivy, as well as all of the stars in a meeting-of-the-minds scene.
Girl power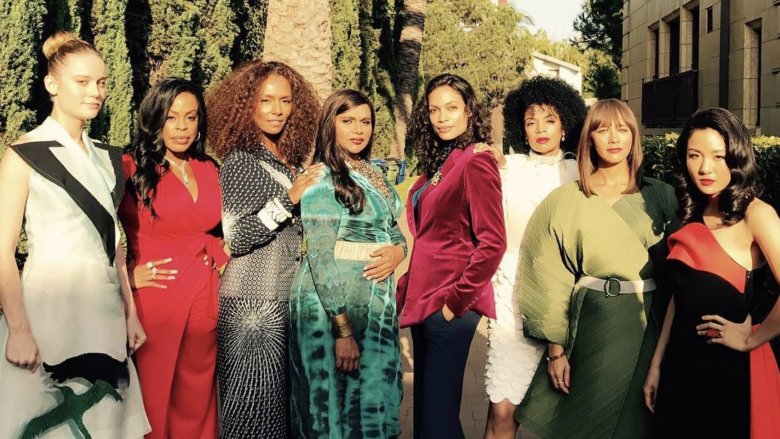 Instagram
In the imagined world of Jay-Z and DuVernay, women are placed in positions of power. When we see leaders gather to amend the constitution, every seat in the hall is filled by a female — a remarkable difference from many comparable workplace boards (via Catalyst.org). Perhaps Jay-Z and DuVernay were inspired to show a change in the typical male to female ratio in similar committees because of the #MeToo movement, or maybe they're simply projecting their noble desires to place more women in positions of power (Jay-Z did campaign for Democratic presidential candidate Hillary Clinton.)
Regardless of their reasons, it's a welcome scene in the video, featuring stars Brie Larson, Rosario Dawson, Rashida Jones, Constance Wu, Niecy Nash, Janet Mock, Mindy Kaling, and Susan Kelechi Watson all seated around one long table.
Mindy Kaling's pregnancy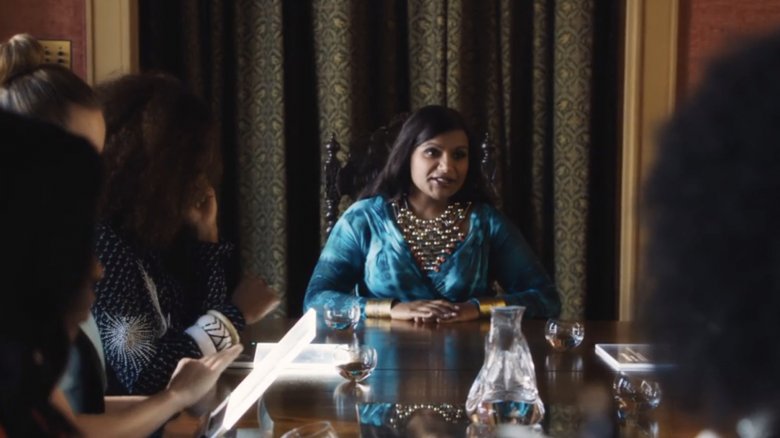 As if a scene featuring eight powerful women wasn't impactful enough, The Mindy Project's Kaling, who also stars in DuVernay's A Wrinkle in Time along with Reid, was pregnant during filming. Having a mother-to-be help determine the future of the country she'll soon bring her child into makes a pretty big statement.
Plus, it's pretty darn cool that baby Katherine Swati Kaling, born on Dec. 15, 2017, can grow up to say she starred in a Jay-Z video. Well, kind of.
13th Amendment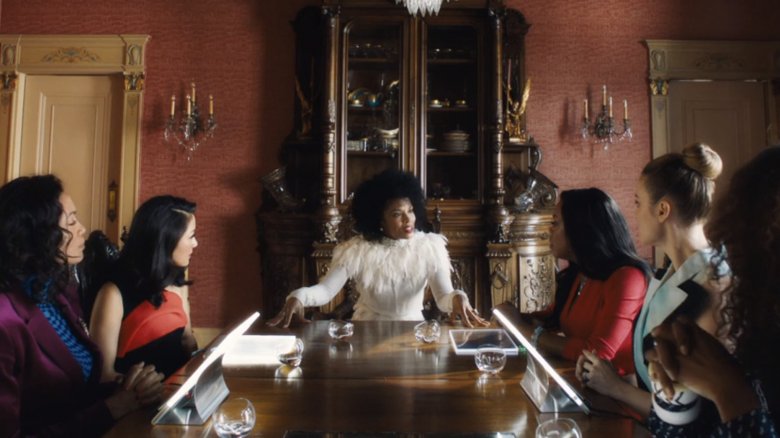 After arguing about potential governmental changes, Watson, who many may recognize as Beth Pearson from This Is Us, states, "Ladies, this is just like the 13th Amendment." She continues, "Some people have their liberties and some people don't. America is a family, and the whole family should be free."
The 13th Amendment abolished slavery in the United States in 1865. However, the reference to the amendment may be about more than just its push toward racial equality. It's also at the core of DuVernay's 2016 Netflix documentary, 13th, in which she suggests that the government still oppresses people of color who are serving time in prison — some of whom may have been victims to "a mythology of black criminality."
Is Blue Ivy the president?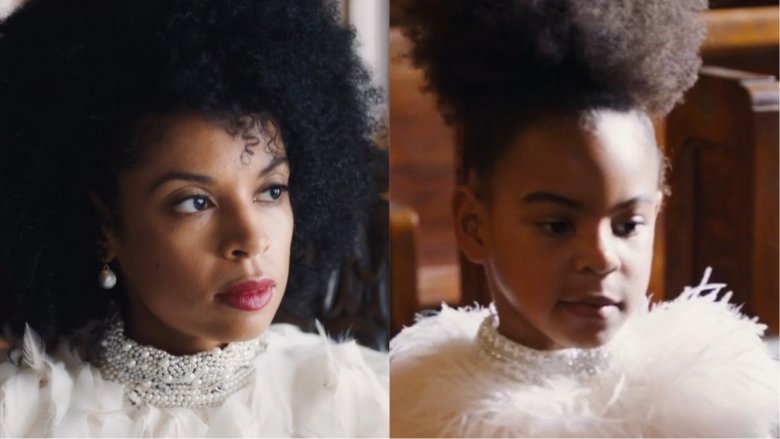 After Watson's character brings up the 13th Amendment, she tells her peers, "It's like I remember my father saying when I was a little girl. Nobody wins when the family feuds." As she says this, the video transitions to Jay-Z walking daughter Blue Ivy down the aisle of a church. Blue Ivy is wearing a white feathery gown similar to the one donned by Watson.
Clearly Watson is supposed to be the adult version of either Blue Ivy or Blue Ivy's character, but what role does she play in the story? Given that Watson's character sits at the head of the table and appears to steer the conversation at the meeting, it appears that she could very well portray the president of the United States. 
Is Jay-Z saying that his eldest daughter will have a career in politics? Maybe, maybe not — but we wouldn't put anything past that kiddo, especially considering her family's friendship with former U.S. President Barack Obama.
Confessing to Beyoncé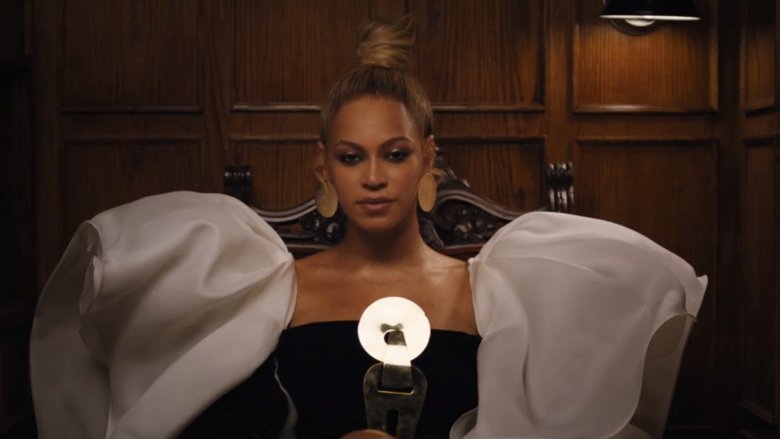 Given Beyoncé's feature on the "Family Feud" track, it only makes sense for her to have a major role in the video — especially since the song mentions her husband's cheating. Fittingly, Bey appears to portray some sort of cleric, donning a tall headdress and long veil while standing behind a church's ornate pulpit. She also listens to Jay-Z in a confessional as he confesses his sins.
"Yeah, I'll f**k up a good thing if you let me," Jay-Z raps. "Let me alone, Becky / A man that don't take care his family can't be rich." Becky is an obvious reference to Beyoncé's "Sorry" from her 2016 Lemonade album. The song presumably describes the hurt she felt after being cheated on by her husband. "He only want me when I'm not there. / He better call Becky with the good hair," she sings in that track.
In an interview with The New York Times, Jay-Z admitted his infidelity, noting that it all stemmed from him having previously "shut down all emotions."
The true meaning of family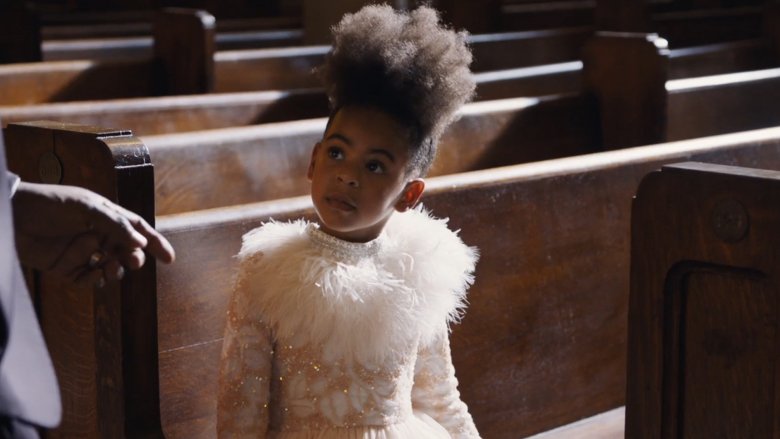 Throughout the video, it's clear Jay-Z understands that nothing good can come from family members fighting, but the video proves that it's not only people of the same blood that need to get along. Through various scenes portraying the future of the United States, it's obvious he and DuVernay want Americans to start seeing eye-to-eye — otherwise, true progress will never be anything but difficult.