Inside David Letterman And Johnny Carson's Relationship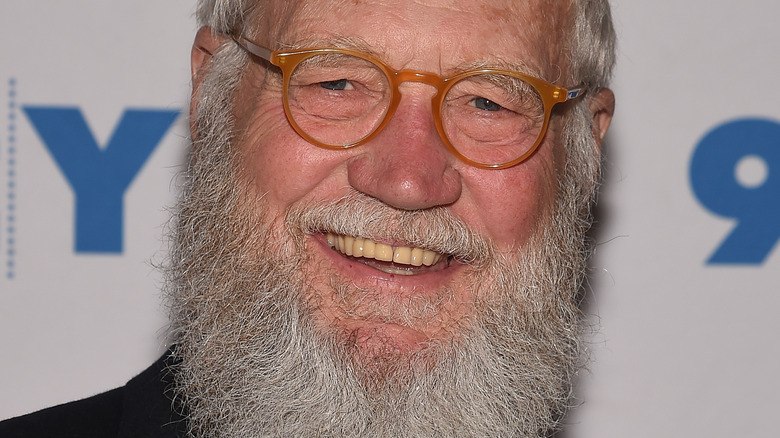 Dimitrios Kambouris/Getty Images
Throughout the latter half of the 20th century, Johnny Carson became a late-night companion to Americans looking for a laugh before calling it a day. His reign as the King of Late Night spanned three decades — from the assassination of President John F. Kennedy to the fall of the Berlin Wall. While Carson steered clear of politics, his easy-going, conversational approach to hosting "The Tonight Show" turned the program into a late-night powerhouse.
When the comedian signed off for the final time in 1992, it not only broke records, but left a glaring hole in NBC's late-night schedule. Many had expected David Letterman — whose "Late Night" had followed "The Tonight Show" for more than a decade — to pick up where Carson had left off. Unfortunately, things didn't exactly pan out the way either had intended. It's no secret that NBC fumbled with their handoff of "The Tonight Show," and its impact on those involved was no laughing matter.
Carson believed Lettermen to be his rightful heir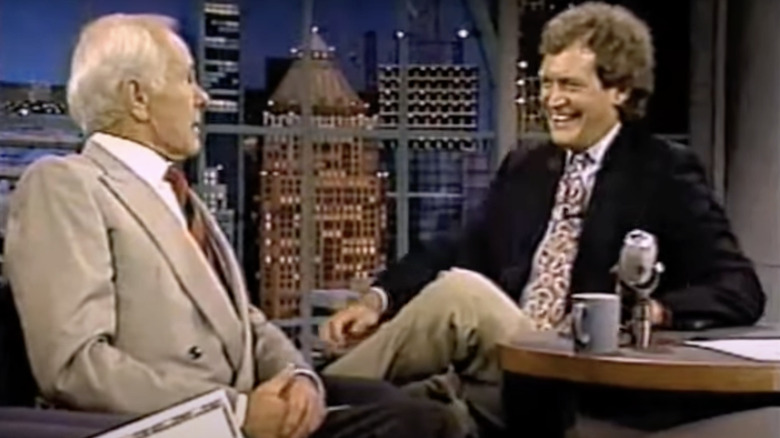 Frederick M. Brown/Getty Images
When Johnny Carson bid his final farewell to the nation that had faithfully tuned in to "The Tonight Show" for 30 years, he believed David Letterman to be the rightful heir to his late-night throne. According to The Guardian, Letterman had always revered Carson, and an appearance on his show in 1978 helped to jumpstart his burgeoning career. Before long, Letterman had positioned himself as a natural successor to "Tonight" with the launch of his own show, airing in the hour that followed his idol. The feeling was mutual, and Letterman was Carson's personal preference, but NBC picked Jay Leno instead. So, when Carson left the network, Letterman, resentful over being passed over, wasn't far behind.
A year later, Letterman launched "The Late Show" on CBS, opposite Leno's "Tonight" on NBC. Carson had contempt for Leno after his manager allegedly planted a fake story attacking him, and never made an appearance on his rendition of the show. However, his relationship with Letterman continued until his death in 2005.
Carson never appeared on The Tonight Show again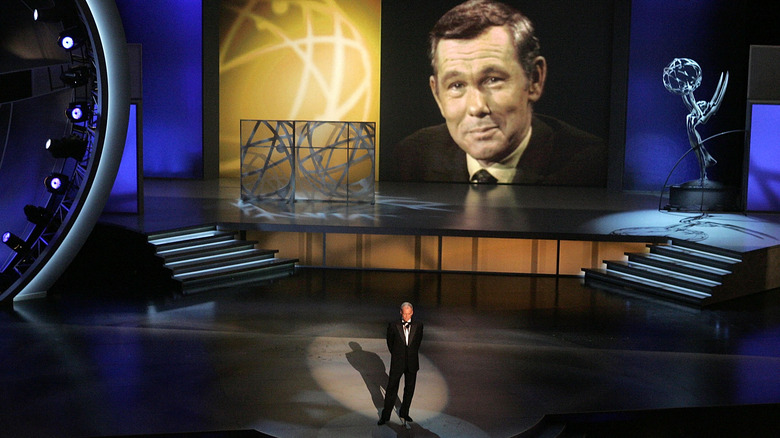 Vince Bucci/Getty Images
Johnny Carson, the King of Late Night, made his final television appearance in 1994, and for those of you who still have reservations about whether the host admired David Letterman or not, we'll say this: He opted to make his final late-night appearance on Letterman's "The Late Show," despite hosting the programs direct competitor, "The Tonight Show," for three decades. Carson walked out on stage to thunderous applause, and Letterman looked just as happy as everyone else to see his old friend.
While Carson never stepped foot in front of the cameras again, he still got in a few laughs. According to CBS News, the former late-night stalwart was a big fan of Letterman and even fed the comedian a few jokes. When Carson tragically died in 2005 at age 79, Letterman paid tribute to his old friend as best as you could expect. According to Today, when the comedian delivered his first opening monologue after Carson's death, he delivered a string of zingers entirely composed by Carson. "Johnny Carson was like a public utility," Letterman quipped after his friend's death. "At the end of the day, you wanted him to be there."