The Heartbreaking Story Behind Elton John's Biggest Regret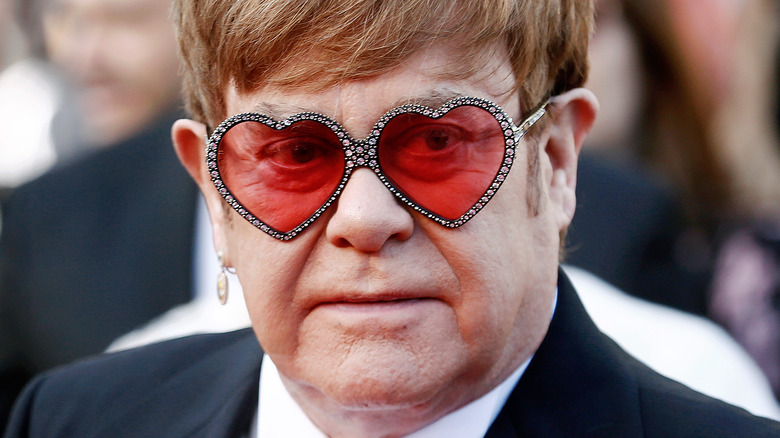 Andrea Raffin/Shutterstock
Elton John remains one of the most legendary British singers in the world. The pianist has an undeniable talent on the keys and was truly born to be a star. His soothing tone and captivating lyrics took over the industry in the 1970s, leading him to worldwide success. According to Rolling Stone, some of the musician's classic hits include "Your Song," "Tiny Dancer," and "Funeral for a Friend/Love Lies Bleeding," to name a few. However, the release of his 1972 single "Rocket Man" took John's career to all-new heights. The song, co-written by Bernie Taupin, scored the No. 2 spot on the U.K. Singles Chart and made it to the top 10 on the Billboard Hot 100 chart.
"I got so lucky with that being the first single off the album," John said during an interview with NME. "And so everything's been a bonus with this record ... I had so much fun and I learnt so much from doing it." 
Throughout his more than 50-year career, John has taken home five Grammys, two Golden Globes, two Oscars, and a slew of other prestigious awards, according to IMDb. And, although the singer has dominated in the music world for over five decades, there's only one thing he regrets.
Elton John regrets doing cocaine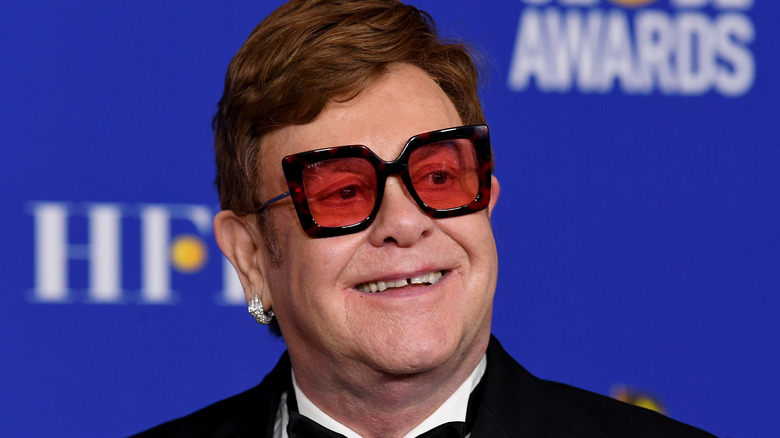 Kevin Winter/Getty Images
During a sit-down interview with NBC's Harry Smith, Elton John revealed he wished he had never tried drugs. "I'm so lucky to have survived all that I've done," he said. The British artist opened up about his addiction to cocaine and how it spiraled out of control within months of trying it for the first time. "I liked it because I could talk," John confessed. "I was very shy, so I thought, 'This is the drug that has opened me up. I can converse, I can be verbose.'" 
For more than 10 years, John indulged in the fast life, and doing drugs became a part of his daily routine. However, it took losing his dear friend Ryan White to AIDS for the "Hold Me Closer" singer to realize he needed to get clean once and for all. "My biggest regret is taking drugs, but, having said that, all of the pain and all the bad behavior, all the self-hatred I went through to get to where I got now, I got sober and I learned to live my life," he told "Today." 
And, while John was overjoyed to have beat his addiction, he's even prouder to have stayed sober for more than three decades. 
Elton John celebrates more than 30 years of sobriety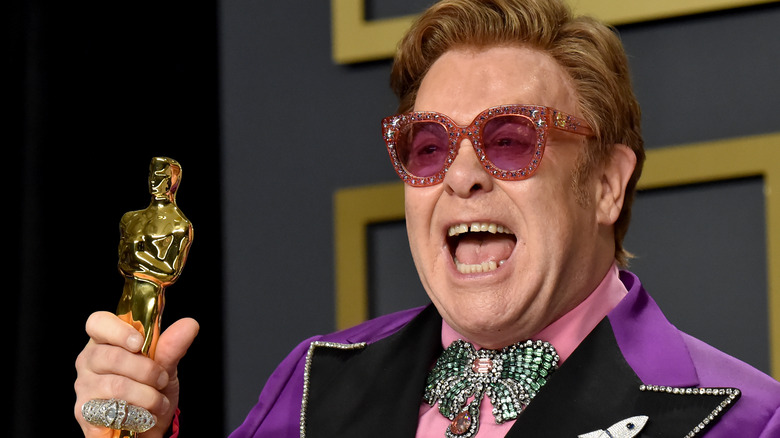 Jeff Kravitz/Getty Images
In 2020, Elton John celebrated a major milestone in his life — 30 years of sobriety. The songwriter shared on social media that he received an outpouring of support from his family and friends on his "magical day" and couldn't be happier to have made the right decision. "I'm truly a blessed man," he wrote on Instagram. "If I hadn't finally taken the big step of asking for help 30 years ago, I'd be dead." 
Since getting clean, John has become a big advocate for mental health and has used his experience with addiction to offer insightful advice to those who are struggling, as well. "Make recovery your absolute priority over everything else," John shared with Variety. The "Can You Feel the Love Tonight" singer also encouraged people to not get back to their daily lives so fast because it could hinder the recovery process. "I don't think I would still be sober today if I hadn't taken that whole year off and thrown myself into my program," he added.
John is proud to be a survivor and continues to tell his story to help others beat their addiction. While being sober is still an uphill battle no matter how long it's been, the musician has found ways to face his problems head on. "Life is full of pitfalls, even when you're sober," he said (via The Sun). "I can deal with them now because I don't have to run away and hide."
If you or anyone you know needs help with addiction issues, help is available. Visit the Substance Abuse and Mental Health Services Administration website or contact SAMHSA's National Helpline at 1-800-662-HELP (4357).