Cara Delevingne And Margot Robbie's Latest Run-In With Paparazzi Reportedly Got Ugly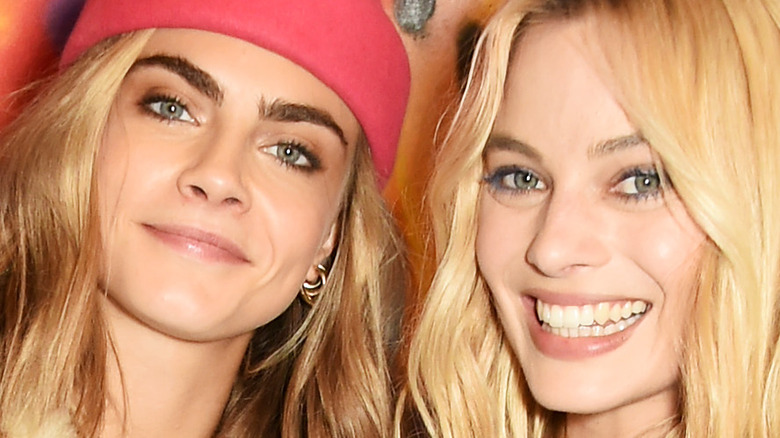 David M. Benett/Getty Images
Cara Delevingne and Margot Robbie both starred in the 2016 film "Suicide Squad" and became fast friends. Delevingne took on the role of Enchantress, while Robbie played the destructive but lovable Harley Quinn. Following the film's premiere, Delevingne and Robbie were spotted wearing matching tracksuits and looking similar with their blonde tresses, per Vogue. The two friends are so close, in fact, that Delevingne entrusted Robbie to give her a tattoo on the set of "Suicide Squad," per Entertainment Weekly.
Robbie showed up for her friend amid concerns about Delevingne's recent behavior at Van Nuys Airport. The Daily Mail reported that Delevingne was spotted acting erratically and appearing disheveled with no shoes. The former model was supposed to be on a flight, but reportedly disembarked after sitting on the plane for 45 minutes. The publication also reported that Delevingne had attended Burning Man but didn't eat or bathe the whole time.
The following week, Robbie was spotted leaving Delevingne's house, looking upset, per the Daily Mail. The actor was photographed supposedly wiping tears away, with a suitcase in hand. Now, the two friends have again made headlines after another drama-filled event.
Cara Delevingne and Margot Robbie were involved in a paparazzo scuffle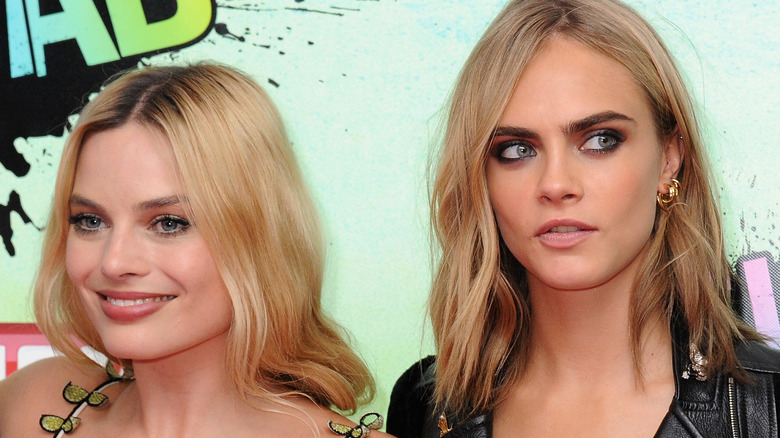 Dave J Hogan/Getty Images
Cara Delevingne and Margot Robbie were recently in Argentina when the two were reportedly ambushed by a photographer named Pedro Alberto Orquera, per Page Six. Delevingne and Robbie left a restaurant and were boarding an Uber when the paparazzo started taking pictures of the actors. The Uber driver got spooked and drove off with Robbie not fully in the car, causing her to jump out in a potentially dangerous situation. Although sources say the photographer fell and injured himself, his version of events was completely the opposite.
During the scuffle, Orquera broke his arm. According to The Sun, Delevingne and Robbie were with producer Josey McNamara and key grip Jac Hopkins. Orquera alleged that the two men try to grab his camera and physically attacked him. "I started running away from them because they were hitting me. While I was running from them they kicked me so hard my camera went up in the air and I fell on the floor and injured my arm," Orquera described of the incident. He was then taken to the hospital and where he's waiting to have surgery.
McNamara and Hopkins were detained by the police and it's unclear if charges have been pressed, although it's been said that Orquera is planning to, per TMZ. Neither Delevingne nor Robbie's camp has addressed the incident as of yet.