Seth Meyers Tackles Sexual Harassment Scandals At Golden Globes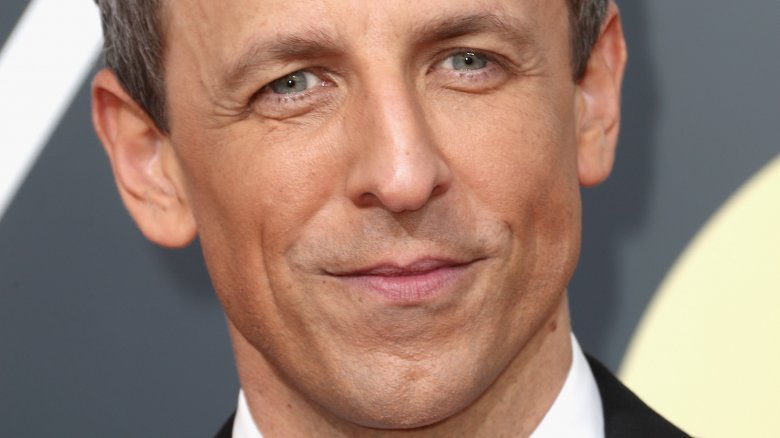 Getty Images
The awards show got off to a blistering start.
Seth Meyers began the 75th Annual Golden Globes on Sunday, Jan. 7, 2018, by tackling what was on everyone's minds already: the multiple sexual misconduct scandals in Hollywood, which broke after Harvey Weinstein was accused of sexual harassment, sexual assault, and rape in October 2017.
"Good evening, ladies and remaining gentlemen," Meyers joked at the top of his opening monologue (via The Hollywood Reporter). "For the male stars in the room this will be the first time in months that it won't be terrifying to hear your name read out loud." 
"A lot of people thought it would be more appropriate for a woman to host tonight's show, and they might be right, but if it makes you feel any better I have absolutely no power in Hollywood," the late-night host went on.
The Saturday Night Live alum then called out "elephant not in the room," disgraced film producer Weinstein. "Don't worry, he'll be back in 20 years when he becomes the first person to be booed at the annual In Memoriam," Meyers said, adding, "It will sound like that," as the room full of stars groaned.
Meyers then slammed Kevin Spacey, who has infamously faced multiple sexual harassment claims. "Well, despite everything that happened this year, the show goes on. For example, I was happy to hear they're going to do another season of House of Cards...is Christopher Plummer available for that, too?" the comedy writer joked, before mocking Spacey's Southern accent in the hit Netflix show (via TMZ). "Oh, is that too mean? To Kevin Spacey?" 
All jokes aside, Meyers ended his monologue with a sincere thank you to the women in the audience, saying, "I look forward to whatever you'll be leading us into next."