Why Brendon Urie Is The Only Member Of Panic! At The Disco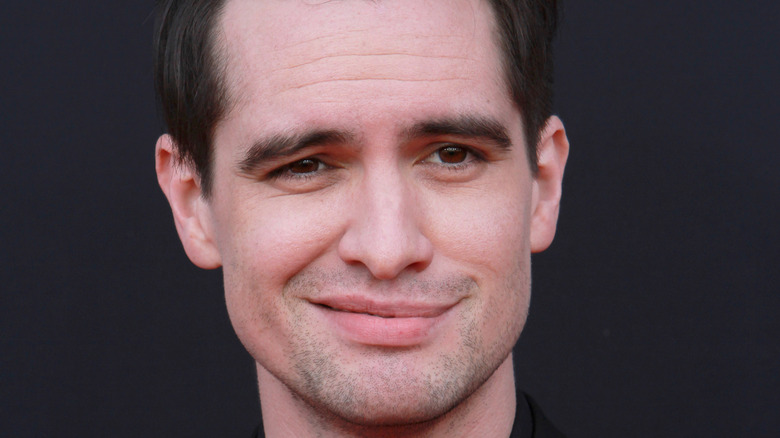 Kathy Hutchins/Shutterstock
When Panic! at the Disco first broke onto the scene with their debut record, "A Fever You Can't Sweat Out," nobody expected that four teenagers with paisley suits and vaudevillian theatrics would have the staying power to be around nearly two decades later. And for the most part, they were right.
While the emo phenomenon eventually fizzled out and gave way to the "E-kids" of today, Panic! at the Disco remained a staple of mainstream radio (through Taylor Swift's "ME!," for example) — buoyed by an ever-evolving sound and a reluctance to be pigeonholed. But what started as a quartet quickly became a trio and later a pop duo. That's because founding members Brent Wilson, Ryan Ross, and Spencer Smith all called it quits. Today, the moniker serves as a front for the solo work of Brendon Urie, and he's made it abundantly clear that he has no intention of changing it. "The name has always represented something more distant and exciting for me," he told Gigwise in 2016, the year he released his first solo project under the name. 
The current incarnation of the band is a far cry from the Panic! at the Disco of yesteryear, and many are left wondering why Urie decided to go it alone — and if he handled the departure of his bandmates with a sense of poise and rationality.
What started as a quartet quickly became a duo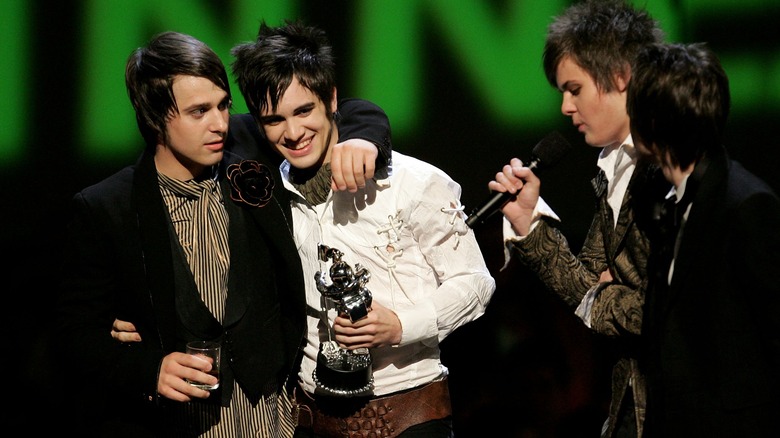 Scott Gries/Getty Images
Riding high off the success of their debut record, Panic! at the Disco set out on their first headlining tour in 2016. But much to bassist Brent Wilson's surprise, he wouldn't be joining them. "We were about to leave for a show in California, and they called me the night before and told me I was out of the band," he told MTV News. At first, his bandmates said the row was over "musical differences," but after he suggested the group had financial motivations, drummer Spencer Smith issued a scathing rebuke. "We made the decision based on Brent's lack of responsibility and the fact that he wasn't progressing musically with the band," he said at the time, adding that the bassist wasn't up to the task because several songs had to be simplified for Wilson to perform live.
Wilson's dismissal wasn't the only shocking departure for the band. With the release of "Pretty. Odd.," the band eschewed their dance-punk anthems for retro-inspired rock. According to MTV News, this caused tension between Ryan Ross — who wished to create more music in the vein of "Odd." — and Brandon Urie, who hungered for a more polished sound. In 2009, Ryan Ross walked away from the band, and he took Wilson's replacement, Jon Walker, with him. According to a statement (via Rolling Stone), the two intended to "embark on a musical excursion of their own."
Drugs and alcohol caused problems behind the scenes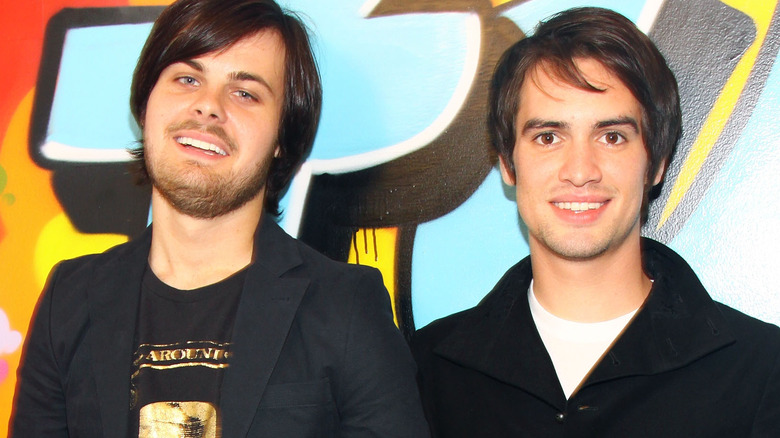 Astrid Stawiarz/Getty Images
Panic! at the Disco moved forward as a double act composed of founding members Brendon Urie and Spencer Smith. The duo released two albums, "Vices and Virtues" and "Too Weird to Live, Too Rare to Die!," and saw continued success. However, there were problems brewing behind the scenes. According to Gigwise, Smith — the band's founding drummer — sought help for alcohol and prescription drug abuse in 2013. "One of my closest friends has been struggling with addiction," Urie said in a statement (via Alternative Press), adding that "the tour will continue without Spencer."
By 2015, Smith had two years of sobriety under his belt from prescription medication, and "was working on a year of sobriety from alcohol." While it appeared that the musician had found his footing, on April 2, 2015, he shocked fans by announcing his departure from Panic in a long letter posted to the group's website (via Us Weekly). "After 10 years of being a part of this unbelievable journey, it saddens me to say that I will be leaving Panic," Smith began. "I realized that I wasn't able to be there for the band the way I wanted to be." From that moment, going forward, Panic! at the Disco was a solo effort.
When asked why he is the sole remaining member of the band in 2016, Urie told The Guardian: "Everybody wanted out from the Panic! thing. I mean, I respect it; any time anyone wanted to leave, the reasons were there, so it wasn't just a 'f*** you.'"
If you or anyone you know needs help with addiction issues, help is available. Visit the Substance Abuse and Mental Health Services Administration website or contact SAMHSA's National Helpline at 1-800-662-HELP (4357).