Kesha Appeared On This Reality Show Before She Was Famous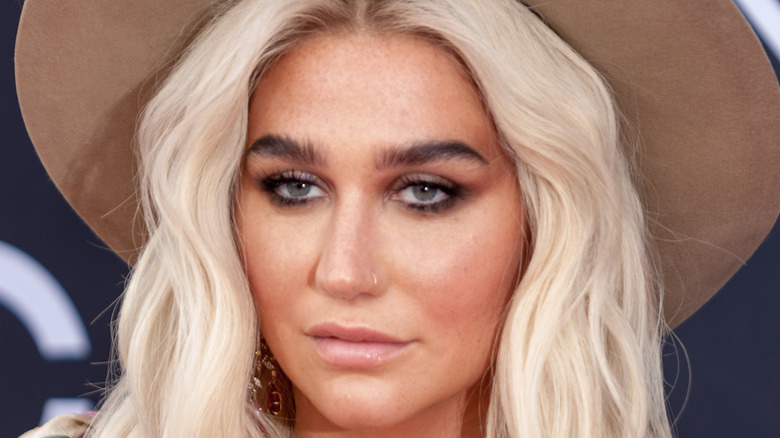 Jamie Lamor Thompson/Shutterstock
Singer Kesha, who formerly stylized her stage name with a dollar sign, hit it big with the release of her debut single "Tik Tok" in 2009 (via MTV). The singer's music had reached the airwaves long before TikTok was the name of an unrelated social media platform that launched the careers of numerous stars via short videos. Fans of the singer might be surprised to learn that her foray into the music industry may not be the first time that they've come across the star. 
In fact, long before she became a professional musician, Kesha made an appearance on an iconic reality television series from the early 2000s, and BuzzFeed chronicled the episode in a series of animated GIFs for a dose of nostalgia. In the filming process, a pre-fame Kesha even got the chance to rub shoulders with two huge celebrities of the era, no doubt making others jealous.
Kesha was on an episode of The Simple Life
Kesha appeared on an episode of the hit reality television series "The Simple Life," which starred Paris Hilton and Nicole Richie. At the time that the 2005 episode was filmed, Kesha was still a teenager living with her mother in Nashville, Tennessee (via Showbiz Cheat Sheet). According to an article from The Telegraph, Kesha's mother, Pebe Sebert, became the host mother to the famous faces after answering a newspaper advertisement.
The premise of "The Simple Life" was that Hilton and Richie would go to less luxurious areas of the United States to try their hand at being "normal" relative to their privileged upbringings (via Today). In the episode featuring Kesha, her single mother, Pebe Sebert, hosts Hilton and Richie, who then work to set up Sebert on a date (via BuzzFeed). In a clip from the show, a few potential suitors for Sebert are shown, with Kesha working side-by-side with the two celebutantes to choose the right match for her mom. The trio finally settled on a man named Randy, with Hilton telling Sebert that he was "ready to rock your world."
Kesha has reacted to her reality TV appearance
In 2021, Kesha was a guest on "Entertainment Tonight," where she was presented with a clip from the episode in question (via YouTube). Upon being shown the clip by host Denny Directo, Kesha laughed at her appearance at the time, commenting at around eight seconds in, "Oh, that's when I had orange hair." The singer then jokingly thanked Directo for embarrassing her with the throwback.
According to The Telegraph, while filming this episode of "The Simple Life," Kesha was reportedly called by Dr. Luke to say that he was interested in working with her. Per the outlet, "Nicole actually picked up the phone and hung up on Dr. Luke." Luckily, he dialed the future star again and Nicole Richie realized how serious the moment was. "I moved to LA and started singing back-up to Paris and doing background vocals," the vocalist explained.