Everything We Know About Debra Messing And Susan Sarandon's Feud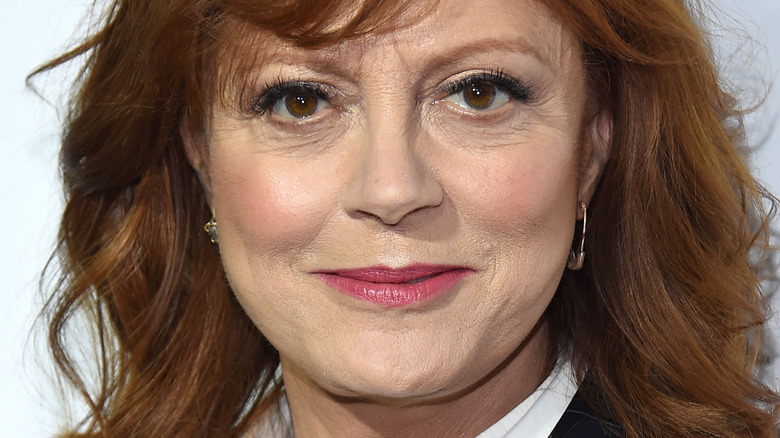 DFree/Shutterstock
Twitter is home to both the best and worst of internet discourse. Some exchanges are incredibly wholesome, while others are problematic, to say the least. Beyond Twitter serving as a platform for anyone to talk about anything, it also serves to connect celebrities with their fans — and other celebrities.
Like all of us, even Hollywood's elite have a tendency to air their every grievance on social media, lest we all forget the infamous Taylor Swift vs. Kanye "Ye" West battle. That being said, few arguments have been as intense as the clash between Debra Messing and Susan Sarandon.
Both actors are iconic in their own right, with Messing being a huge television star, and Sarandon being a critically acclaimed film actor. However, that's just about all Sarandon and Messing have in common. Starting all the way back in 2016, the "Will & Grace" star and the Oscar-winner found themselves on opposite ends of the political spectrum. Afterward, the drama between Sarandon and Messing spanned literal years.
Debra Messing called Susan Sarandon out for not dissing Donald Trump
Kathy Hutchins/Shutterstock
Back in 2016, Susan Sarandon turned heads when she gave an interview with MSNBC about the presidential election. The "Rocky Horror" heroine said that many people felt they couldn't vote for Hillary Clinton. She then added, "Some people feel that Donald Trump will bring the revolution immediately if he gets in."
Not long after the interview, Debra Messing fired off on Twitter about Sarandon's comments, criticizing the way Sarandon failed to denounce Trump, and questioning whether she would have the same opinion if she were poor, gay, Muslim or immigrant. Additionally, Messing took issue with the "insane" idea that a Democrat should vote for Trump over Bernie Sanders. However, Sarandon, a supporter of Sanders, later posted that she would "never vote for Trump."
"Please make that clear in the future," Messing tweeted in response. "For women's sake if for no one else." Sarandon then doubled down, tagging Messing but addressing "passionate principled independents" who don't necessarily agree with Clinton. Per People, Messing addressed her point by point, calling Sarandon out for not using her platform to stick up for marginalized groups.
Susan Sarandon invited Debra Messing to join the revolution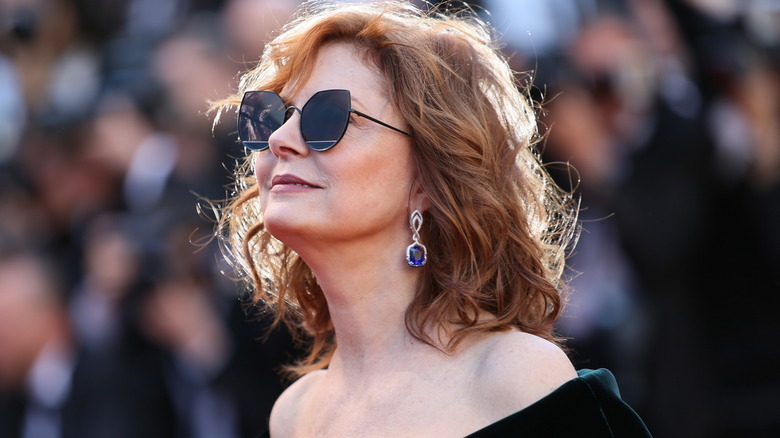 Denis Makarenko/Shutterstock
While Susan Sarandon and Debra Messing's feud began with the 2016 interview, it didn't stop there. According to The Cut, the ongoing Twitter battle raged throughout 2017 and 2018, while bleeding into 2019. Debatably Messing's most explosive comment came on the heels of another controversial interview involving Sarandon. The latter expressed belief that Donald Trump's presidency "inspired more women and people of color to run for office." Messing tweeted a scathing response, calling out Sarandon's cognitive dissonance in suggesting Trump's controversial policies may have had a positive outcome. Messing added, "only a self righteous, narcissist would continue to spout off and not – in the face of Americans' pain and agony -be contrite and apologize for your part in this catastrophe." 
Nicknaming Messing "Debs," Sarandon urged her fellow actor to watch the video and not judge it by the caption. Later, Messing egged Sarandon on by asking how she was "liking the revolution." The "Thelma & Louise" star took the opportunity to shift focus toward Bernie Sanders. She wrote: "Happy so many ideas labeled impossible/radical in 2016 like Medicare 4 All, fighting climate change, $15 min wage, [and] tuition free college are now mainstream." 
"Racial, economic & social injustice must be addressed with systemic change," Sarandon concluded, per People. "You're welcome to join." While Messing sparred with Sarandon a few more times, things largely cooled off after 2019. Sarandon spoke with Us Weekly about the feud, stating she doesn't "take it very seriously."