Why You'll Never See Tori Spelling Join The Real Housewives Of Beverly Hills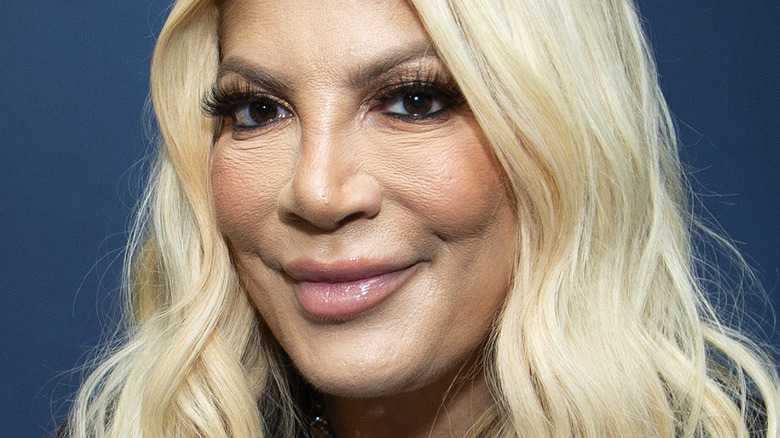 Santiago Felipe/Getty Images
Tori Spelling has been living the Beverly Hills lifestyle since birth. She was born into a life of privilege in 1973 — her late father, Aaron Spelling was one of the biggest television producers in the business, the mastermind of megahit shows such as "Charlie's Angels," "The Love Boat," and "Dynasty." As a teen, Tori starred in the hit TV show "Beverly Hills, 90210." She also lived in the biggest mansion in the Los Angeles area — the 56,000 square-foot estate called The Manor (via People). If anyone knows about the lifestyles of the rich and famous, it's Tori.
But the mom of five — yes, five! —  has also dealt with some serious financial woes, according to Us Weekly. To keep up with her lavish lifestyle, she switched from acting to reality TV and was successful with it. From 2007 to 2013, Tori and her husband Dean McDermott starred in the reality shows "Tori & Dean: In Love," "Tori & Dean: Home Sweet Hollywood," and "Tori & Dean Storybook Weddings." They completed the franchise with "Tori & Dean: Cabin Fever" and "True Tori" in 2014, per IMDb. Tori also appeared on other reality shows, including "Million Dollar Listing," "The Masked Singer," and "Messyness." The former "90210" star clearly has one of the longest reality TV résumés around.
So, perhaps it's a given that she's often asked about joining Bravo's "Real Housewives" franchise, especially the version that's filmed in her home town. But there's also a major reason why she would never do it.
Tori Spelling addressed rumors that she wants to join RHOBH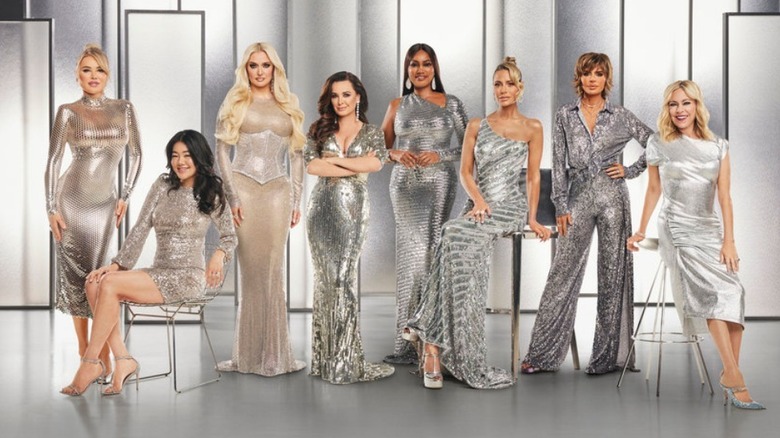 Bravo
Tori Spelling might be a seasoned reality TV star, but there's one show she has no interest in ever joining. In an interview with Entertainment Tonight, she revealed she's constantly battling rumors about her joining Bravo's "The Real Housewives of Beverly Hills." "I don't even know where they come from," she said of the rumors. "I've always said I'm a huge fan. I watch all the Housewives." The busy mom added that after working hard all day she likes to put on the Housewives at night to wind down — but that's where it ends for her. "I love it! It's my entertainment," she explained.
Spelling also admitted she doesn't have what it takes to face off with the "Real Housewives" cast, which currently includes Kyle Richards, Lisa Rinna, and Erika Jayne. Spelling told E! News that she knows RHOBH is not for her because she "would get eaten alive on that show." "I'm too nice," she added. "I can't deal with girl drama."
Tori Spelling claims she was never asked to join RHOBH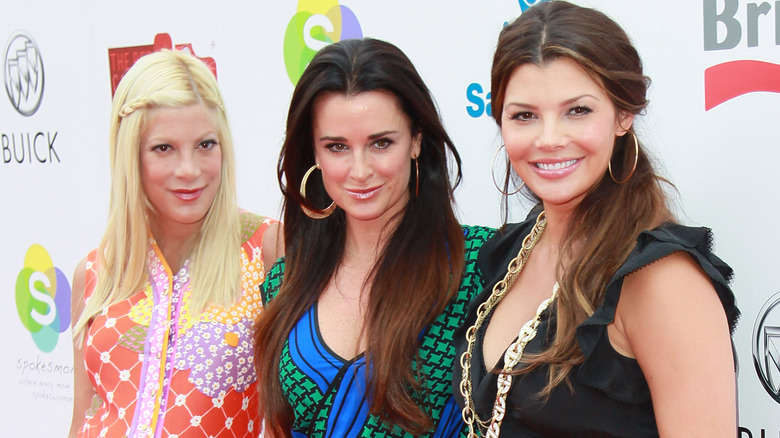 David Livingston/Getty Images
Tori Spelling would have an easy entrance into the "Real Housewives" world. She once told E! News that she's "friends with so many of them." But, she also made it clear that she has never actually been asked to be on the show.
In a 2019 interview on "Watch What Happens Live," Spelling listed "The Real Housewives of Beverly Hills" veterans Kyle Richards, Lisa Vanderpump, and Denise Richards as personal friends of hers. She also put host Andy Cohen on the spot when a viewer asked her about rumors that she wants to join RHOBH. "I don't know, Andy's never asked me," Tori said on the live late-night show. When Cohen asked her if she was "offended" by the snub, Spelling admitted she was, sort of. "Not offended," she said. "Well, a little bit. Because I'm, like, the biggest fan and I feel like I grew up in Beverly Hills." She also pointed out that her "Beverly Hills, 90210" bestie, Jennie Garth, has been asked to do the Bravo reality show in the past.