The Controversial Feud Between Kim Kardashian And Tyson Beckford Explained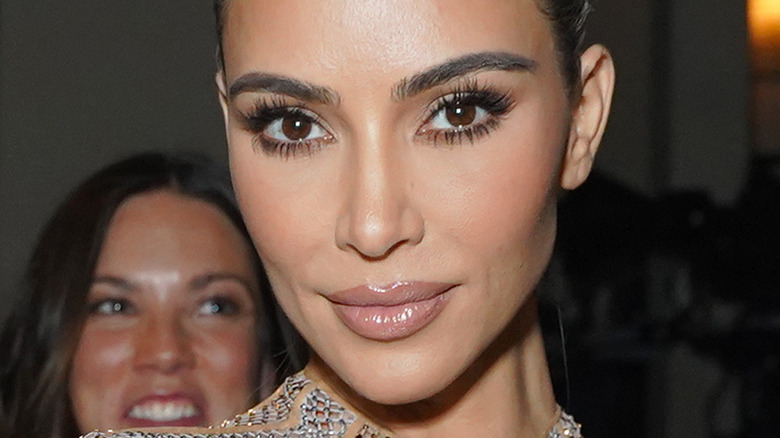 Sean Zanni/Getty Images
Kim Kardashian has made it clear that she is not afraid of diving head-first into a public spat. In her time as a public figure, the reality star has been known to fire back at her fellow celebrities. Kardashian, and her ex-husband Kanye "Ye" West, were embroiled in a near decade-long feud with Taylor Swift – which began with Ye interrupting Swift at the 2009 MTV Video Music Awards. Kardashian later inserted herself into the drama by sharing secretly recorded videos of a conversation Ye had with the "You Belong With Me" singer, where she is seen approving the use of her name in Ye's song "Famous."
However, one of Kardashian's messiest public fights was with model Tyson Beckford. Beckford is no stranger to controversy himself. According to Page Six, Beckford got involved in a volatile altercation with a DJ Ruckus over his ex-girlfriend Shanina Shaik back in May 2016.
Years later, Beckford and Kardashian would get into a social media brawl that saw both entertainers make bizarre claims about the other.
Tyson Beckford body shamed Kim Kardashian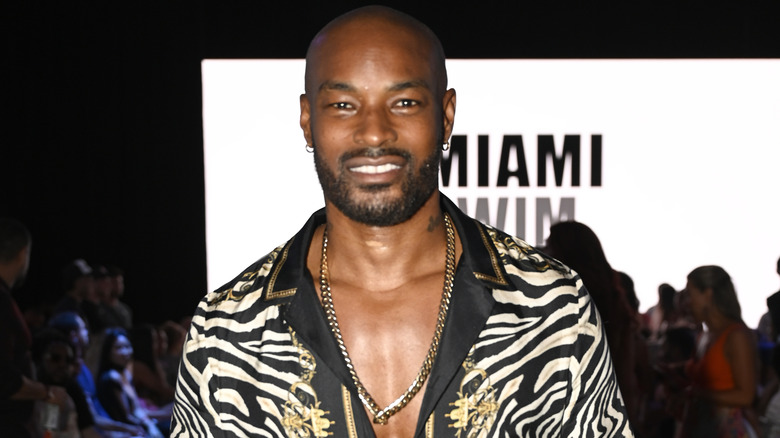 Arun Nevader/Getty Images
In 2018, Tyson Beckford made a snarky remark about Kim Kardashian's body, which left the SKIMS founder fuming. "Sorry I don't care for it personally," Beckford commented under a photo of Kardashian. "She is not real, doctor f***ed up on her right hip." In response to the jab, Kardashian fired off a shady comment about the model's sexual preference. "Sis we all know why you don't care for it," said Kardashian (via Twitter).
However, Kardashian was later dragged for her response, as some suggested she was attempting to weaponize homophobia. "I hope y'all get kim kardashian together for that homophobic response to Tyson Beckford," one person tweeted. Another added, "Umm calling a man sis is insinuating sexuality .... then putting fingernail polish emoji." One user even snapped, writing, "So if okay for women to call men gay if they don't like their bodies? Is gay shaming a new drag now???? Wow"
Beckford eventually responded to Kardashian's remarks and seemed not to take offense to "The Kardashians" star's insinuation. "I support LGBTQ even though I'm not gay," Beckford said on Facebook. "It's just the human thing to do."
Kim Kardashian and Tyson Beckford have both doubled down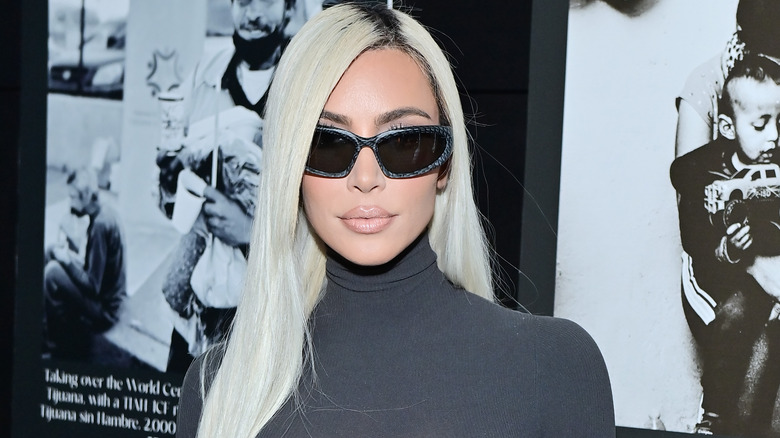 Stefanie Keenan/Getty Images
Despite the backlash Kim Kardashian received for suggesting that Tyson Beckford may be homosexual, the reality star doubled down on her remarks in an interview on "Big Boys Neighborhood." "He keeps on going and going and going, and I'm just like, 'Dude, that's so female lame to me. That's just lame to me.'" Kardashian said. "And for anyone to say that I am homophobic with the comment of saying 'sis?' All my best friends are gay." The entrepreneur went on to explain that she did not intend to offend the LGBTQ community.
Similarly, Beckford appears to have no remorse for his actions. In a 2021 Instagram Live sit-down with Sharon Carpenter, Beckford said that Kardashian is fully aware of his sexuality because the pair once had a brief fling. "But [Kim] forgot that we had hung out a few times and we do know each other via Paris Hilton and also my boy Scott Storch, when he was dating Paris," the model revealed. "I think we dated for a weekend actually." 
In the same interview, Beckford alleged that Kardashian's then-husband, Kanye "Ye" West, also attempted to confront him about the feud, but was unsuccessful. Kardashian has yet to respond to Beckford's claims.