Why Brooke Shields And Liam Neeson's Brief Romance Didn't Work Out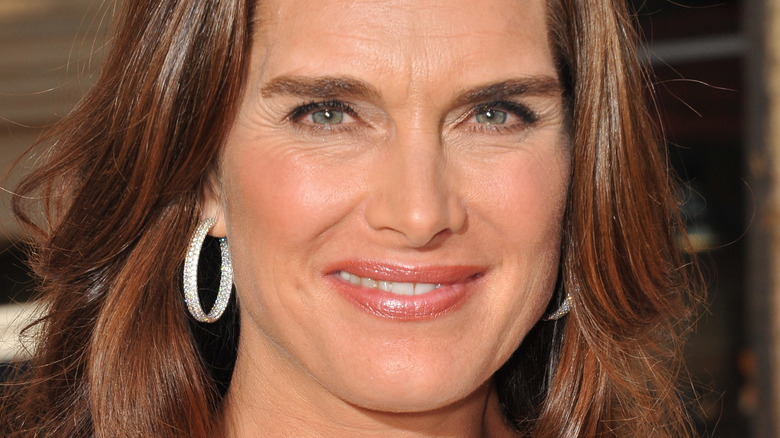 Featureflash Photo Agency/Shutterstock
Model and actor Brooke Shields has always been known for her stunning looks and on-screen presence. At age 57, she looked as confident and beautiful as ever in the first bra campaign for Kim Kardashian's fashion brand SKIMS. Shields posted photos on her Instagram account, as well as a Reel video where she talked about confidence and the female body. According to Shields, "I think one of the most perfect bodies is my ex-husband's wife. I had her legs on my mirror for about God, 15, 20 years and then he had to go marry those legs," she said, referring to her ex, tennis legend Andre Agassi, and his wife, Steffi Graf. In Agassi's autobiography "Open," he recalled Shields would workout with Graff's legs as her end game.
But, of course, Agassi wasn't her only love, as Shields has been linked to a number of Hollywood's leading men. This included a platonic relationship with John Travolta soon after his "Grease" fame and Scott Baio from "Happy Days," though he and Shields both claimed their public relationship was just for the press, according to People. One relationship that was actually real for Shields, however, was with future action film star Liam Neeson.
Sadly, the relationship wasn't meant to be, and Shields went on to wed Agassi before her second marriage in 2001 to "Funny or Die" co-creator Chris Henchy, per Page Six. Here's why Shields and Neeson couldn't make it work as a couple.
How Brooke Shields linked up with Liam Neeson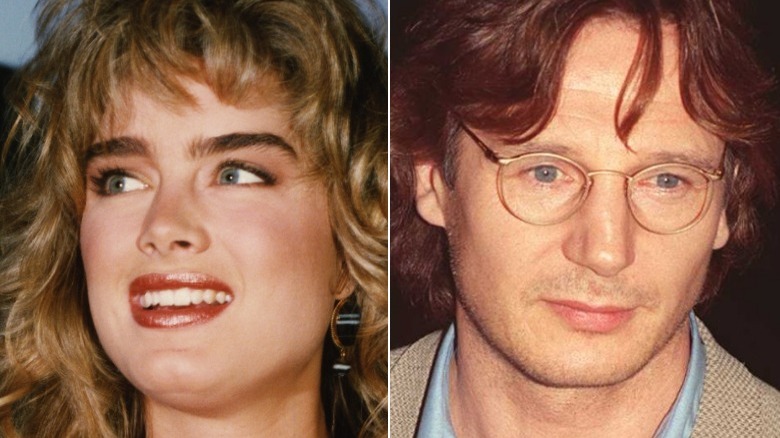 Denny Keeler/Getty & Vicki L. Miller/Shutterstock
In the '90s, Brooke Shields dated Dean Cain, who famously played the title superhero in the TV series "Lois & Clark: The New Adventures of Superman." The two knew each other from their days as students at Princeton University, which she shared on Instagram. Shields also revealed she lost her virginity to Cain while the two were together. Even though the couple split up, she had only positive things to say about Cain, like that "he's such a gentleman and he handled me so well," Shields explained on "The Meredith Vieira Show." After Cain, Shields lived in New York City and began dating Liam Neeson. "He was a tall Irish actor and a drunk who was thirteen years my senior," Shields wrote in her book "There Was a Little Girl: The Real Story of My Mother and Me." According to Shields, she became interested after he "wooed me with his brogue, his poetry and his sh**ty choice of cheap pinot grigio wine." The two drank cocktails together and walked in Central Park as part of a swift romance before "he asked me to marry him but without a ring." Soon after, Neeson said he needed to head back to California and Shields never heard from him.
Neeson went on to marry Natasha Richardson after the two linked up in the early 1990s. The two actors were together until her fatal 2009 ski accident in Canada, The New York Times reported.
Brooke Shields and Liam Neeson, take two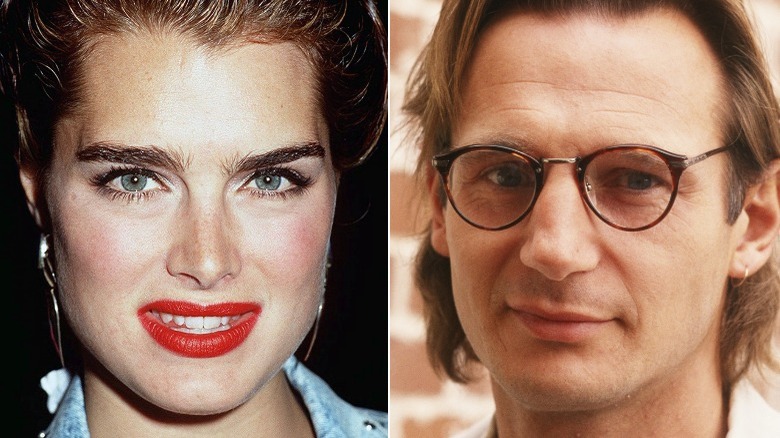 Kypros & George Rose/Getty
Though it appeared Liam Neeson and Brooke Shields would never end up together after he once proposed without a ring and then proceeded to ghost her, the "Taken" actor stayed enamored with Shields. "He actually proposed again. He came back after the first time he left me and asked me to marry him again," Shields revealed to People. The model and actor said that she didn't include this in her book because the story was a little too off-topic from the title, "There Was a Little Girl: The Real Story of My Mother and Me." 
After that second proposal, Shields was much more skeptical about Neeson being a suitable husband. "I said, 'No, no, no, because knowing you, you'll probably fall in love with your next leading lady and marry her, so I'm leaving myself out of this.' And I was dead right," Shields added. Her prediction was spot on because Neeson then went on to appear in the on-stage revival of the play "Anna Christie" alongside Natasha Richardson (via The New York Public Library). Richardson later returned to Broadway in the 1998 revival of the musical "Cabaret" playing Sally Bowles, a role made famous by Liza Minnelli, Slant Magazine recapped. In an amazing coincidence, Shields later played the same character on Broadway and Richardson was once there to see a performance, which she told to Neeson after running into him. "She's the original and she's amazing," Shields told Neeson.