Madonna's Fans Are Confused As Ever Over Her Latest TikTok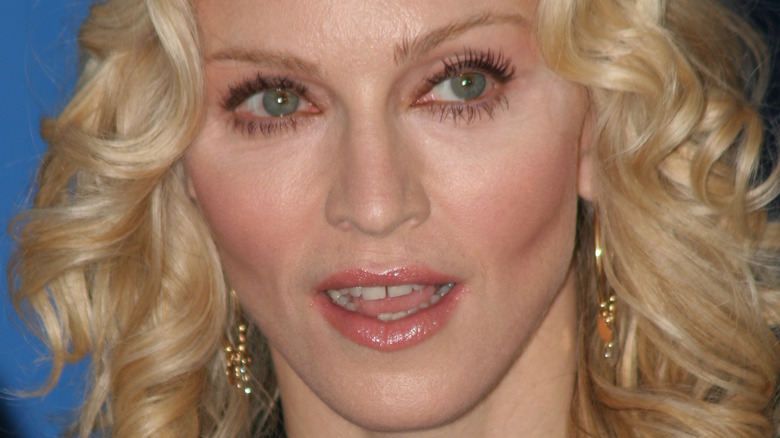 Denis Makarenko/Shutterstock
Madonna has fans pretty confused after posting a potentially very important video to TikTok. For a little context before we get into that though, it's no secret that Madonna has been an icon for the LGBTQ+ community for decades now. Madonna's impact has been so big that Anderson Cooper even lamented before she was given the Advocate for Change Award at the GLAAD Media Awards in 2019, "No single ally has been a better friend or had a bigger impact on acceptance for the LGBTQ community than Madonna." High praise indeed! Madonna then touched on how much it means to her to support the community, stating as she accepted the honor, "Fighting for all marginalized people is a duty and an honor I could not turn my back on nor will I ever."
That came around six years after Madonna — who made out with rapper Tokischa during a 2022 New York Pride show — made most of her iconic remarks ever. After a fan asked the risqué question, "If you were a gay man, would you be a top or a bottom?" during a question and answer session on Reddit, Madonna replied, "I am a gay man." Iconic.
But fans are now questioning if her words may have held a little more meaning than it appeared at the time following her somewhat cryptic TikTok upload that has everybody speculating.
Did Madonna come out on TikTok?
Madonna took to TikTok on October 9 rocking bright pink hair while holding a pair of almost matching pink underwear, which she attempted to throw into a trash can. Alongside the caption, "If I miss, I'm gay," Madonna half-heartedly attempted to dunk the underwear, missing by several inches. She then put her hand on her hip, put her other hand up towards the camera, and turned away. But what does the video actually mean?
The upload caused a media firestorm suggesting she may just have come out as gay, but it's safe to say fans were left a little confused by the sentiment behind the upload. "Did Madonna just come out? And I'm witnessing it in real time??" one person commented on the video. Others didn't seem to think the video was actually Madonna labelling her sexuality, though, with one person on Twitter writing alongside the clip, "Madonna jumping on the queerbating trend is not the trend I would have hoped she'd jump on."
Notably, Madonna has spoken about her sexuality before. Back in 1994 she addressed speculation about having relationships with women, telling Chicago Tribune, "What it boils down to is very good friends who happen to be lesbians and the public automatically assuming that I'm sleeping with them because I have this sexual image. I never bothered to say I'm not, because my attitude is, 'What if I am? Do you have a problem with it?' It's irrelevant."