Fans See Glimpse Of Selena Gomez's Struggles Like Never Before In New Project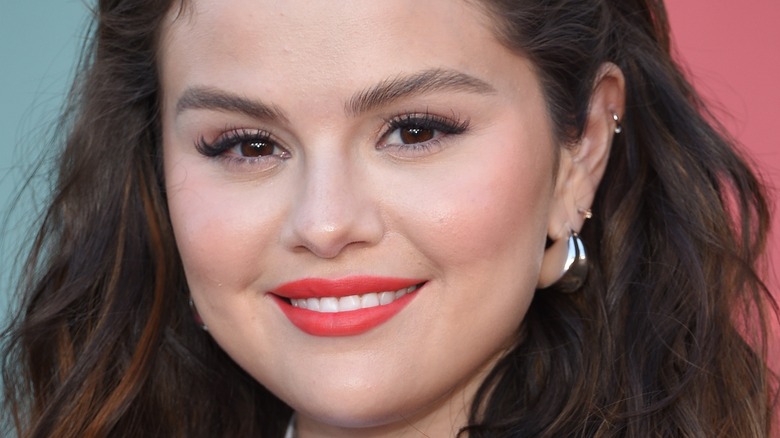 DFree/Shutterstock
If you're a fan of Selena Gomez, you're probably aware of some of the personal struggles she's gone through over the years, including a diagnosis of Lupus and a kidney transplant in 2017, per Kidney.org. Not to mention the stress of going through an extremely public and contentious breakup with Justin Bieber, who she dated on and off for several years (via People). The Disney channel star turned pop singer turned serious actor has shared a bit of her personal life with fans before — like opening her doors to television cameras to film her HBO cooking show, "Selena and Chef," and posting about her kidney transplant on social media. In her latest project, though, a documentary about her own life called "My Mind and Me" to be released by Apple TV+, Gomez is opening up like never before. 
In the newly released trailer for the doc, the "Only Murders In the Building" actor shares intimate details about her struggles with anxiety and depression, feelings of inadequacy, and, ultimately, her journey to living her best life and giving back in any way she can. Gomez recently shared a clip from the documentary on Instagram that further highlights the struggles she has previously faced.
Selena Gomez says she's grateful to be alive
In her upcoming documentary, "My Mind and Me," Selena Gomez is giving fans a more intimate look into the most difficult periods of her life. In the recently released trailer for the doc, Gomez says the feeling that most often holds her back is fearing "That I'm not good enough. That's something that I felt a lot of growing up." That's a feeling we'd imagine most people can relate to. Gomez also says in the trailer that despite these fears, she feels that she still has something to offer the world, and she's grateful that she was lucky enough to survive her illness. "I'm still here to use whatever I have to help someone else," she notes.
Complications from her kidney transplant surgery could have killed the actor, Gomez's best friend and kidney donor Francia Raísa told W Magazine back in 2018. "A few hours after our surgery, I woke up and had a text from her that said, 'I'm really scared,'" Raisa explained. "My kidney was very active, and when it turned I broke an artery. They had to take her into emergency surgery and get a vein from her leg and build a new artery to keep my kidney in place. She could have died."
As Gomez says in the trailer, "I am grateful to be alive."