Mila Kunis And Demi Moore Have More Than One Thing In Common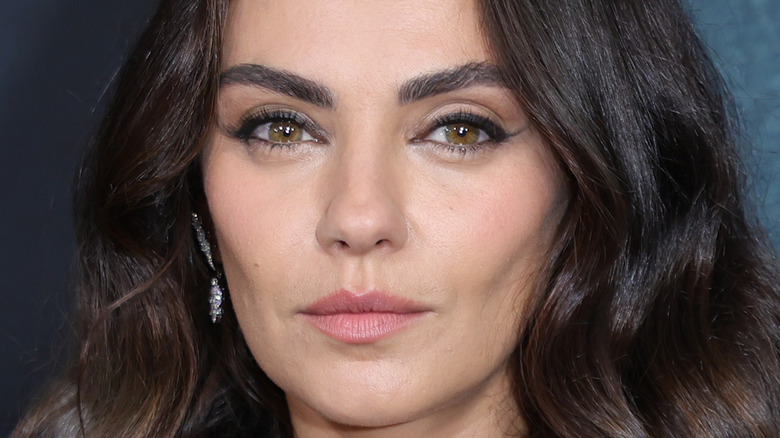 Michael Loccisano/Getty Images
Mila Kunis and Demi Moore have a lot in common. In addition to being two of Hollywood's most prominent faces, the actors clearly have similar romantic tastes. Following her divorce from Bruce Willis in 2000, Moore began dating Ashton Kutcher. The couple tied the knot in 2005 and went on to be married for six years before separating in 2011. Moore opened up about her relationship with Kutcher — who was 15 years her junior — in her memoir "Inside Out." "He was 25. I was 40," Moore recalled of the couple's first meeting, via Yahoo. "But I'm telling you: We couldn't feel it. We were totally in sync from our very first conversation."
Following his split from Moore, Kutcher then became romantically involved with his longtime pal, Kunis. The pair — who starred as on-again, off-again lovers in "That 70's Show" — reunited at the 69th Annual Golden Globe Awards and have been an item ever since, per People. And while it's clear that Kunis and Moore have at least one thing in common, some might be surprised to learn that the two stars have another huge similarity.
Mila Kunis and Demi Moore went to the same high school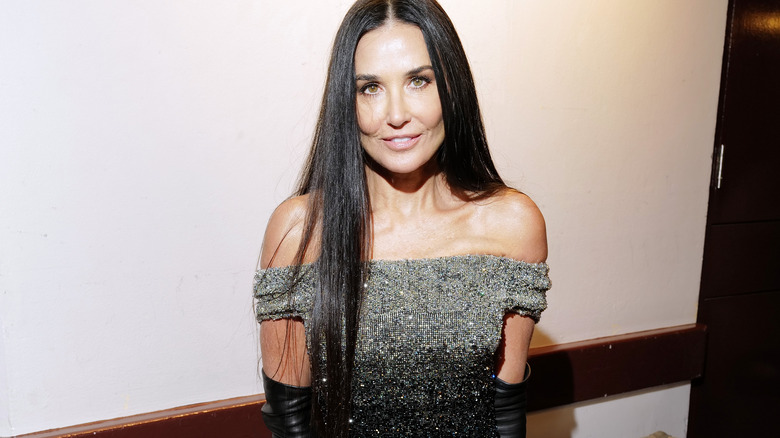 Darren Gerrish/Getty Images
In addition to their romantic interests, Demi Moore and Mila Kunis both attended Fairfax High in West Hollywood. The pair revealed their teenage connection during their participation in an AT&T advertisement — in which they compete to be named the "Most Admired Alum" from their alma mater. "I had no idea that we went to the same high school," Moore asked in the one-minute clip. To which Kunis jokingly responded, "We have a lot in common."
In a later interview with Entertainment Weekly, Kunis revealed that she had no idea Moore went to her high school but was elated when she learned of the fact. She said, "I thought it would bring humor and laughs to what was already a great ad. I reached out to her and was so delighted she jumped on board." In the same interview, Moore echoed Kunis' sentiments.
However, Kunis and Moore aren't the only famed alumni to come from the Los Angeles high school. Model Chanel Iman, talk show host Byron Allen, and two members of The Jackson 5 all attended the institution.
Demi Moore and Ashton Kutcher have a friendly relationship now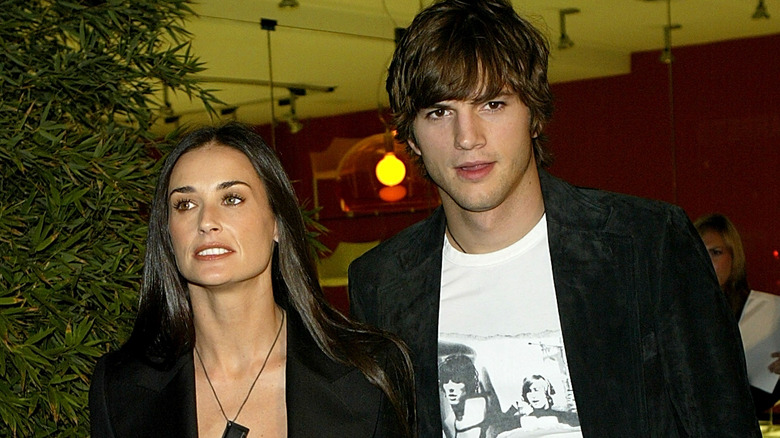 Carlo Allegri/Getty Images
Despite her excitement about working alongside Mila Kunis, Demi Moore has revealed that her relationship with her ex-husband Ashton Kutcher is cordial. In a 2019 interview with WSJ Magazine, the "G.I. Jane" actor suggested that she and Kutcher are simply "friendly." "We have some things that overlap," she said. Adding, "It's friendly. But we're not ... hanging out."
For his part, Kutcher has explained that he harbors no ill feelings towards his ex. "We don't hang out. You know. It's all good, we don't hang out," Kutcher said during an appearance on Marc Maron's "WTF with Marc Maron" podcast. "I make a really conscious effort to stay in touch with the girls." Kutcher went on to emphasize that there is "no badness" between him and Moore and added that he still keeps in contact with Moore's daughters Rumer, Scout, and Tallulah Willis. The "Jobs" star also explained that he "always had respect for Bruce [Willis]," who he called a "brilliant human."