Why Hailee Steinfeld's First Kiss Got Incredibly Awkward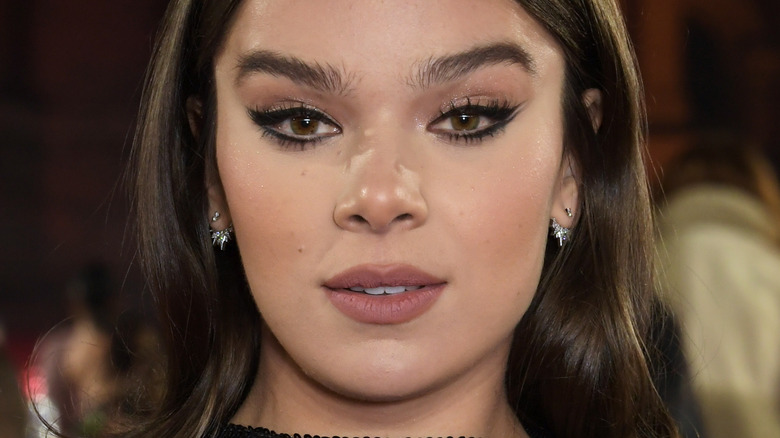 David M. Benett/Getty Images
The anticipation building up to your first kiss is filled with excitement and an idea that fireworks pop off in the background. This idea comes from seeing actors on-screen who have their first kiss, and of course, the movie makes it seem so magical. People get really excited about their first kiss, and more times than not, it doesn't end up going exactly how they pictured. The once romantic plan in their head turns into a reality of two people not really knowing what they are doing. Many stars have shared their first-kiss horror stories, whether the kiss itself, where it took place, or just who they kissed. These awkward situations make for a memory that many of them would gladly like to forget.
Hailee Steinfeld made a name for herself after starring in "True Grit" alongside Academy Award winner Jeff Bridges. The star went on to have a successful career in acting and singing, unfortunately, Steinfeld was unsuccessful when it came to her first kiss. The star became a part of the club of celebrities who have had an awkward experience with their first kiss. In Steinfeld's case, the star had a double whammy of embarrassing first kiss stories on-screen and off-screen.
Hailee Steinfeld's on-screen kiss pretended he was kissing his mom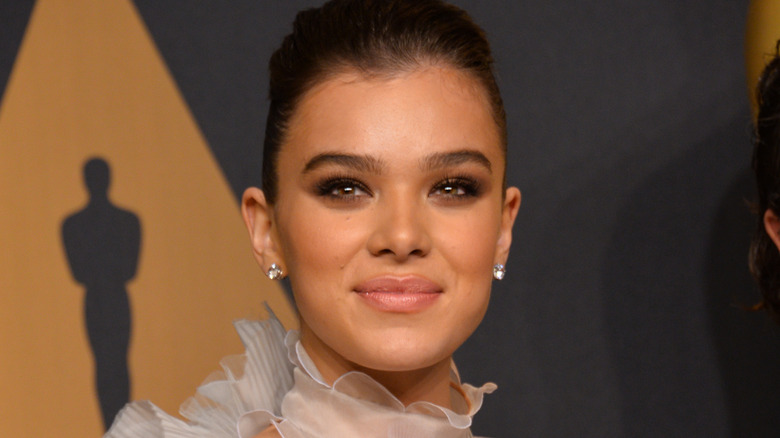 Featureflash Photo Agency/Shutterstock
Some celebrities start their careers as child stars, causing them to experience a lot of normal human experiences on-screen. According to Insider, Hailee Steinfeld began her acting career at 8 years old after seeing a family member in a commercial. The star then begged her parents to put her in acting classes so she could one day be on camera. Well, before Steinfeld got her big break, she participated in student-created films. Steinfeld can never forget this because it was in one of those films where she got her first kiss!
Steinfeld spilled all the deets about the awkward first kiss to W Magazine in March 2017. The star had been working on "a student thesis graduate film," and for one of the scenes, they wanted the then-12-year-old to kiss not one but two other boys — which the "Pitch Perfect" star described it as "a lot" for her.
Steinfeld's nerves only increased when they placed one of the boys on an "apple box" because he was much shorter than her. As if things couldn't get worse, one of the boys made the whole situation even more uncomfortable by saying, "I'm just going to pretend I'm kissing my mom." The star shrugged it off and said that she just pretended as though she was kissing her dog. Again, probably not what a first kiss is supposed to be like, but she was hopeful her actual first kiss would be different.
Steinfeld can't go home without thinking of her actual first kiss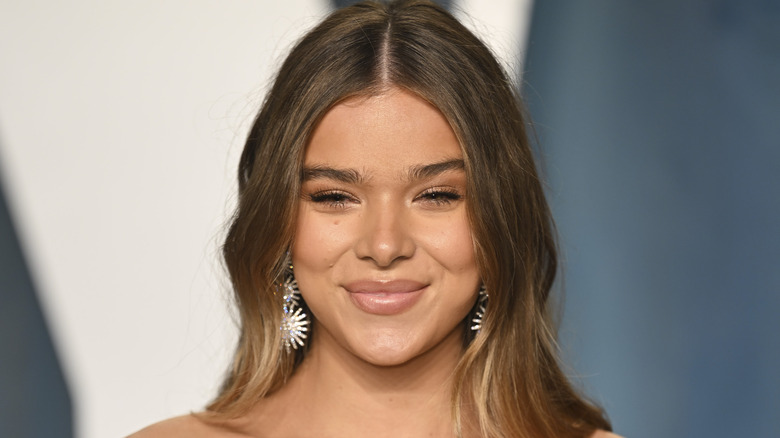 Karwai Tang/Getty Images
Hailee Steinfeld's first kiss is just one of the many on-screen kisses that can be added to the list of most awkward kisses on screen. The star, who at the time had not had her actual first kiss, kept her fingers crossed that her off-screen kiss would be much better. Unfortunately, for Steinfeld, it wasn't rainbows and butterflies. When break-ups happen, and things don't work out between the couple, people tend to get rid of everything that reminds them of that person.
Sadly, the "Hawkeye" star can't get the memory of her actual first kiss out of her mind because every time she goes home, it triggers a constant reminder. She shared with W Magazine, "My first real kiss was at my house that I grew up in by my front door, which kind of sucks because every time I walked through my front door, I think about him." To top it off the actor described the kiss as "messy."
Steinfeld, who technically already had her first kiss, felt as though she was an expert in the field. Because of this, the actor decided to make a comment about the kiss to the young boy. She told the magazine, "I'm pretty sure I looked at him, and I was like, 'No, no, you can do better.'" Years later, Steinfeld would enter a brief relationship with former One Direction singer Niall Horan — but we doubt she ever told him he could "do better!"