The Creepiest Things John Travolta Has Ever Done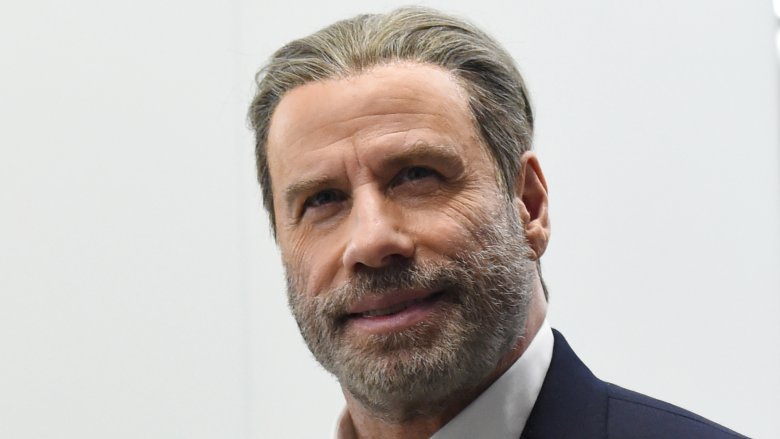 Getty Images
At one point in time—let's say 1978—John Travolta was the coolest dude on the planet. He was as smooth with the opposite sex as he was on the dance floor in Saturday Night Fever. He was a good-hearted dim bulb on Welcome Back, Kotter. And he drove "Greased Lightning" and got the girl in Grease. Then his career died down for a while, but he came back stronger than ever with an Academy Award-nominated performance in Pulp Fiction. Since then, Travolta has been an ever-present part of the pop culture, but over time he's gotten a bit ... weird. Here are some of Travolta's most unusual public moments.
He crashed a wedding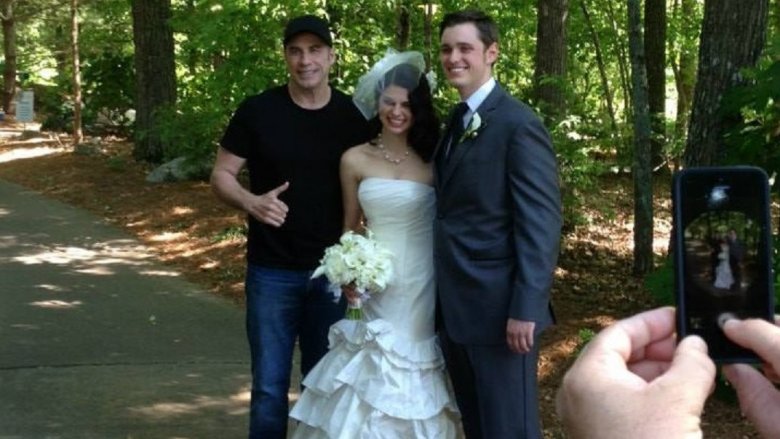 Reddit
Most couples getting married take all the wedding photos right after the wedding. It makes sense—the bride and groom are beaming with that newlywed glow, and all the bridesmaids and groomsmen are present and nicely dressed. The only real danger is that Travolta might show up in jeans and a T-shirt.
In 2013, a couple got married in Georgia, then took their photos in a lovely wooded area. One of the guests reportedly ran into Travolta at a nearby bar the night before, and the next thing everybody knew, Travolta was at the wedding, dressed in blue jeans, a black T-shirt, and a black baseball cap. Perhaps not quite knowing when to leave things alone, Travolta apparently wandered into a bunch of the couple's formal wedding photos, such as a bride-and-groom shot and one of the entire wedding party.
He allegedly healed Marlon Brando's leg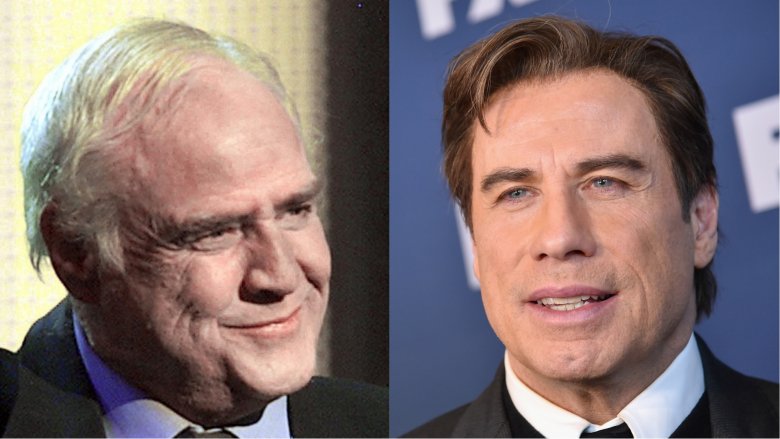 Getty Images
Travolta apparently fancies himself something of a healer. As the story goes, the legendary Marlon Brando showed up to a Hollywood dinner party, despite being in a great deal of leg pain. Travolta was there, too, and he magnanimously offered his services. Fellow actor Josh Brolin was also present, and he saw the whole thing go down—Travolta laying hands on Brando, and Brando closing his eyes while Travolta went to work. 
"I watched this process going on—it was very physical." Brolin told The New Yorker. "Then, after ten minutes, Brando opens his eyes and says, 'That really helped. I actually feel different!'" 
Nevertheless, Travolta's attorney later issued a statement that called Brolin's account and The New Yorker story "pure fabrication."
He made an album (and a video) with Olivia Newton-John
In 2012, John Travolta and Olivia Newton-John provided the Grease reunion that everyone who has ever sang "You're the One That I Want" at karaoke had been wishing for. The duo teamed up for a holiday album called This Christmas. Alas, some critics were not kind. Amanda Ash of the Edmonton Journal said that to call the project "a train wreck would be an understatement." 
If this thing was for the fans, they apparently didn't want it either — in its first Christmas season, This Christmas sold only about 36,000 copies. It's possible that people were turned off by the album cover art and the promotional music video for the song "I Think You Might Like It." Newton-John and Travolta no longer looked the way they did in their '70s heyday. For some reason, they more closely resembled wax statue versions of themselves.
He approached a stranger in the gym in the middle of the night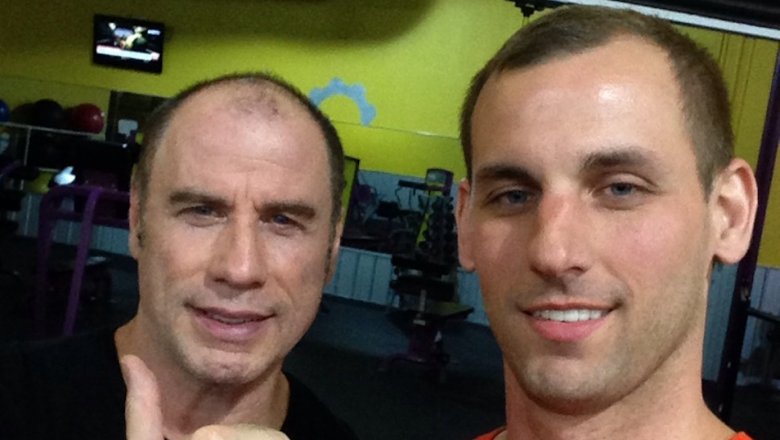 Reddit
Places like Planet Fitness may be open 24 hours a day, but they're pretty much empty at 3 a.m., except for the occasional well-known Hollywood movie star. 
In January 2015, an Ocala, Fla. man named Justin Jones finished up a late shift at work and hit the local Planet Fitness for a workout. That's when Travolta—the John Travolta—walked up and started a conversation. Jones told ABC News that he introduced himself with a simple, "Hi, I'm John." Then they talked for about 15 minutes, which included Jones telling Travolta that he was a fan of Welcome Back, Kotter. "He seemed very flattered by that," Jones said. "He asked a lot of questions about if I was married and if I had kids. The time just flew by."
Introducing Adele Dazeem
It was the most famous mistake in Academy Awards history (until that time when Warren Beatty and Faye Dunaway accidentally awarded La La Land the best picture trophy intended for Moonlight.) In 2014, Travolta was a presenter at the Oscars, and his only job was to introduce Idina Menzel's performance of "Let it Go" from Frozen. 
The bit went just fine at first—Travolta said the song was "gorgeously empowering" and that its singer was "wickedly talented." He was almost done at that point; all he had to do was say "Idina Menzel." 
Instead, Travolta introduced "the one and only Adele Dazeem." (One and only, indeed.) Travolta later blamed his flub on a misread of a phonetic spelling of "Idina Menzel" given to him at the last minute and on running into the "sexy, charismatic, beautiful" Goldie Hawn backstage just before he took the stage.
His bizarre apology to Adele Dazeem
Travolta, who said he spent some time "beating [him]self up" over butchering Menzel's name at the Oscars, got a chance to make things right with the singer/actress ... by returning to the scene of the crime for the 2015 Academy Awards. 
Menzel was a good sport, going out on stage to introduce Travolta— whom she amusingly called "Glom Gazingo" — for a public apology. A simple, "I'm sorry, Idina Menzel, you are fantastic," would have sufficed, but Travolta went beyond words. 
As he spoke Menzel's praises, he also gazed at her a little too long, held her in a lingering hug, and repeatedly touched her face. What's even weirder is that according to a Travolta representative, this was a pre-planned exchange that Travolta and Menzel rehearsed.
He appeared to have accosted Scarlett Johansson
Travolta just doesn't have very good luck at the Oscars. In addition to his two-part Menzel saga and not winning either time he was nominated for best actor (Saturday Night Fever and Pulp Fiction), there was also this snafu: widely circulated photos of the actor looking like he was attempting to kiss a very uninterested Scarlett Johansson on the red carpet.
The images made Travolta look like a complete and total creep. However, it was reportedly all just a misunderstanding. Johansson defended her A Love Song for Bobby Long co-star, telling The Associated Press (via The Guardian), "There is nothing strange, creepy, or inappropriate about John Travolta." She said the image of their odd exchange was "an unfortunate still-frame from a live-action encounter that was very sweet and totally welcome."