How Robert Herjavec And Kym Johnson Really Got Together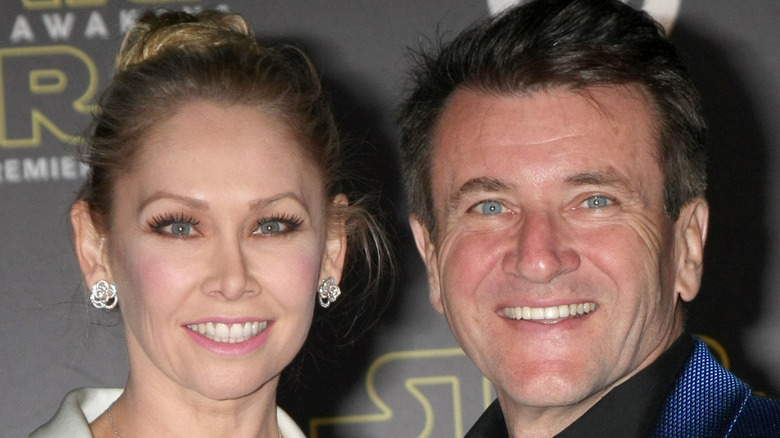 Kathy Hutchins/Shutterstock
Robert Herjavec and Kym Johnson have the most adorable meet cute that led to the most adorable twins. The happy couple tied the knot back in July 2017 — and haven't been able to stop gushing about one another since then. "I'm just so happy to be going through life with Robert," Johnson told People mere days before she and Herjavec tied the knot, while the "Shark Tank" star added of his then bride-to-be, "I enjoy every minute I spend with Kym. When I met her, I felt complete." Aww!
Fast-forward to April 2018 and Herjavec and Johnson became parents together for the first time (Herjavec already has three children from his previous marriage) with the businessman confirming the birth of their twins, Haven and Hudson, via a sweet Instagram post. "Welcome to the world Hudson Robert Herjavec & Haven Mae Herjavec — it's great out here! May you always know love, peace, and grace in your lives. May your dreams have no bounds and your spirit be strong," he wrote. Plenty of super sweet family snaps have since followed over the years, including this photo from August, which showed the parents and their ever-growing twins enjoying a trip on a boat.
But how did this adorable family really come to be? Well, we have a reality competition show to thank for that.
Robert Herjavec and Kym Johnson kissed on 'Dancing with the Stars'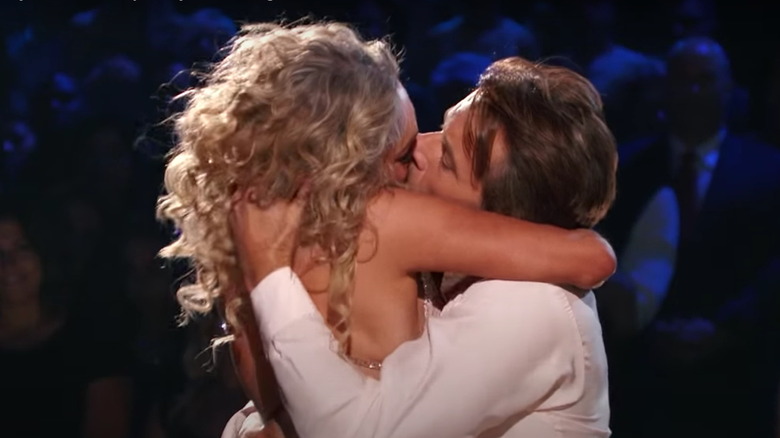 ABC/YouTube
You may have forgotten that Robert Herjavec and Kym Johnson's fairytale romance is all thanks to "Dancing with the Stars." The "Shark Tank" star with partnered with professional dancer Johnson on Season 20 of the series in 2015, and sparks clearly flew in the ballroom. In fact, there was such chemistry these two even shared a kiss during a dance in May 2015! But both denied at the time that it was anything romantic. Johnson hit back to Us Weekly, "It was just part of the dance!" adding, "We just thought, 'Let's see how we feel on the night' and that's what we did. We just — it took me by surprise because I didn't know if he was going to do it or not." Herjavec then added, "We're professional dancers, we were just in the moment." Yeah, yeah. Whatever they say.
The couple eventually made it to a respectable sixth place, and very much stayed in touch after the show and officially confirmed they were dating around four months after the season finale. Everything just seemed to fall right into place for these two, as they joked to People in September 2015 that even though they'd only known each other for eight months, they already felt like they'd been married for years. Herjavec (who split with his first wife in summer 2014) also shared how grateful he was to the show for bringing Johnson into his life.
Robert Herjavec and Kym Johnson moved pretty quickly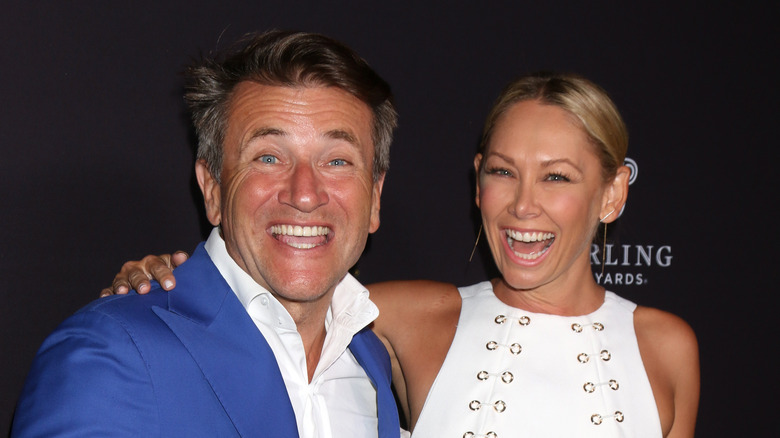 Kathy Hutchins/Shutterstock
As they say, when you know, you know, and Robert Herjavec clearly knew Kym Johnson was The One for him without taking years and years to make up his mind. People confirmed he and Johnson were officially engaged in February 2016, around a year after they first met after being paired up on "Dancing with the Stars." "I still can't believe that a year after walking into a dance studio of all places, my life has changed this much," Herjavec gushed following their engagement, around five months before the happy couple tied the knot.
But despite all the chemistry that eventually blossomed from their often steamy "DWTS" dances, things apparantly didn't exactly happen romantically for Herjavec and Johnson right away. The latter revealed to People in January 2016 that (we're guessing prior to that notorious "DWTS" lip lock) their relationship started out purely platonically. "We got to know each other on a friendship level. That developed into something else. We're both each other's number one fans, and have respect for each other," she shared.
And the rest is history!