All The Details About Oprah And David Letterman's Feud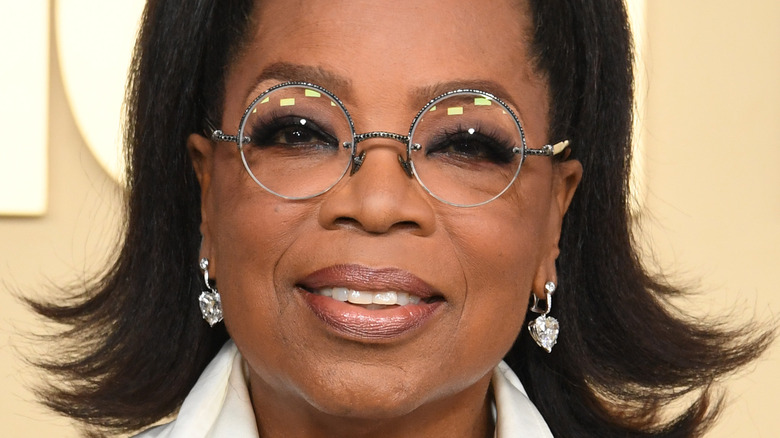 Jon Kopaloff/Getty Images
Oprah Winfrey and David Letterman are two of the most recognizable broadcasters in television history. Winfrey rose to fame as the star of the uber-popular daytime program, "The Oprah Winfrey Show," which aired from 1986 to 2011. Winfrey's run on television included an impressive 18 Daytime Emmy Awards – as her show quickly became the highest-rated program of its kind. 
A few years after Winfrey's show premiered, CBS launched a late-night TV venture led by former standup comic David Letterman. "Late Night with David Letterman" premiered in 1982 and ran on NBC until 1993. According to the Los Angeles Times, Letterman's move to CBS came after failed negotiations between the comedian and the network. Per the outlet, Letterman signed a $14 million deal to switch networks and he was promised the coveted 11:30 time slot.
Letterman and Winfrey have both since retired from their daily talk programs after amassing extremely lucrative careers. However, some may recall a messy feud between the pair that seemingly played out over the course of two decades.
Oprah Winfrey felt disrespected on David Letterman's show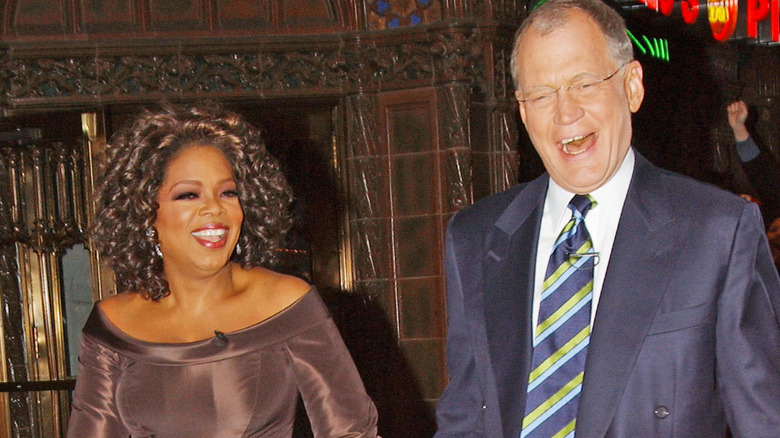 Arnaldo Magnani/Getty Images
Oprah Winfrey's feud with David Letterman dates back to her first appearance on the late-night show, which occurred in the '80s. Per Business Insider, Winfrey had an uncomfortable interview with Letterman and refused to return in the future. A few years later, the comedian poked fun at the broadcaster's unique name while hosting the 67th Academy Awards. "I've been dying to do something all day and I think maybe we can take care of this," Letterman said, before introducing Winfrey and actor Uma Thurman to the crowded audience. "Oprah? Uma. Uma? Oprah." Letterman quipped before adding, "I feel much better. Have you kids met Keanu?"
And while many believed that Letterman's quarrel with the Emmy-winning talk show host began with his joke at the Oscars, he has since provided more insight into how the feud really started. "This predates the Academy Awards. She hated me long before then," Letterman told Jon Stewart during an episode of "Late Show with David Letterman," (via HuffPost). "She was with Steadman, I was with my then-girlfriend Regina. We were both at a restaurant having lunch on vacation. I said to Regina, 'Oh, this is hilarious, I'm gonna make Oprah buy us lunch.'" Letterman went on to reveal that he told the waiter that Winfrey would take care of the check, and he ended up with a "free lunch."
Oprah Winfrey and David Letterman reconciled twice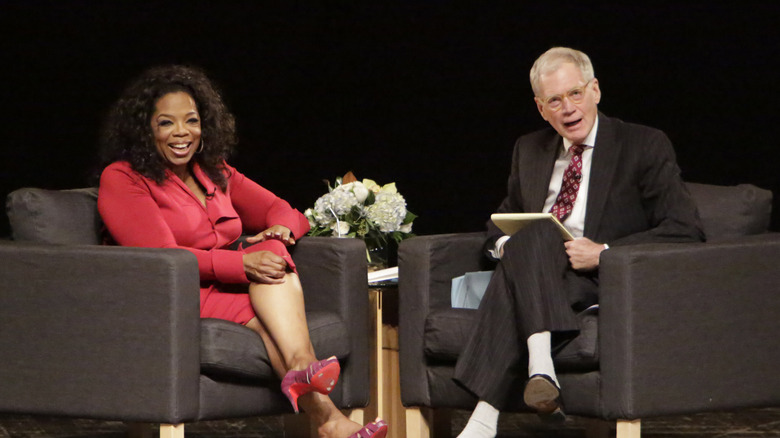 Ron Hoskins/Getty Images
Oprah Winfrey and David Letterman made two different attempts to end their decades-old feud. In 2005, Winfrey stopped by the "Late Show with David Letterman" and attempted to settle the pair's quarrel, and the host seemed equally as excited about the meeting. "She's huge. Put bygones behind us, the water under the bridge, over the dam, wherever water goes — standing in your basement — she's going to be here on this show and it's going to be fantastic," the comic exclaimed (via Today).
During the interview, the pair attempted to determine the origin of their rumored feud, but never fully addressed the problem. "I have never for a moment had a feud with you ... I want you to know, it's really over, whatever it is you thought was happening," Winfrey told Letterman.
It would take a few more years for the duo to finally tackle the root of their problem. In January 2013 –- two years after the official end of "The Oprah Winfrey Show" –- Letterman joined the broadcaster for an episode of "Oprah's Next Chapter." During their conversation, the Chicago native explained why she refused to return to Letterman's show after her first appearance. "It was a terrible experience for me. The guy in the audience started yelling, 'Get her, Dave!' You were sort of baiting the audience, and there were a bunch of drunk guys down the front," Oprah explained. Letterman genuinely apologized for the moment, and it appears that now the two have officially moved forward.