How Jay-Z Got Taylor Swift And Kanye To Briefly Become Friends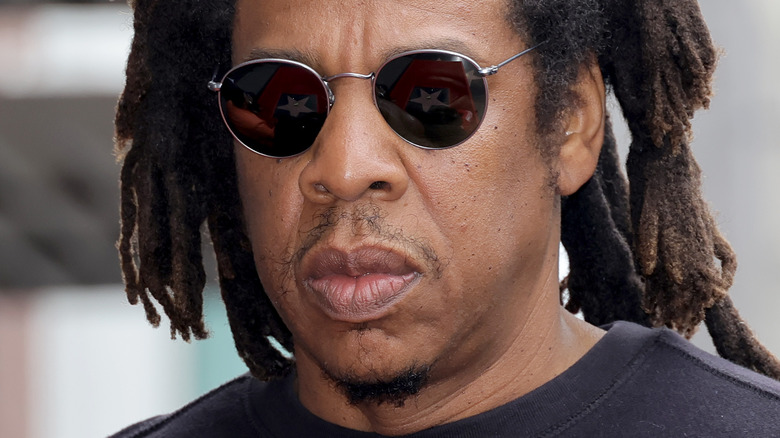 Kevin Winter/Getty Images
There have been a lot of celebrity feuds that have occurred but none compare to the long-lasting feud that Kanye "Ye" West has with Taylor Swift. It all started in 2009 when West stormed the MTV VMA stage interrupting Swift's speech for her win for Video of the Year. West uttered the now famous line, "Yo, Taylor, I'm really happy for you, I'ma let you finish, but Beyoncé had one of the best videos of all time!"
Swift shared on ABC News Radio that the rapper had apologized to her. For the next couple of years, the two celebrities ignored each other and went their separate ways. But, eventually, West took the apology back as quickly as it came. In 2013, he told The New York Times he was pressured to give an apology. In 2015, to the surprise of many fans, the two were seen smiling and talking to each other at the Grammys. Things quickly went south when the Yeezy creator released his song, "Famous." A couple years later, Swift released the music video for "Look What You Made Me Do," which had subtle messages and a jab at Ye.
Years went by, and while the feud remains, there was actually a point of reconciliation. One of Ye's closest friends and rapper Jay-Z also weighed in and could be credited for Swift and West's brief friendship in 2015.
Kanye and Taylor's friendship was important to Jay-Z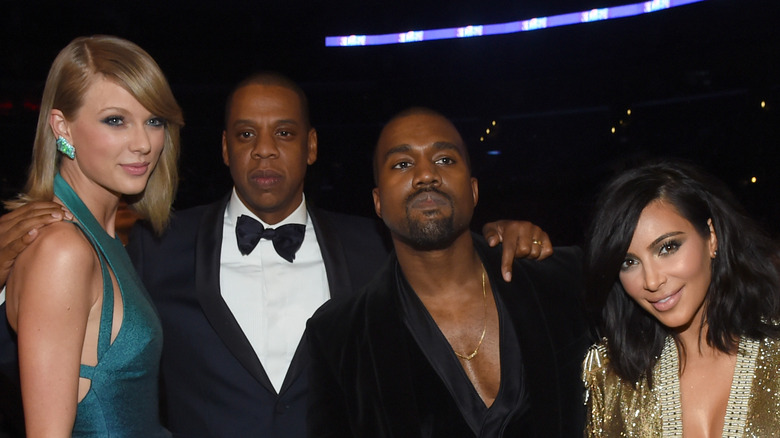 Larry Busacca/Getty Images
Since the feud between Taylor Swift and Kanye "Ye" West has gone on for so long, many forget that the two artists were friends for a brief period. Surprisingly, Ye's close friend, Jay-Z got the two to share a few happy memories together. This included the 2015 Grammys, a surprising award show for Swifties. Not because of the awards given out, but because Swift and West seemed to be friends again. Reports from Glamour stated that the two could be seen smiling and posing for photos together. In one photo, Swift can be seen conversing with West and his ex-wife, Kim Kardashian; all credit to Jay-Z.
Swift did an interview in 2015 with Vanity Fair revealing how she became friends with the rapper. Swift described how hesitant she was to forgive West because she wanted to wait until "he had some sort of respect" for the singer. Jay-Z fueled this friendship as she shared, "I became friends with Jay-Z, and I think it was important, for Jay-Z, for Kanye and I to get along."
West and Jay-Z's friendship goes back to the 2000s when the Yeezy creator produced tracks for Jay-Z. The two went on to collaborate further and showed continued support for each other. Things started to get complicated for Jay-Z when he became friends with Swift, who had her own history with West. Jay-Z valued his friendship with both artists and because of this, it helped both Swift and West to become friends again.
Kanye and Taylor's friendship quickly fell apart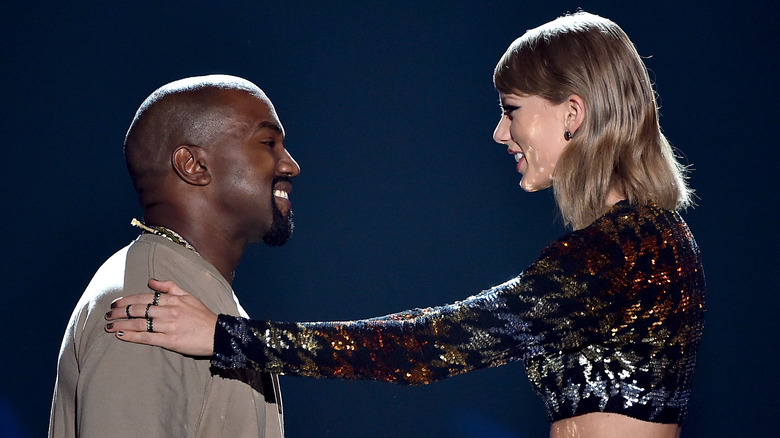 Kevin Winter/MTV1415/Getty Images
The rekindled friendship between Taylor Swift and Kanye West stemmed from their appreciation for Jay-Z and grew from there. "... Kanye and I both reached a place where he would say really nice things about my music and what I've accomplished, and I could ask him how his kid's doing," Swift told Vanity Fair. The two were on such good terms that the pop singer even considered collaborating with the rapper, saying she "wouldn't rule it out."
Swift and West shared a good year where they remained friends. In August 2015, the pop singer presented the rapper with the Vanguard Award at the VMA's, where it all initially went down. Swift joked about how she met the rapper at the 2009 VMA's before praising the rapper and his work (via People). In the end, Swift took West's famous line and said, "I'm really happy for you and I'ma let you finish but Kanye West has had one of the greatest careers of all time." Swift later posted on Instagram that West had even sent her flowers for the speech.
The friendship between the two was short-lived, because of the release of West's 2016 song "Famous" — where the rapper seemingly credits himself for making Swift famous. Kim Kardashian, West's ex-wife, stood by her husband at the time and fueled the feud by releasing recordings of a call between Swift and West regarding the song. Drama ensued and ever since, the two have remained in their ongoing feud.