How Sam Elliott Really Feels About His Famous Mustache
Alberto E. Rodriguez/Getty Images
The man. The myth. The mustache. 
Award-winning thespian Sam Elliott is perhaps best known for his acting chops and booming voice, but his iconic mustache probably comes in at a close third. "I first grew one in the late '60s, but I've cut it off without hesitation," Elliott recounted to Men's Journal about the origin of his legendary facial hair. "It's always a shock to people who don't know me: 'How can you cut your mustache off?' You can't even answer a question like that. Why do you get a haircut?" he asked rhetorically.
Alas, that's only the tip of the iceberg when it comes to Elliott's fans' obsession with his famous upper lipholstery. "Last night I dreamt that I brushed my beard in a certain way that made my mustache magically appear big and bushy, like a Sam Elliott special with extra volume. It was amazing; the best dream I can remember in a long time," a fan once gushed on Twitter. But how does Elliott really feel about his signature stache and all of the attention it garners? The answer just might surprise you.
Sam Elliott doesn't understand the hype around his mustache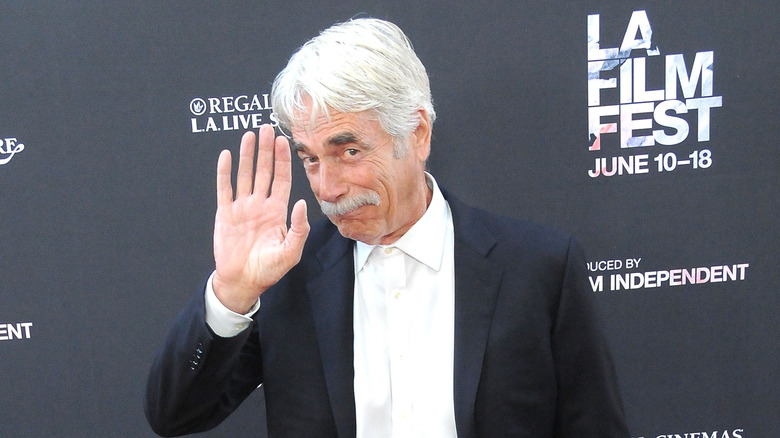 Barry King/Getty Images
"1883" star Sam Elliott doesn't know what all the fuss is about when it comes to his trademark mustachio.
"Yeah, it's a weird thing. It's just hair on somebody's lip" Elliott said on the "Today" show about the fascination surrounding his mustache. "I'm comfortable with it or without it, I've worked without it a number of times over the years. I mean, I work with it now." Case in point: Elliott's recurring character on the adult animated sitcom series "Family Guy" wherein he plays a rancher named Wild Wild West who raises mustaches — yes, mustaches. "My contribution is pretty much playing myself ... It's not like they wanted me to come up with a straight 'character' voice, so to speak. I'm leaning on the southwestern thing a little bit. Beyond that, I'm playing it fairly straight and letting the jokes take care of themselves," Elliott told the New York Post about the voiceover role. 
But speaking of working with such fabulous facial hair — we mustache the question. How does Elliott maintain that kind of lip foliage? Here's what we know...
Sam Elliott says he's too lazy to shave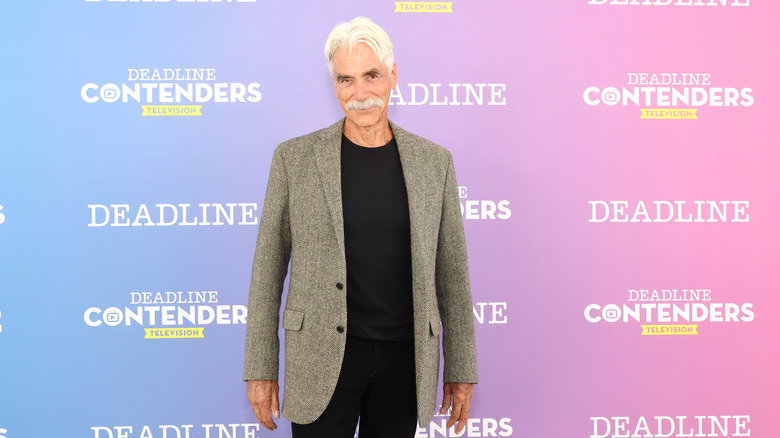 Amy Sussman/Getty Images
No muss, no fuss. 
According to Sam Elliott, the treatment regimen for his mustache is simple. He doesn't have one. "It's just there," he told the New York Post in 2017. "I keep it clean. That's my only regimen. I've got a lot of hair on my head. I keep it clean and, you know, well-oiled or well-whatever. It's a real blessing; it allows me to change my look. I've had beards, long mustaches, short mustaches, no hair," he explained.
In fact, it appears Elliott loves the mustache because of how low-maintenance it really is. "We're all a bunch of lazy bastards. We're too lazy to shave anymore," he declared during an interview with Vulture. "I see all these people with 12 o'clock shadows or whatever they're supposed to be. They're on every TV show, and now it's in commercials as well. It's like, Jesus Christ! I was one of the first guys who grew hair on his face in the old days." Perhaps Elliott is more of a trendsetter than he thought. Long live the mustache!