Best To Worst Dressed At The 2018 SAG Awards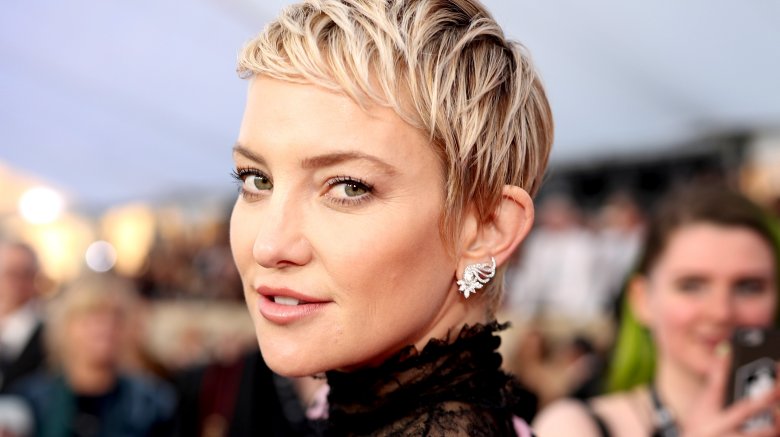 Getty Images
Stars from both TV and film came out to celebrate the Screen Actors Guild Awards on Sunday, Jan. 21, 2018, and just like any other award show, the celebs brought their A-game to the high-profile event, turning heads as they walked the red carpet. But not everyone successfully dressed to impress. Read on to find out whose style stole the show and whose fashion faux pas had us cringing.
Mandy Moore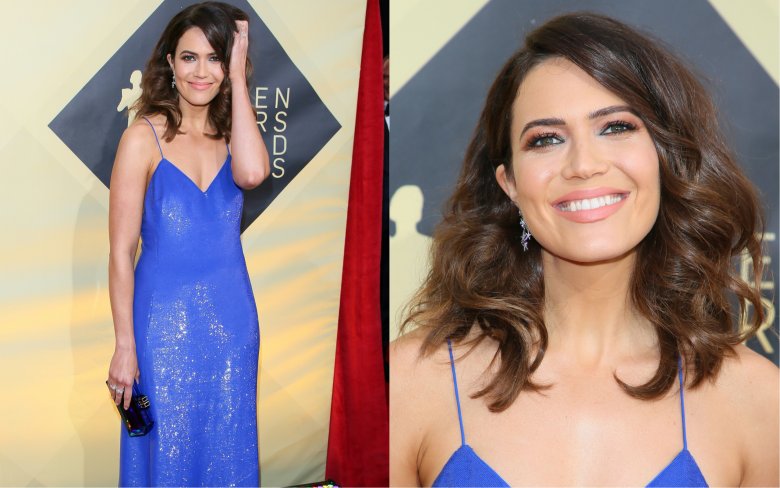 Getty Images
This Is Us actress Mandy Moore had quite the night at the 2018 SAG Awards, taking the stage at one point to accept the award for outstanding performance by an ensemble in a drama series with her TV family. But before she snagged the major Hollywood honor, she stunned award show attendees and viewers with her shimmery cobalt blue gown. The thin-strapped, sequined dress, designed by the Ralph Lauren Collection, made Moore stand out in a sea of baby pink get-ups, and she conveniently it even caused coordinated with her co-stars, Chrissy Metz and Susan Kelechi Watson.
But the best part about Moore's look was that is was a secret callback to an earlier outfit she debuted at the 2004 premiere of the movie Saved. "I think it's very symbolic of her rebirth," Moore's stylist, Erica Cloud, told People magazine. "It was such a cool look then, we thought, 'Why not revisit it now?' It's a beautiful, elegant silhouette. For her, I think it shows she's still herself, but just an updated version. Also, the color of it is like the ocean, so it's like a rebirth from the sea, so to speak."
Millie Bobby Brown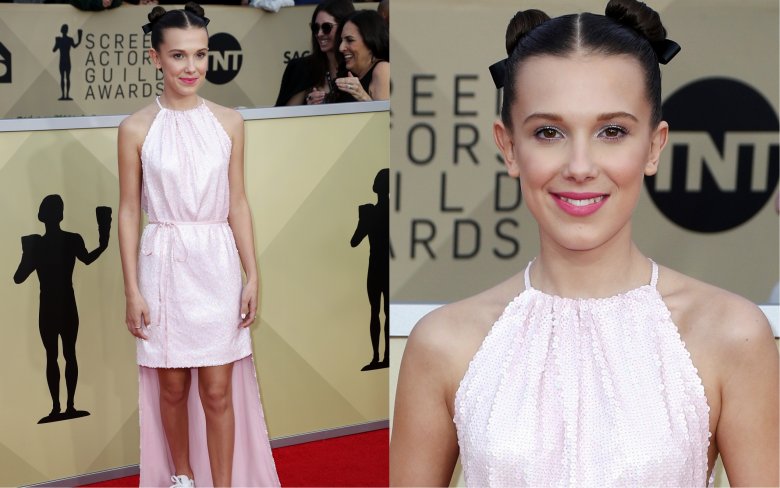 Getty Images
Oftentimes child actors find it difficult to walk the line between childish attire and mature garb. But Stranger Things' Millie Bobby Brown clearly doesn't have an issue finding the right style for both her personality and her age. At the SAG Awards, Brown donned a light pink Calvin Klein Collection dress, featuring a halter neckline and a train (via PopSugar). She paired the sweet sequined dress with high space buns tied off with black ribbons, a punchy pink lip, and a few simple rings.
The best part about her outfit? Her white Converse sneakers.
"I love to dance. That's why I brought these," Brown told E! News' Giuliana Rancic, pointing to her choice of footwear. "I always dance."
Vanessa Kirby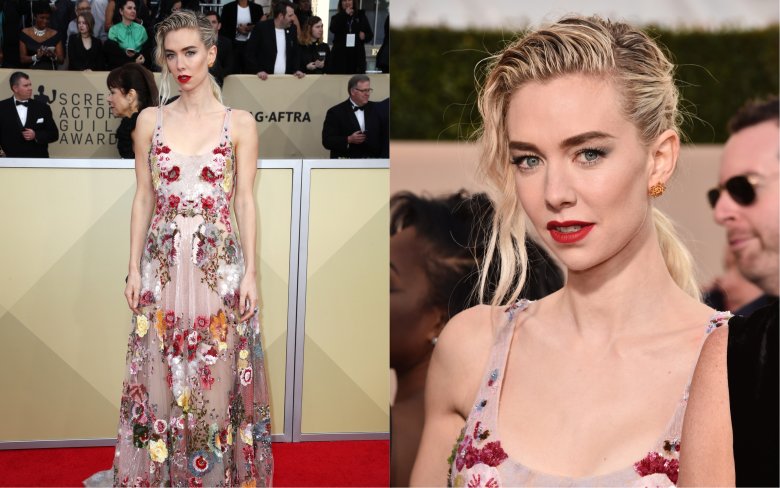 Getty Images
Though she might not be a household name in the States yet, Vanessa Kirby made a big splash on the SAG Awards' red carpet. The actress, who plays Princess Margaret on the Netflix series The Crown, wore a semi-sheer nude Valentino gown with colorful floral embellishments (via the Daily Mail). Pulling her hair back in a casual low ponytail, Kirby allowed her dress to take centerstage. The blonde beauty added to her red carpet attire with with full brows and a bright red lip.  
Yara Shahidi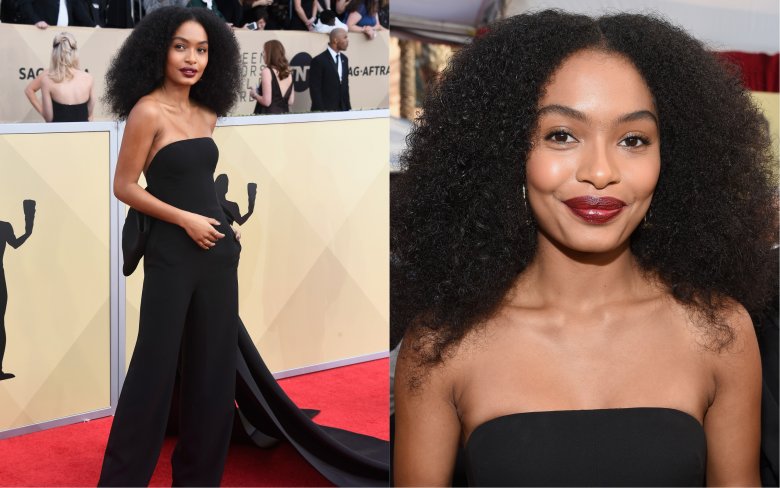 Getty Images
While some women opted for traditionally feminine gowns, Black-ish star Yara Shahidi went for a more sophisticated look. The teenager, sporting natural hair and a dark lip, rocked an all-black custom Ralph Lauren jumpsuit at the Hollywood event. According to the Daily Mail, Shahidi finished off her outfit, which featured a long train, with platforms by Jimmy Choo and jewelry from Tiffany & Co.
Shahidi's TV mom, Tracee Ellis Ross, also wore Ralph Lauren to the red carpet in the form of a sparkly white floor-length gown.
Kristen Bell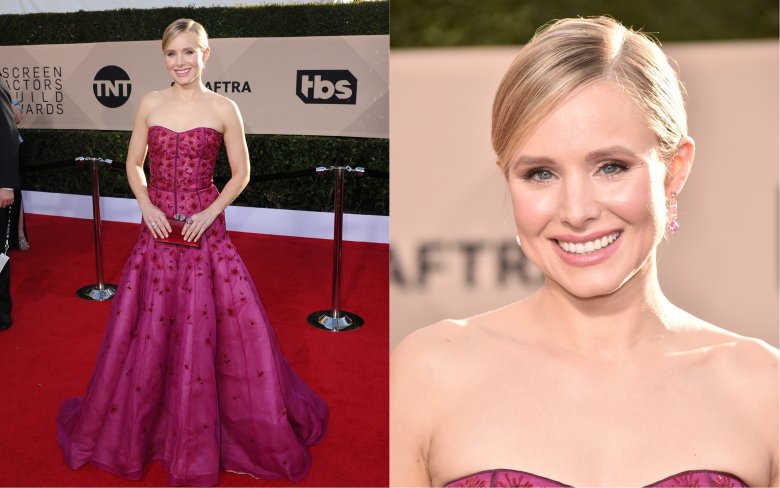 Getty Images
The Good Place star left her mark on the SAG Awards as the first-ever host of the awards show, and as hosts often do, Kristen Bell changed a number of times throughout the evening, donning several black dresses in support of the Time's Up movement. However, her first look of the night was a gorgeous pink floral ball gown designed by J. Mendel, which she debuted on the red carpet (via People).
With her hair styled in a low updo and her makeup and her accessories light, Bell looked fresh-faced and ready to tackle the big event with her bubbly can-do personality.
Margot Robbie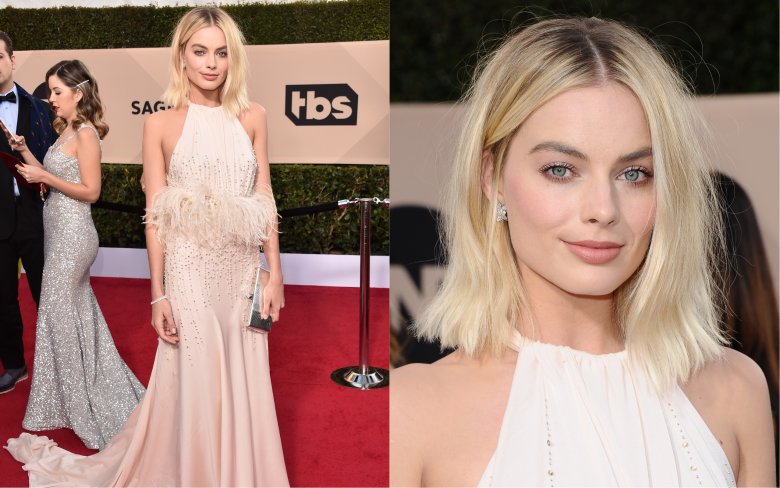 Getty Images
Let's be honest: the gorgeous Australian actress doesn't need to do much to make jaws drop, but that doesn't mean Margot Robbie plays it safe with awards show fashion. At the SAG Awards, Robbie wore a long blush gown by Miu Miu that featured sparkly details on the bodice and feathered accents around the waist (via PopSugar). And while feathers are more often than not a major no-no on the red carpet, Robbie somehow pulls them off. Maybe it's because of her simple hair and makeup, or maybe it's because it seems like Robbie took inspiration from her ice-skating movie I, Tonya. Either way, Robbie's look is a win — but just barely.
Alison Brie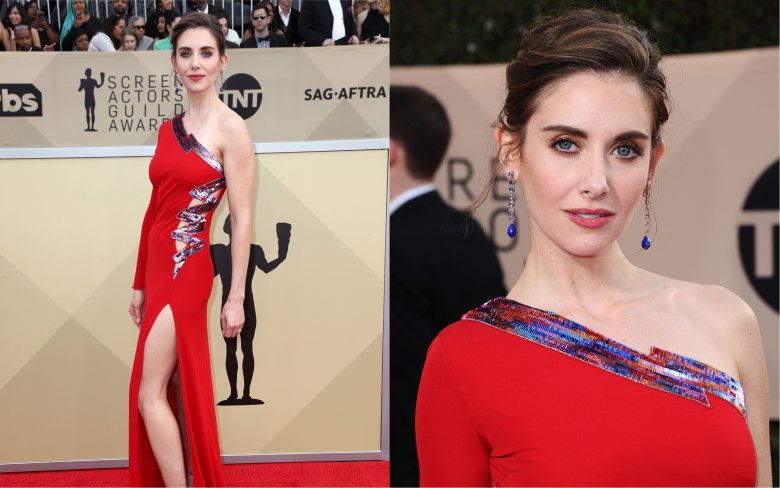 Getty Images
This typically stunning celeb fell short on style at the awards show. Wearing a one-shouldered red gown with rainbow-detailed zig-zag cutouts, Alison Brie appeared to have gotten just a little too in character for her role as a female wrestler on Netflix's GLOW. While she does her best to balance the unusual design with an updo and drop earrings, the Peter Dundas dress is just too much Ziggy Stardust and not enough award-nominated actress (via The Hollywood Reporter).
Yvonne Strahovski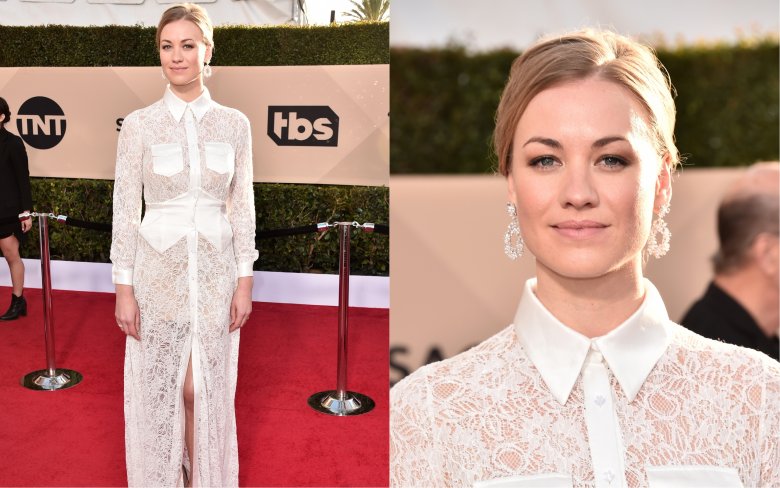 Getty Images
The Handmaid's Tale star walked the red carpet in a white lace Ester Abner design, and, unfortunately, it just didn't work (via Just Jared). The high collar, the pockets, the awkward cumberbund-like waist... none of it looked right on the otherwise gorgeous actress. And the nude slip peeking from beneath the see-through gown did little to help.
Maybe Yvonne Strahovski's ensemble could have fared better if the Chuck alum had let her hair down and had added some color to her beautiful face with a bold lip or statement-making eyeshadow. As is, the outfit feels like a dud.
Jackie Tohn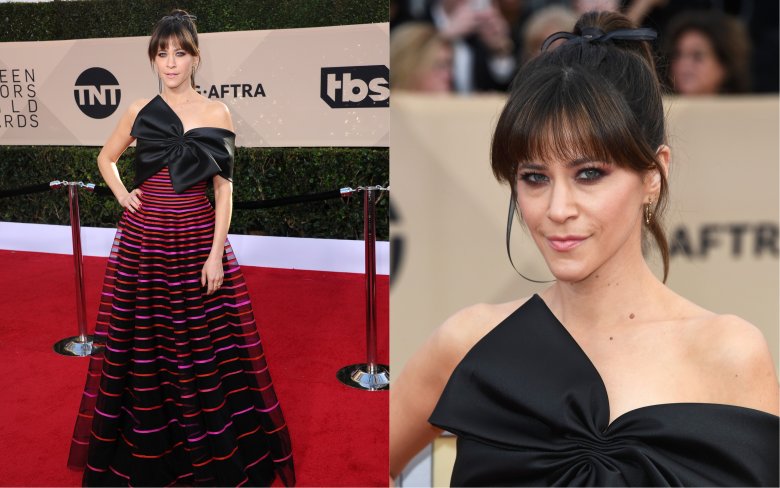 Getty Images
Like her GLOW co-star Alison Brie, actress Jackie Tohn seemed to take too much inspiration from her Netflix comedy. On the red carpet, Tohn wore a nausea-inducing black Sachin & Babi dress with bright pink and orange stripes (via Just Jared). The design, which featured a huge black bow on its bodice, screamed '80s — the one era exclusively known for bad fashion.
Sally Hawkins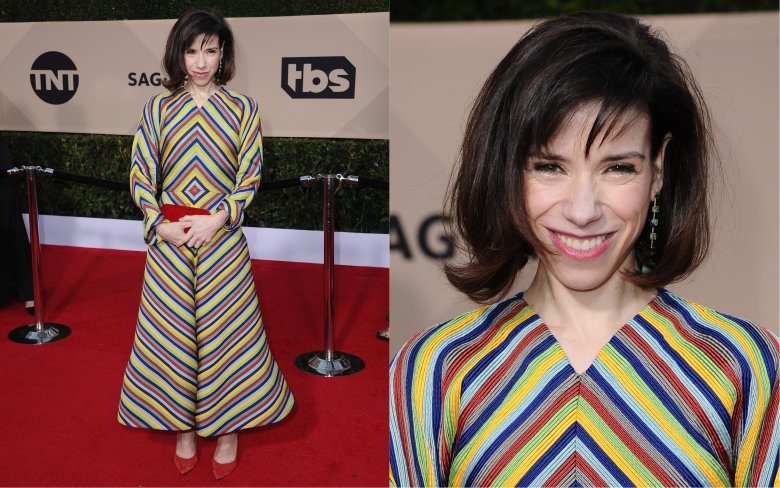 Getty Images
The Shape of Water's Sally Hawkins was in for a big night at the SAG Awards — she was up for outstanding performance by a female actor in a leading role in a motion picture, after all. But she started the evening off all wrong by walking the red carpet in a rainbow-colored pantsuit, complete with wide gaucho-like pants. The thin diamond-shaped pattern and the bright colors were enough to leave anyone dizzy, but the design's true crime was leaving the petite actress without any kind of figure. Rather than looking ready for her close-up, Hawkins appeared dressed for a night in, as the Christian Dior Couture one-piece looked more like a knit blanket than an awards show outfit (via Harper's Bazaar).
Kate Hudson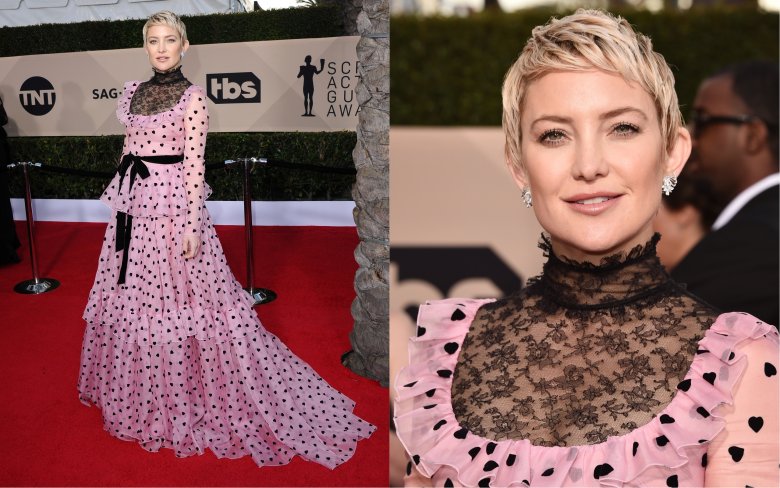 Getty Images
The How to Lose a Guy in 10 Days star has a history of donning sleek little numbers to Hollywood's biggest events. So why, oh why, did Kate Hudson choose to play around with her often coveted style for the 2018 SAG Awards? Rather than choose a form-fitting gown or a playful jumpsuit, the actress wore a pink Valentino dress with black hearts and ruffles (via the Daily Mail). And don't even get us started on that velvet bow around her waist and the lace detail.
All in all, Hudson looks like a kid playing dress-up. We could forgive a youngster for not knowing any better, but what's Hudson's excuse?