Jennie Garth And Tiffani Thiessen's Rumored Feud Explained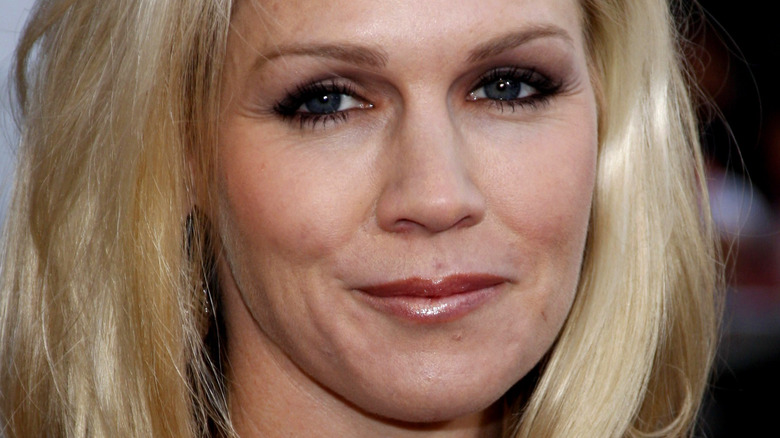 Tinseltown/Shutterstock
Jennie Garth and Tiffani Thiessen were two of the biggest TV stars of the 90s, landing roles that made them pretty much iconic when it comes to nostalgic TV. Garth, of course, is probably most famous for portraying Kelly Taylor on "Beverly Hills, 90210" (a role she reprised in 2008 in the reboot "90210") while Thiessen starred alongside her as Valerie Malone on the teen drama, while being best known for portraying Kelly Kapowski on "Saved by the Bell."
Naturally, working together on such a big show meant the two got pretty close back in the day. So close in fact that Thiessen was a bridesmaid when Garth married her now former husband, Peter Facinelli, and Theissen was even there when they welcomed their first child together, daughter Luca in 1997. "We were very, very close," Thiessen said on "The Howard Stern Show" in 2012, revealing that they grew closer after their "Beverly Hills, 90210" because she claimed a lot of her female co-stars weren't the nicest to her at the time (something Garth supposedly apologized for).
But what happened between these two? Well, it seems like a nasty feud may have reared its head.
Tiffani Thiessen fell out with Jennie Garth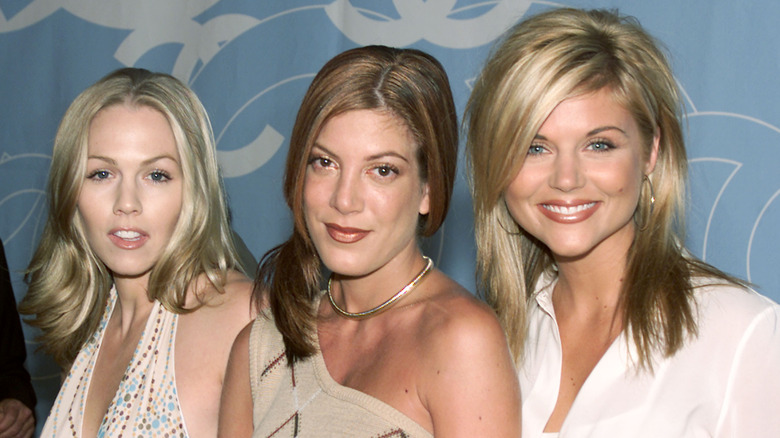 Kevin Winter/Getty Images
Despite the two once being thick as thieves, Tiffani Thiessen admitted on "The Howard Stern Show" in 2012 that she and Jennie Garth had a mysterious falling out that damaged their once close bond. "I was the one who was hurt, let's just say that," she told the radio host (via Us Weekly), adding, "It's funny, our relationship started really rough and ended the way it started." As for whether the two ever made up? Well, Thiessen suggested they were nowhere near as close as they once were but hinted there's no bad blood. "It's water under the bridge... I've moved on. I wish her well," she said.
The drama seemed to be reignited in 2017 though, when Garth and her fellow "Beverly Hills, 90210" co-star Tori Spelling appeared to shade Thiessen while appearing on an episode of "RuPaul's Drag Race." There was an awkward moment when, per People, Garth appeared to want to mention the "Saved By The Bell" star, but wouldn't. "As Ti-, how do you say it?" Garth asked, to which Spelling hit back, "Just say, 'that which we don't speak of... Yes, we know her as 'that which we don't speak of.'" That caused several viewers to call out the pair on Twitter, with one person writing, "They're just jealous they don't have their lives together like @TiffaniThiessen. Feel bad for them. Acting like they're 12."
But all's not as it seemed here, at least according to Garth.
Jennie Garth denied throwing shade at Tiffani Thiessen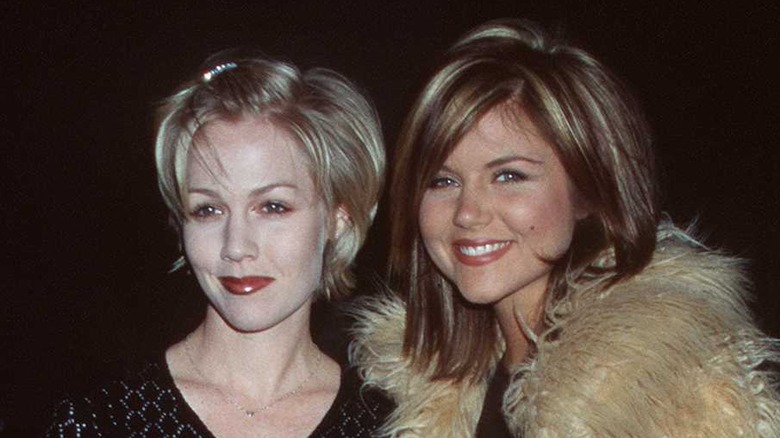 Denny Keeler/Getty Images
Despite plenty of fans and media outlets accusing Jennie Garth of throwing shade in Tiffani Thiessen's direction, Garth claimed that was not the case. In fact, she blamed the "RuPaul's Drag Race" editors for drumming up drama. "[That was a] really weird editing situation," Garth told Us Weekly. "Tori and I watched it and we were like, 'What?' Because I swear to God I was referring to the queen that was playing the character of Valerie and she had a really fancy name like Doolarey, I couldn't remember it and it looked different than it came across," she added.
As for how things were between them then? Well, it sounds like things were a little better. Garth, who referred to Thiessen as "Tiff," also revealed she'd recently seen the star at an audition and they swapped pleasantries. "That was weird, walk into an audition and there she is!... We did some small talk and it was great," she said.
While neither had explicitly confirmed what inspired their falling out, we do know that these two have been entangled in their similarities for a while. Of course, they both appeared in "Beverly Hills, 90210," but Lifetime's "The Unauthorized Saved By the Bell Story" revealed in 2014 that Garth actually auditioned to play Thiessen's "Saved By The Bell" role back in the day! Producers thought Garth was too young to be Kelly Kapowski though, so Thiessen landed the role (via Hollywood Life). Who knew?