The Most Uncomfortable Oscars Speeches Of All Time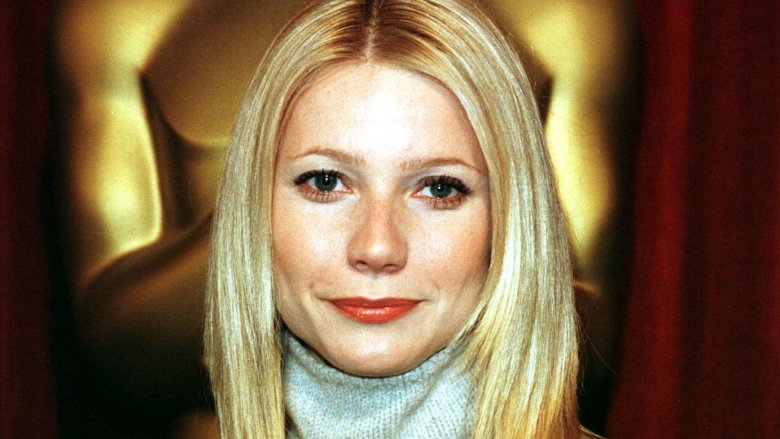 Getty Images
Ever since the first Academy Awards in 1929, each year has brought the promise of great and not so-great outfits, along with great and not-so-great acceptance speeches. A memorable, well-constructed Oscar speech is truly an art, mastered by the likes of Meryl Streep and Tom Hanks. One could also argue that the cringeworthy speeches that leave spectators gawking and feeling awkward are a kind of art form of their own too. 
For the most uncomfortable Oscar speeches of all time, the nominees are...
That time James Cameron quoted his own movie
James Cameron's 1997 acceptance speech when he won best director for Titanic seemed to be going well until the very end, when he couldn't help himself from shouting out, "I'm the king of the world!" That, for the three of you who didn't know, is a quote from his film. It got even worse, however, when he erupted into a regrettable, Howard Dean-esque screeching "whooooo!"
It was a truly cringeworthy moment that Cameron himself noted years later to Entertainment Weekly made him look like a "fool," and that The Week rated as one of "10 most arrogant James Cameron moments."
Sam Smith blames it on the alcohol
Everything seemed to be going swimmingly for British singer Sam Smith when he won the 2016 Academy Award for best original song for his James Bond theme, "The Writing's On the Wall," but things got awkward when Smith erroneously implied that he was the first openly gay man to receive an Oscar. "I read an article a few months ago by Sir Ian McKellen and he said that no openly gay man had ever won an Oscar, and if this is the case, even if it isn't the case, I want to dedicate this to the LGBT community all around the world," he said. But McKellen's comments had been about the best actor award specifically... and ahem, Stephen Sondheim, Elton John, Dustin Lance Black, anyone? 
Smith was quickly called out for his mistake and later apologized, blaming the gaffe on sips of tequila he'd taken after what he'd considered a disappointing performance earlier in the show. He explained to Ellen DeGeneres, "I wasn't happy with my performance, and we thought we had no chance of winning at all. So I was just like, 'Let's just get the party started'...Then we won, and I was just like, 'Whoa...' My brain and my mouth didn't work together. I mucked up."
When you give the biggest award of the night to the wrong movie
To be fair, the discomfort caused by this particular speech at the 2017 Oscars was by no means the recipients' faults. After being announced as the winners of the best picture Oscar, La La Land producers Jordan Horowitz, Marc Platt, and Fred Berger were in the middle of their acceptance speeches–when it came to light that fellow nominee Moonlight had actually won the award. Presenter Warren Beatty had received an incorrect envelope, leading to the now-infamous blunder. 
As soon as Berger caught wind of the mix-up, his speech quickly changed course: "To the love of my life, Ali Loewy, I love you. I love you so much, to my family, Mama, Papa, Jeff... Matt Plouffe, you kicked this off—and Damien Chazelle, we're standing on your shoulders. We lost, by the way, but, you know." 
Horowitz stepped to the microphone to clear up the confusion from Berger's statement, saying, "You guys, I'm sorry, no. There's a mistake. Moonlight, you guys won best picture," at which point the Moonlight team headed to the stage to accept the Oscar.
It's impossible to watch the unbearably awkward clip without your jaw hanging open. But at least it all inspired an on-point Curb Your Enthusiasm parody. 
Where is Marlon Brando?
At the 1973 Academy Awards, viewers and attendees were shocked after Marlon Brando was announced as the winner of the best actor award for The Godfather. Not because he didn't deserve it, but because a young woman in Native American dress appeared in Marlon Brando's place. And things got weirder from there. 
As she approached the podium, she refused to accept the statue from presenter Roger Moore, and instead explained that she was Sacheen Littlefeather, president of the National Native American Affirmative Image Committee, and would be representing Brando. She then said Brando would not accept the award, "the reasons for this being are the treatment of American Indians today by the film industry...and on television in movie reruns, and also with recent happenings at Wounded Knee." The discomfort was palpable as some members of the audience booed, while others applauded. According to The Mercury News, the incident caused the academy to ban winners from using other people to accept–or in this case, refuse–their awards.  
In a 2016 interview with the Los Angeles Times, Littlefeather said she was subsequently ostracized by the show business community. "[T]he government was madder than hell...[they] told everyone in the studios in Hollywood not to hire me, or they would shut them down... I was blacklisted, or you could say 'redlisted.'" Brando and Littlefeather's actions have since been reframed, with Jada Pinkett Smith crediting Littlefeather as an inspiration for her boycott of the 2016 Oscars over a lack of diversity. 
Michael Moore gives the world a 'reality check'
Filmmaker Michael Moore's brief 2003 acceptance speech for best documentary feature for Bowling for Columbine caused a major stir with its blunt message about the war in Iraq. Accepting his award, Moore derided then-President George W. Bush, saying, "We like nonfiction and we live in fictitious times. We live in the time where we have fictitious election results that elects a fictitious President...We live in a time where we have a man sending us to war for fictitious reasons...we are against this war, Mr. Bush. Shame on you, Mr. Bush, shame on you." This prompted a hugely mixed reaction from the audience, and–even if you're watching it 15 years later–it's impossible to ignore the tension in the room.
Moore later remembered the fraught moment in an essay for The Hollywood Reporter, writing, "As soon as I said "fictitious times" and the "fictitious election results," there was a cacophony of sound, primarily boos. I could barely hear myself speak. It was like I had ignited a riot."
Like Brando's "acceptance" speech, Moore's speech has been reevaluated in recent years. According to PBS, "Michael was right...Moore gave the world a reality check when it needed it most."
Vanessa Redgrave throws shade, catches heat
Let's switch gears from tears to tirade with Vanessa Redgrave's 1978 Oscars acceptance speech for best supporting actress. That year, the Jewish Defense League had boycotted the ceremony and also protested a pro-Palestine documentary with which Redgrave was involved. In her acceptance speech (which elicited boos from the audience), Redgrave referred to "a small bunch of Zionist hoodlums whose behavior is an insult to the stature of Jews all over the world and to their great and heroic record of struggle against fascism and oppression." She then condemned President Richard Nixon and Senator Joe McCarthy and their "worldwide witch hunt against those who tried to express in their lives and their work the truth that they believed in."
According to The Mercury News, after Redgrave left the stage, Network screenwriter Paddy Chayefsky put her on blast at the podium, telling the audience, "I'm sick and tired of people exploiting the Academy Awards for the propagation of their own personal propaganda," generating enthusiastic applause. Awkward.
Elinor Burkett 'pulled a 'Kanye'
In what's been called the Academy Award's "Kanye West Moment" (a reference to when West infamously interrupted Taylor Swift as she gave an acceptance speech at the MTV Video Music Awards), journalist Elinor Burkett made things super uncomfortable when she bum rushed the stage during Roger Ross Williams' 2010 acceptance speech for best documentary short subject. Pushing her way to the mic, Burkett interrupted Williams, saying, "The man never lets the woman talk. Isn't that just the classic thing?" and launching into her acceptance speech, making for seriously uncomfortable (and confusing) viewing.
These two had serious beef over the winning film, Music by Prudence. According to The Telegraph, Burkett came up with the idea for the film and had been a producer but later left the project. She sued Williams, claiming she hadn't received proper credit for her involvement. "He's not speaking to me. So we weren't even able to discuss ahead of the time who would be the one person allowed to speak if we won," she told Salon."...The movie was my idea. I live in Zimbabwe. Roger had never even heard of Zimbabwe before I told him about this. And you know, I felt my role in this has been denigrated again and again, and it wasn't going to happen this time."
Williams voiced his point of view too. "The academy is very clear that only one person can speak," he told Salon. "I own the film ... She just ambushed me ... She pulled a Kanye."
Angelina Jolie is 'so in love' with her brother
Angelina Jolie won the Oscar for best supporting actress in 2000 for her role in Girl, Interrupted, and while critics agreed she was great in the movie, we kind of wish someone had interrupted her speech, you know? Let us explain.
Earlier in the evening, she creeped everyone out on the red carpter by giving her brother James Haven a weirdly passionate kiss on the mouth. She then upped the discomfort ante when, during her speech, she felt the need to gush, "I'm so in love with my brother right now. He just held me and said he loved me." Crickets. It still makes fans squirm.
Anne Hathaway couldn't fake her way through her Oscar speech
"It came true!" actress Anne Hathaway breathlessly whispered as the opening lines of her 2013 acceptance speech for best supporting actress for her role in Les Miserables. For some, the ensuing overly saccharine speech ("Hugh, you're the best!) cemented, as Vulture put it, Hathaway's "label as a phony try-hard." Perhaps writer Michael Schulman summed it up the best in The New Yorker: "[T]he whole thing smacked of endless nights rehearsing in front of the mirror."
Hathaway herself would later acknowledge that viewer reactions were on point, and that she had indeed been faking it during her big speech. She told The Guardian in 2016, "I had to stand up in front of people and feel something I don't feel which is uncomplicated happiness. It's an obvious thing, you win an Oscar and you're supposed to be happy. I didn't feel that way. I felt wrong that I was standing there in a gown that cost more than some people are going to see in their lifetime...I tried to pretend that I was happy and I got called out on it, big time."
Better luck next time, Anne.
Elia Kazan's highly controversial Oscar
Director Elia Kazan was presented with an honorary Oscar in 1999, and the audience reaction is what made this such an uncomfortable acceptance speech. Along with his prolific film career, Kazan was well-known for "naming names" to the House of Un-American Activities Committee back in the 1950s, which at the time was investigating communism in Hollywood and elsewhere.  According to the The New York Times, 250 people had gathered outside the Dorothy Chandler Pavilion before the ceremony to protest Kazan's lifetime achievement award, and actors Sean Penn, Ed Asner, and Theodore Bikel had signed an ad in Variety saying that Kazan had seriously damaged the industry. 
With all the build-up, tensions were understandably high during Kazan's speech. Some audience members, including Meryl Streep and Warren Beatty, stood up and applauded, while Nick Nolte and Ed Harris remained firmly and silently planted in their seats. Considering the history, it's still one of the most poignantly uncomfortable moments in Oscars history.
When group projects go awry
Social media is merciless, which is the only way to explain how three nice people accepting a huge award honoring their life's work could be thoroughly roasted for what's been deemed 'the Worst Acceptance Speech of All Time." What happened, you ask? Did they shade their peers? Did they say something wildly provocative or political? Trip and fall? Sip too many cocktails? 
No, dear reader. They just weren't very smooth in the thank you department. Greg Cannom, Kate Biscoe, and Patricia Dehaney-Le May won the Oscar for best makeup and hairstyling for their incredible work on Vice. Actor Christian Bale was unrecognizable as former Vice-President Dick Cheney and his co-stars' transformations were also mind-blowing. Apparently, being the best at hair and makeup doesn't necessarily translate to powerful public speaking skills. Cannom, Biscoe, and Dehaney-Le May tried to take turns reading off the same piece of paper, but it proved hard to read the words off one paper in a pair of trembling hands. That made for a clunky speech that sounded like a "shopping list" and went over the time limit. The awardees kept reading as the music played, and then they kept reading when the microphone was muted.
And because everyone who Tweets is perfect, those folks had a lot to say about it. Maybe that's why the Academy originally planned to award that particular category during a commercial break?
The award for 'excessive weepiness' goes to Gwyneth Paltrow
Gwyneth Paltrow's 1999 win for best actress for her performance in Shakespeare in Love prompted a speech that has since been called "The Day Oscars Sincerity Died." Accepting her Oscar, a visibly overcome Paltrow gave a seemingly endless speech that was slammed for "excessive weepiness." As Cosmopolitan describes, "Gwyneth basically just wailed her way through the rest of the speech. Cue multiple awkward faces in the audience." As heartfelt as it may have been, it's still a really cringeworthy watch.