Deadpool's Morena Baccarin's Shady Love Life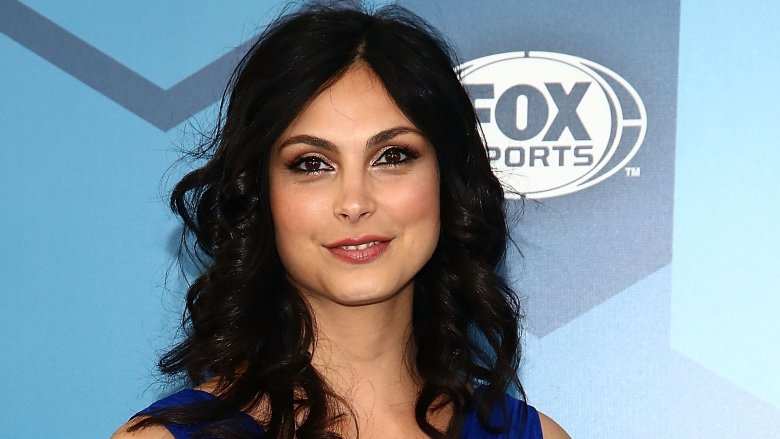 Getty Images
Morena Baccarin, the stunning star of Deadpool, Gotham, and Homeland, has a romantic life that may be more dramatic than anything she's ever portrayed on a movie or TV screen.
"I had a bad dream where I was married to somebody else and I was having an affair with my husband," Baccarin told People in 2013. "When I woke up, I was so relieved I married the right guy!" 
At the time of the interview, she'd been married in real life to Austin Chick since 2011. The Brazilian-born beauty and the American director were expecting their first child, son Julius.
At the time of this writing, Baccarin and Chick are no more and she's remarried to her Gotham co-star and onscreen love interest, Benjamin McKenzie — but getting there wasn't easy, and the timing of this tangled turn of events looks very suspicious. Let's take a closer look at the web of infidelity, custody battles, vindictive exes, and baby mama drama that got the starlette to this point.
What happened in Gotham didn't stay in Gotham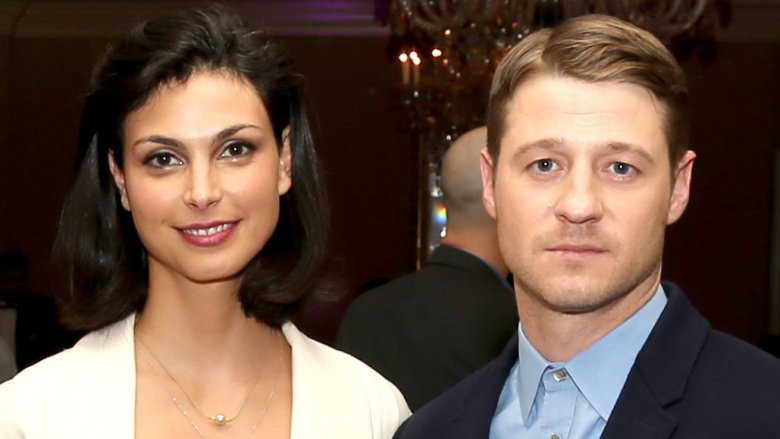 Getty Images
Morena Baccarin was still married to Austin Chick and leading a relatively low-key, under-the-radar life in Los Angeles when she nabbed the role of Leslie Thompkins on Fox's Gotham in 2014.
By July 2015, TMZ reported that Chick filed for divorce after just more than three years of marriage, claiming Baccarin, who was then living in New York where the series filmed, had cheated on him with her co-star, Benjamin McKenzie (who plays her onscreen lover, Detective Jim Gordon.)
Chick supposedly had no idea Baccarin and McKenzie were hooking up until he was presented with pretty irrefutable evidence. "Austin was totally shocked when he found out about the affair," a source told Entertainment Tonight. "Totally blindsided. When Morena left him for Ben, Austin was devastated — completely shocked."
Insiders told Entertainment Tonight that McKenzie visited Baccarin numerous times on the set of Deadpool (2016) in Vancouver, which filmed from March to May 2015, and that McKenzie stayed in Baccarin's condo during those visits. It wasn't until June 2015, when a fan reportedly sent Chick a photo of McKenzie and Baccarin in Vancouver together, that he filed for divorce. "Austin confronted Morena about the photo," a source claimed. "She didn't deny it and said she no longer wanted to work on [their] marriage."
She and Ben McKenzie actually went way back
During a May 2017 episode of The Late Late Show with James Corden, McKenzie revealed that he and Baccarin actually met years earlier when she made a few appearances on his breakout series, The O.C. in its third season in 2006 — and he wasn't interested in her at the time. 
"I apparently blew her off," McKenzie said sheepishly. "So I'm thinking, 'What kind of idiot would blow off this gorgeous, beautiful, sophisticated, intelligent, successful woman?' Then I thought of what kind of boy I was at 25, and [I was] that kind of idiot."
That's basically how Baccarin remembered it too during an April 2017 appearance on Conan: "When I met him on Gotham, he said 'Nice to meet you,' and I was like, 'Actually, we worked together before.' He was like, 'Uh, I'm sorry.' I should say, disclaimer: We didn't act together, we were in a party scene at the same time ... I did four episodes of his show! I never interacted with him ... In my 20s, I was in my prime!"
Was she expecting a baby with her new man before divorcing her old man?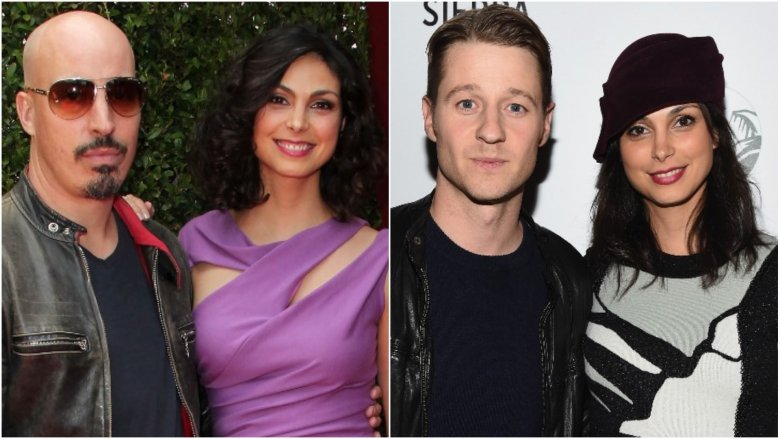 Getty Images
Double whammy: In September 2015, McKenzie and Baccarin's respective reps confirmed their relationship to Us Weekly ... and also confirmed that Baccarin was pregnant with McKenzie's child.
Chick noted in a September 2015 legal filing, obtained by TMZ, that Baccarin told him she'd conceived McKenzie's child around June 2015. "This places the moment of conception right in the first week of June, 2015," Chick wrote in his filing, "the time she was telling me she wanted to work on our marriage and well before we stopped sharing a bed." For her part, Baccarin claimed she and Chick had already spoken about separating in March 2015, which would have been before conceiving McKenzie's child.
Even more brutal? Chick claimed in documents obtained by Entertainment Tonight that Chick only found out about Baccarin's pregnancy days before she and McKenzie confirmed it to the rest of the world. Ouch!
She flaunted her new life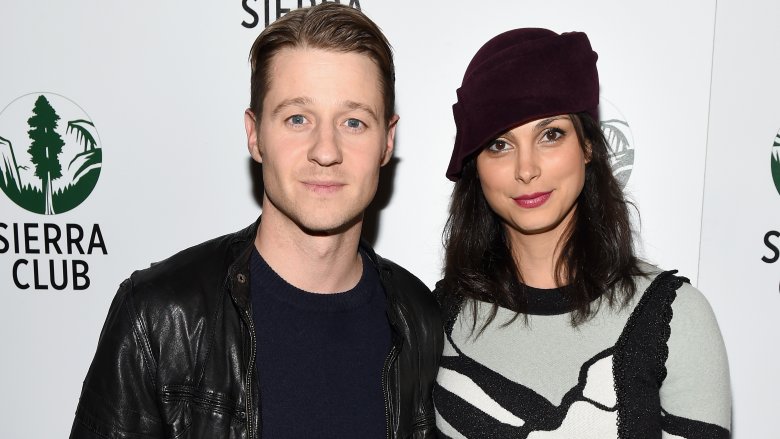 Getty Images
Baccarin made it clear in a September 2015 court filing (via TMZ) that she intended to marry McKenzie. Less than two months later, the new couple made its red carpet debut at the Sierra Club's "Act in Paris, a Night of Comedy and Climate Action" event, reported Us Weekly. Baccarin and McKenzie were also spotted getting cozy on the Gotham set in October 2015.
In September 2015, Chick claimed in divorce documents that his and Baccarin's son, Julius, was being placed in a "confusing, unhealthy environment," reported TMZ. Chick took particular issue with an incident that allegedly occurred in June 2015, when he claimed that McKenzie "had just taken a shower and he was playing with [his] son." 
However, based on Chick's future actions in court, it seemed the director may have taken more issue with his ex having a new boyfriend than with his son's well-being. More on that in a minute.
Art imitates life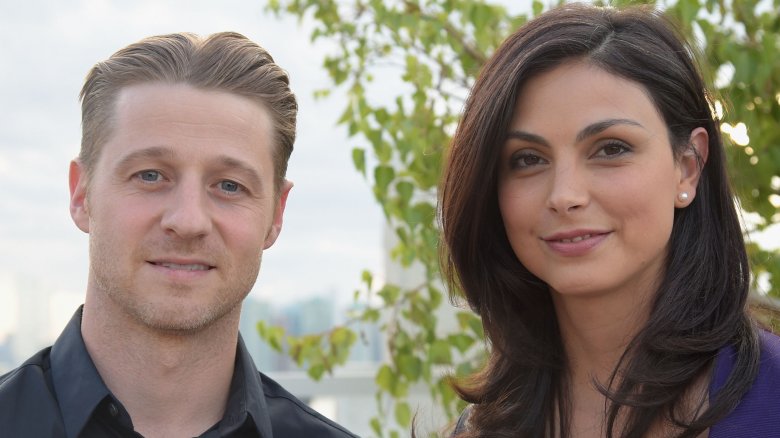 Getty Images
Baccarin and McKenzie's onscreen Gotham characters were expecting a baby at the same time the couple was expecting in real life.
"It was a total coincidence," the actress told People
in March 2016. "They were already planning on doing that with [Ben and my] characters when I got pregnant. When I told them they were like, 'Okay, great!' and I was like, 'What?' It worked out perfectly."
She added, "I was a little bit further along than the character at first so you'll see me in a lot of jackets. They were very creative ... They put chairs everywhere for me so that when we had a break, I wouldn't have to walk more than a few feet to sit down. Ben's the sweetest ... It's very nice to work with your significant other, especially when you're pregnant because you know you'll get some extra TLC and get taken care of."
She had a tough pregnancy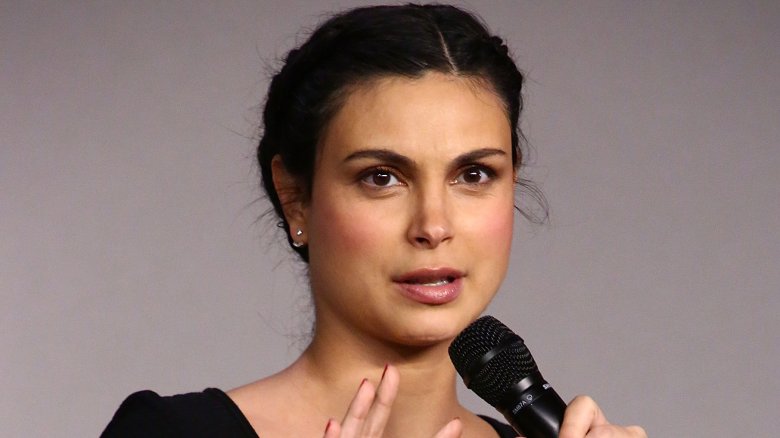 Getty Images
At a September 2015 custody hearing regarding Julius, Baccarin's attorney, Samantha Spector, claimed the actress was having a "difficult pregnancy," reported Entertainment Tonight. Months later, in February 2016, court documents obtained by E! News claimed Baccarin was on doctor-ordered bed rest due to her high-risk pregnancy, causing a delay in her ability to sit for an "unnecessarily stressful" court deposition with Chick's attorneys for the custody case.
"I am now almost eight months pregnant, and I continue to have a high risk pregnancy. My physician, who I last saw on Jan. 29, 2016, has advised me to have as  much bed rest as possible and limited activities," Baccarin's filing read. "She further advised that sitting (as to answering questions) for a deposition, regardless of length of time, is unduly and unnecessarily stressful to me at this time. Such stress will affect my personal well-being and potentially cause harm to the health of my unborn child."
First comes love, then comes the baby in the baby carriage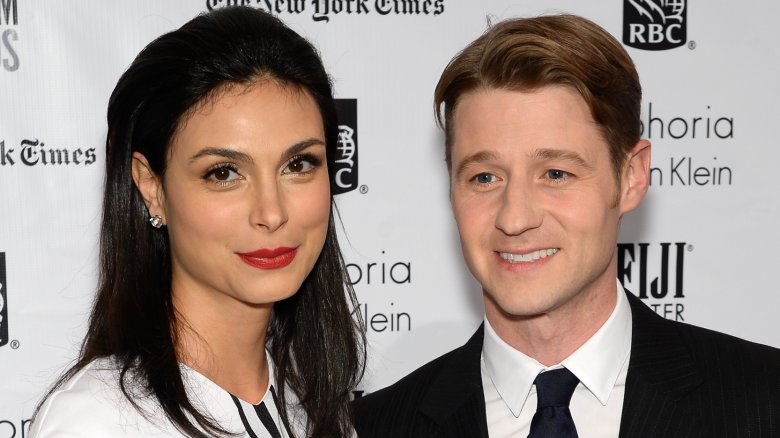 Getty Images
At the February 2016 premiere of Deadpool, E! News reported that Baccarin was ready to give birth at any second. That second arrived on March 2, when Baccarin and McKenzie welcomed daughter Frances Laiz Setta Schenkkan (which is McKenzie's actual last name). 
In November 2016, eight months after Frances' debut, sources told People that Baccarin and McKenzie were engaged. Us Weekly reported that Baccarin flaunted her rock and her new fiancé on the red carpet at the Gotham Independent Film Awards in New York City the same month. On June 2, 2017 — Baccarin's 38th birthday — the couple tied the knot in a "small, intimate ceremony" with family and close friends at the Brooklyn Botanical Garden.
McKenzie talked about the timing of the wedding with talk show host Harry Connick Jr. (via Us Weekly), "When we wanted to book [the wedding], which was over a year in advance in our defense, the only date available was my wife's birthday ... I think she just wants me to be clear that she is going to get a birthday present and there is going to be an anniversary gift and it's a whole week. She's Brazilian and birthdays are very special." He added, "The good news is if I do it right, it's going to be a great year every year, if I hit June 2nd we are good. But if I forget anniversary and birthday, it's going to be a bad year."
Her ex wanted her cash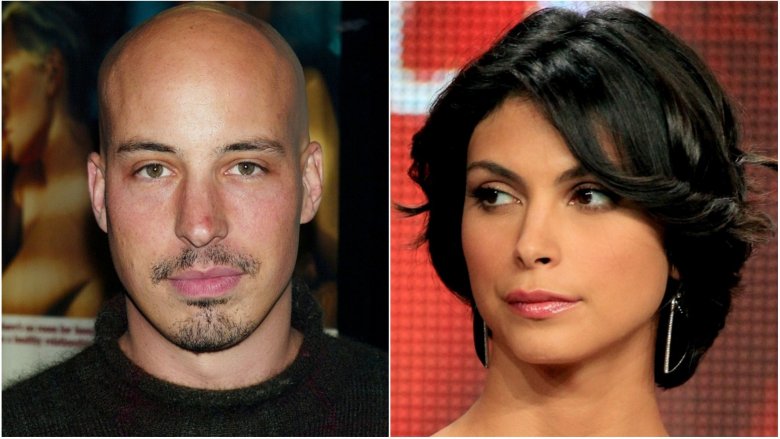 Getty Images
In an August 2015 court filing, Chick claimed Baccarin was the family breadwinner, pulling in a reported $1.5 million a year from Gotham and other acting gigs. As a result, he requested child support and spousal support from his estranged wife, reported TMZ. Chick also requested $3,000 per month for nanny fees, despite claiming to be a "Mr. Mom" in the relationship.
A November 2015 ruling granted Chick $2,693 in monthly child support payments and $20,249 in spousal support payments every month, reported TMZ, totaling more than $275,000 a year.
By February 2017, the actress apparently grew tired of sending Chick checks. TMZ reported that by that time, she'd paid him $340,088 in spousal support alone, plus $100,000 from their community estate, and another $147,302 in residuals from Deadpool as part of their temporary divorce agreement. She requested that a judge allow her to stop making such huge temporary payments to Chick, alleging that once the case was finalized her fees would likely drop — and suggesting that Chick was perhaps freeloading off of her hard work and not getting a job.
In April 2017, TMZ reported that a judge ordered Baccarin's spousal support payments slashed from $20,249 to $5,000 a month. According to the tab, the actress' attorney argued that Chick could easily support himself by simply getting a "j-o-b ... at Starbucks."
She won the initial custody battle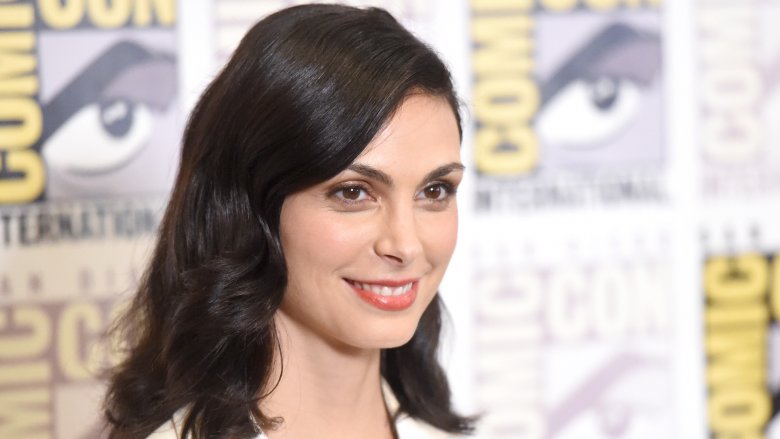 Getty Images
In addition to requested spousal and child support from Baccarin, Chick also asked for primary physical custody of their son, Julius. According to TMZ, Chick claimed Baccarin's travel and work schedule wasn't healthy for the boy, though he clearly didn't mind the checks that Baccarin was pulling in thanks to that schedule.
TMZ reported that despite Chick's best efforts, Baccarin won primary custody of Julius. A judge ruled that the boy would reside with Baccarin in the Big Apple, where she films Gotham, but that Chick would have Julius once a month for eight days. Chick was reportedly required to give Baccarin 15 days notice before visiting with Julius, and he could bring Julius back to Los Angeles for eight-day visits once every two months.
Baccarin was responsible for footing the bill for Julius and Chick's travel expenses — but the airfare can't be pricier than coach.
She and her ex got testy in court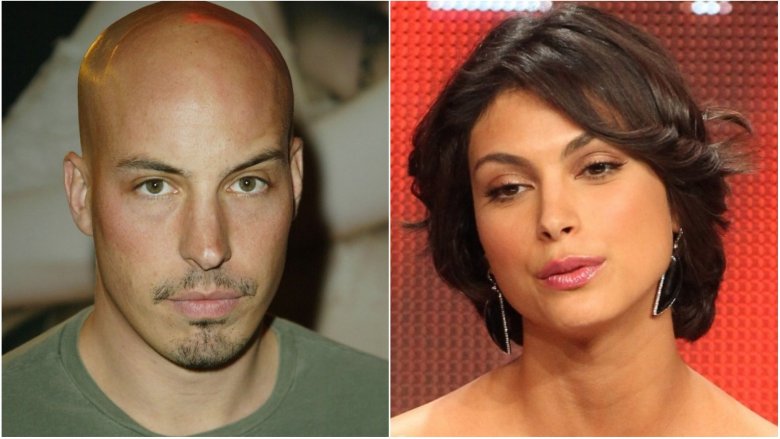 Getty Images
Some testy-sounding text messages between Baccarin and Chick were made public during legal proceedings. In September 2015, TMZ reported that Baccarin texted the following to her ex: "I'd like to be there alone with Julius please Friday all day and night through Sunday morning." Chick reportedly replied, "I'd like to run Fox Studios and remake 'The Sound of Music' with an entirely black cast of hip hop artists." Baccarin informed the judge in her filing: "This entire situation is not funny to me."
Following a court hearing that same month, Entertainment Tonight reported that Baccarin frantically chased after her ex to ask about custodial arrangements for that evening; he gave a curt response and she began to cry.
In November 2016, Chick may have been behaving vindictive again. According to TMZ, Baccarin requested to take Julius with her to Brazil to visit her dying grandmother, but Chick refused to grant consent, citing concerns over the Zika virus ... even though Julius' doctors argued that Zika was not a concern for the then-3-year-old boy. Chick also claimed Brazil, as a whole, was unsafe, which Baccarin argued was never an issue when they visited the country as a couple. A judge ruled that Baccarin could take Julius with her to Brazil, reported TMZ.
Chick continued the custody war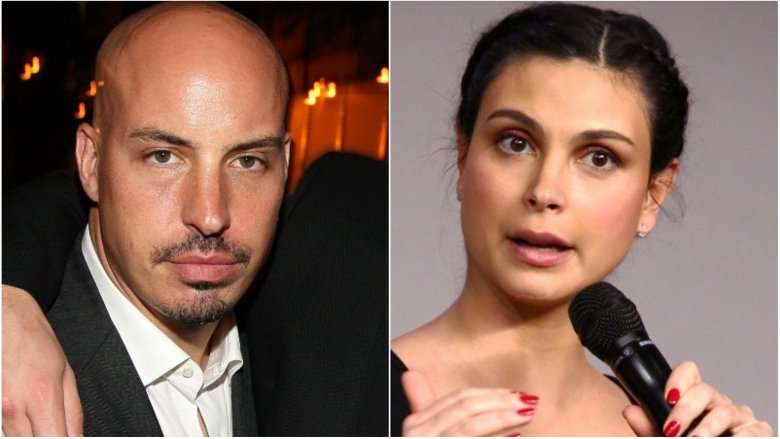 Getty Images
In November 2015, Chick "changed his mind" about the co-parenting arrangement, reported Entertainment Tonight. During the legal proceedings, more details emerged about the exes  complicated and costly custody situation. Court documents indicated that Baccarin paid for Chick to live in a $6,850 per month apartment in New York in order to co-parent while she filmed Gotham, noting that Chick "stayed there with the child for approximately two weeks in July."
In February 2017, Chick filed an emergency ex parte request in court, reported the Daily Mail, claiming Julius was in immediate physical or psychological danger because Baccarin made visits "difficult." According to Chick's filing, "Julius requires the consistency of seeing both parents and the preservation of the status quo of the last 15 months ..." Chick argued that Baccarin was not handing Julius over in the correct room and complained that having McKenzie and baby Frances around made custodial exchanges take longer.
Baccarin's legal team fired back, claiming Chick was simply trying to "vex, harass, and cause Morena to further expend fees in this matter ... Such gamesmanship should not be condoned, is inappropriate and an utter waste of the court's time."
It took years to settle the split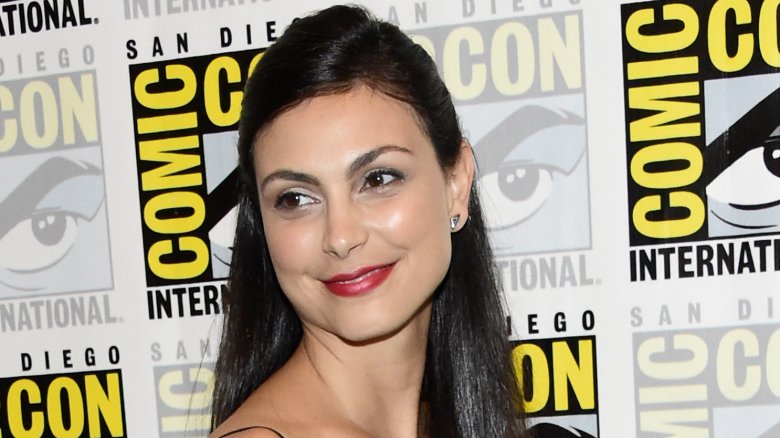 Getty Images
Baccarin and Chick settled their custody battle over Julius for good (er, for now) in January 2018. TMZ reported that Baccarin and Chick will share custody and that Chick will move to New York, where Baccarin resides and works, to make the custodial transitions easier for everyone. 
Additionally, Baccarin only has to pay Chick spousal support of $5,000 per month until 2019, when he's finally on his own — but she's still on the hook for $3,500 per month in child support until Julius is 18.
Baccarin will also split some of her residuals from Deadpool and Season 1 of Gotham with Chick, according to TMZ. Baccarin retained ownership of their properties in Brazil and Los Angeles, as well as their 2001 Lexus — but it all came at a price. She cut Chick a check for $406,000 in the settlement.