Live Performances That Destroyed Careers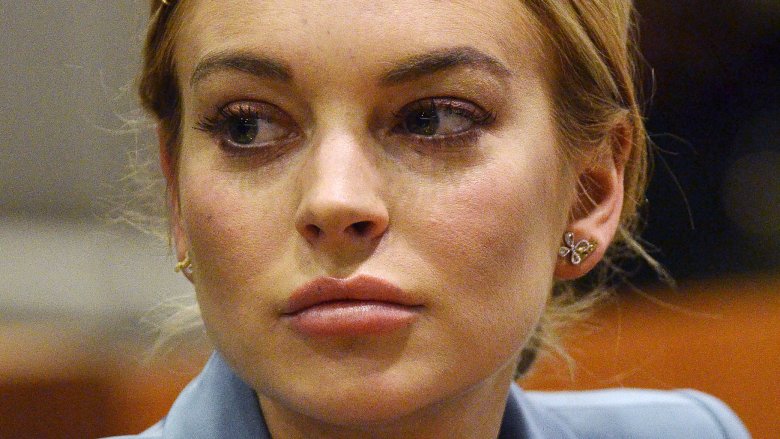 Getty Images
Let's face it, every musician has a bad live performance here and there. It's just a part of the business. Whether we're talking technical malfunctions, sudden illness, or just plain choking under pressure, there are a myriad of ways things can go wrong in front of a live audience. For the stars on this list, things didn't just go wrong. They went off the rails. These are the live performances that destroyed careers.
Ashlee Simpson
Using a backing track is common practice for live performers, but only if that backing track happens to be for the song the artist is currently attempting to sing. That was the hitch when Ashlee Simpson was ready to belt out "Autobiography" during the second song of her 2004 SNL debut. The backing track for "Pieces of Me" started playing instead. What followed was an excruciatingly awkward minute (above) before a cut to commercial, during which Simpson did her now infamous "hoedown" dance, then sulked offstage while her band continued to play.
Simpson appeared at the end of the show to blame her band for playing the wrong song, then doubled down on that excuse to Entertainment Tonight a few days later. She also tossed in the old, "I have severe acid reflux and it was just acting up that day" card. Regardless of why it happened, Simpson's rising music career reversed course almost immediately.
According to The Atlantic, Simpson would release just one more album, Bittersweet World, in 2008, which reportedly suffered from "ghastly sales and only slightly better reviews." Since then, she's hasn't put out any new music or done much of anything high-profile, except for a few sporadic acting gigs, and getting married twice.
The Everly Brothers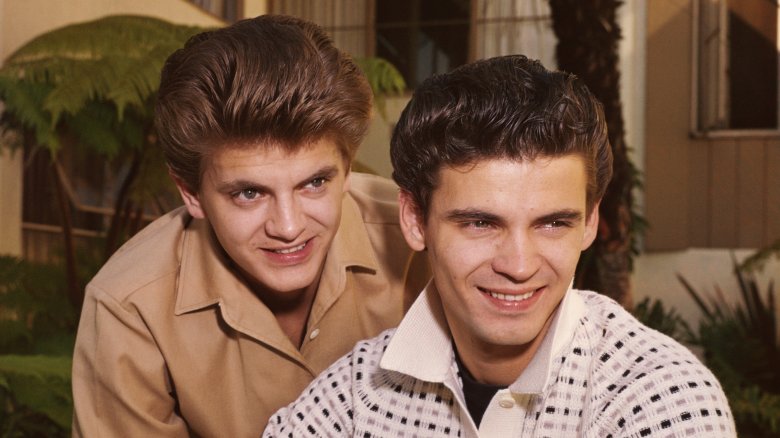 Getty Images
Brothers Phil and Don Everly were early pioneers of both the American country and rock and roll scenes. Throughout the 1950s and '60s, their signature sound — rockabilly guitar picking combined with a tight two-part harmony — produced such mega-hits as "All I Have to do is Dream," "When Will I be Loved," and "Cathy's Clown." But their brotherly love came to an abrupt halt in 1973 during a disastrous live performance at Knott's Berry Farm in California.
Don, who had reportedly struggled for years with substance abuse, put in an "erratic" performance." Rolling Stone reported that he was "drunk" and "kept screwing up the lyrics." Whatever actually happened, it led to an onstage fight, which ended when Phil apparently stormed off stage, smashing a guitar (possibly over Don's head) in the process. According to People, Don appeared at a gig alone the next night and said, "The Everly Brothers died 10 years ago."
The brothers wouldn't perform together for 10 years. In fact, during that time they barely spoke, only briefly reconnecting for their father's funeral. "I wouldn't have closed the shop down, but Donald suggested we not speak for a couple of years," Phil told People. "And I took him at his word. It was something he had to want to start again."
In 1983, they agreed to play two nights at London's Royal Albert Hall, which resulted in a lucrative concert film but felt like a lukewarm variation of their previous act. According to the Las Vegas Sun, The Everly Brothers spent the next few decades gigging sporadically as openers for Simon & Garfunkel before Phil gave up performing altogether in 2011. Phil died in 2014.
The Dixie Chicks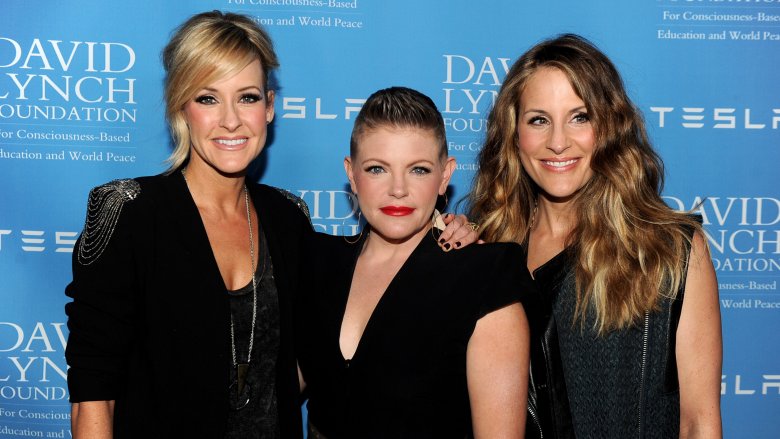 Getty Images
The fall from grace of The Dixie Chicks is probably the most high-profile career implosion on this list. The all-female country trio made national headlines in 2003 when lead singer Natalie Maines sounded off on her disapproval of the Iraq War during a show in London. According to The Guardian, Maines said, "Just so you know, we're on the good side with y'all. We do not want this war, this violence, and we're ashamed that the president of the United States is from Texas."
Many country fans went nuts, even going so far as to crush their CDs with a tractor in protest. It was an event that — despite one of the DJs later admitting the whole thing was basically a promotional stunt — grabbed national headlines and galvanized nationwide hatred against the group. The pushback was so severe that The Dixie Chicks were essentially blacklisted from almost every country radio station.
The group's next album, Taking the Long Way, debuted in 2006. It received critical acclaim and even topped the charts, but the accompanying tour suffered from "uneven attendance," according to Billboard. It would take another ten years, and a complete toning down of Maines' once-unapologetic political rhetoric for The Dixie Chicks to fully stage a comeback. Having completed a successful nostalgia tour in 2017, which the band turned into a live album, it seems the chicks may have finally left "the London incident" behind them.
The Eagles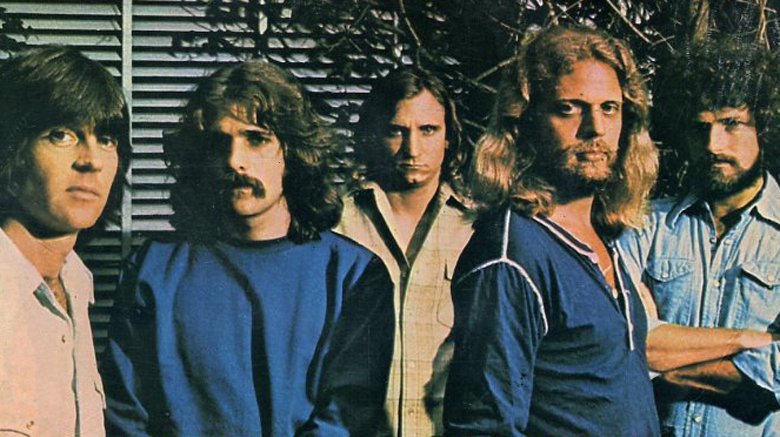 The Eagles are perhaps as well known for feuding as for hits such as "Hotel California" and "Take it Easy." Like The Everly Brothers, the band hit the skids after a particularly rough night in 1980 when frontman Glenn Frey and guitarist Don Felder verbally threatened each other during the show.
According to an interview with the BBC, Frey said the beef started backstage at a benefit show for California Sen. Alan Cranston. Apparently, Felder had no clue who the politician was, and he muttered what Frey perceived as an insult under his breath. Words were exchanged, beer bottles were smashed, but the show went on. Unfortunately, so did the fight. 
"So now we're on stage, and Felder looks back at me and says, 'Only three more songs till I kick your a**, pal,'" Frey told the BBC. "We're out there singing 'Best of My Love,' but inside both of us are thinking, 'As soon as this is over, I'm going to kill him.' That was when I knew I had to get out."
And get out he did. The Eagles wouldn't perform together for 14 years after that, famously reuniting for their Hell Freezes Over tour, which was named after co-founder Don Henley's remark about what it would take for them to get back together, according to Billboard. 
That tour happened to be an almost accidental rebirth of the band. The group continued performing through the next few decades under a new tour banner, called History of The Eagles. Maybe that fateful show, which the band members sardonically refers to as "Long Night in Wrong Beach," didn't destroy them, but it certainly blew a painful, decade-and-a-half hole in their otherwise successful careers.
Robin Thicke
Robin Thicke's career was hotter than it had ever been after his smash single, "Blurred Lines," shot him to the top of the pop world in the summer of 2013. But he didn't reign for long because within months — following that questionable VMAs duet with Miley Cyrus — things unraveled quickly. According to Billboard, this period also coincided with the estrangement of Thicke's wife, actress Paula Patton, for whom he then penned a hastily written and poorly received album in an attempt to win her back.
It was two performances of songs from that album, Paula, that sealed Thicke's fate and shuffled him to into the "has been" zone. First up was the Billboard Music Awards in May 2014 (above) when he debuted the song, "Get Her Back," which featured the alarmingly on-the-nose line, "I never should have raised my voice." Then there was the BET Awards a month later where things went decidedly down hill. The video is no longer available online, but Us Weekly described Thicke singing "Forever Love" as "looking tired and puffy eyed," as well as visibly sniffling his way through the performance. Yeesh.
Afterward, a friend of Thicke's told him, "I gotta be honest with you, buddy. You're kind of playing yourself. You look like a sucker. You should just go away for a while," which is exactly what Thicke did. In the three-and-a-half years since that teary-eyed BET performance, he's barely made a blip on the screen, although he did tell New York Upstate in January 2018 that he is working on an album. Hopefully he saved some Kleenex.
Michelle Shocked
[Warning: The above audio clip contains offensive language and a homophobic slur.]
Rocker Michelle Shocked may not be a household name, but on the alt-folk scene she had quite a following until she detonated it with an ill-conceived act of protest in March 2013. 
According to Yahoo News, Shocked interrupted her own gig at Yoshi's in San Francisco when she started citing "verses from the Old Testament condemning homosexuality." But the real career coup de grâce for the singer, whose lyrics and audience were both known to be very liberally slanted, was when she said, "If someone would be so gracious to tweet out, 'Michelle Shocked just said from stage: God hates f****ts.'"
The fallout was immediate. After the crowd revolted and began walking out, the club owner stopped the show, saying that "as a gay man he could not allow her concert to continue," according to the Daily Beast. About a month after the Yoshi's show — and many cancelled gigs later — Shocked appeared on Piers Morgan and declared, "I am not homophobic." 
This all translated to a long period of estrangement with her once-diehard fans. Speaking with Dallas News in December 2017 ahead of a fledgling, three-month comeback tour of sorts, Shocked confessed that the evening at Yoshi's was an intentional provocation meant to strike back at digital piracy of her music. How exactly she meant to achieve that is something we'll probably never understand, but it's clear that as of this writing, Shocked is still trying to explain herself.
The Sex Pistols
By the time legendary punk rockers The Sex Pistols took the stage at what would be their last concert for nearly two decades, the writing was already on the wall. According to The Telegraph, the band was on shaky ground due in part to bassist Sid Vicious' debilitating heroin addiction, coupled with a poorly managed tour schedule that involved "800-mile drives through bleakest midwinter." On top of all that, lead singer Johnny Rotten had mentally checked out.
"By that last gig, I'd lost interest," Rotten said. "I'd become incapable of caring about writing another song for this outfit. I felt like, 'That's it, there's the full stop. I've achieved as much as I can in this environment.'"
That feeling of resignation was the inspiration behind Rotten's infamously bad performance during the band's January 1978 show at the Winterland Ballroom in San Francisco. It was the final stop on the band's first, albeit brief (less than one month,) American tour, and it ended on a one-song encore — an aptly selected cover of The Stooges' "No Fun." As the tune concluded, Rotten famously asked, "Ever get the feeling you've been cheated?" and tossed the mic to the stage. Rotten subsequently quit the band.
The group did reunite — sans Vicious, who overdosed on heroin and died in 1979 — in 1996 for a decent-sized tour, but it was just more of the same. "We did a hundred shows, made a bit of dough, but we wanted to kill ourselves at the end," guitarist Steve Jones told the New York Daily News. "We really don't make enough to put up with each other."
The Doors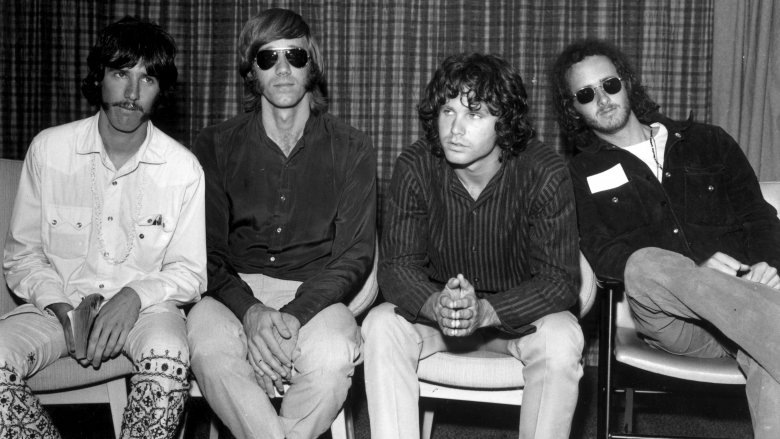 Getty Images
The Doors played its final show with lead singer Jim Morrison on Dec. 12, 1970 at a New Orleans venue called The Warehouse on Tchoupitoulas Street. According Entertainment Weekly, keyboardist Ray Manzarek observed a palpable difference to the band's frontman that night, saying he believes he saw Morrison's "spirit" leave his body, and when it returned, it was not happy.
Morrison reportedly "smashed a hole through the stage with a mike stand, ending the concert early." Prior to that, his performance was uneven at best, according to Ultimate Classic Rock, who reported that at times, Morrison forgot lyrics, hung on the mic stand for support, and sat down during solos.
After the show, the other members of the band decided it would be their last with Morrison, who by this time was at the tail end of increasingly erratic performances that had already landed him in jail, got him slapped with heavy fines, and got the band blacklisted from venues all over the country. 
Tragically, Morrison died just a few months later, at just 27 years old, from an apparent heart issue.
Lindsay Lohan
Actress Lindsay Lohan embarked on the what was to be the next phase of her career: pop music stardom in 2004. She told Good Morning America that singing was her "second passion," and that despite her own self doubt, she felt "more herself" when she was belting out a tune. After that interview, Lohan performed two songs off of her debut album, Speak. But it was during her live performance of "Rumors," arguably her biggest hit single, that Lohan was apparently caught lip-syncing in a scandal that would become positively adorable when compared to the tumultuous trajectory her life would soon take.
Of course, Lohan's label denied the accusation, telling People, "She did not lip-sync. Lindsay sang 100 percent live. Her band played 100 percent live. The background singers were 100 percent live. Yes, on the first song there were background tracks, which were not on the second song."
Lohan went on to release just one more album, A Little More Personal (Raw), the following year, before closing her songbook for good. Was it the tumult from the GMA performance that soured her on music? Perhaps it was her ill-received cover of Stevie Nicks' "Edge of Seventeen," for which Lohan was also dragged after a questionable performance during the 2005 American Music Awards. Either way, her big musical comeback, which she teased in 2013, and again in 2016, has yet to come to fruition.