What We Know About Rihanna And Nicki Minaj's Relationship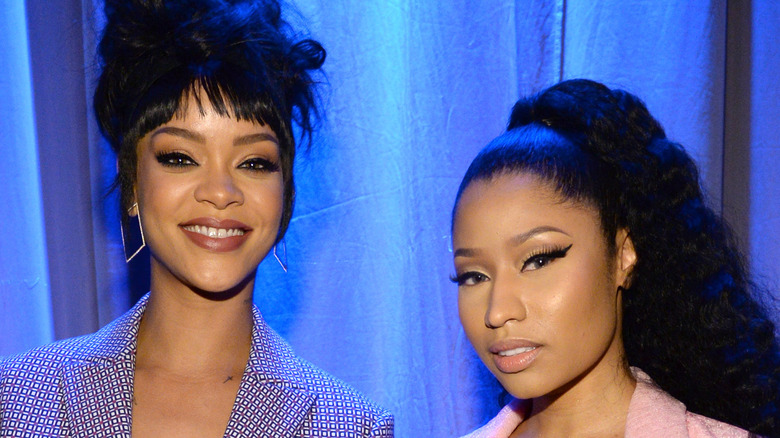 Kevin Mazur/Getty Images
Everyone needs a friend they can count on to be there for them through whatever life brings. Despite how out of reach celebrities may seem, they too need someone to lean on. Celebrity friendships are the interest of many fans, whether they last or fizzle out, people love to see two big names together. When two artists broke out on the scene around the same time, fans only hoped that they would become friends with one another.
Rihanna and Nicki Minaj are two of the most successful artists in the music industry and have had an interesting relationship with one another. Rihanna was the first to really break out into the music industry when she released her first album, "Music of the Sun," in 2005. According to Paper Magazine, Minaj followed close behind when she was featured on the track "Bedrock" which put the rapper on the map. The two's careers took off, and both built successful fanbases that wanted nothing more than for the two to be friends.
Fans got what they wanted, but also saw some tension between the two artists. Rihanna and Minaj have had a long history together, from collaborations, double dates, and alleged feuds (via The Things). Every time there is any form of interaction between the two stars, fans get excited, hoping that Rihanna and Minaj can become the ultimate friendship duo.
Rihanna and Nicki Minaj bond over being island girls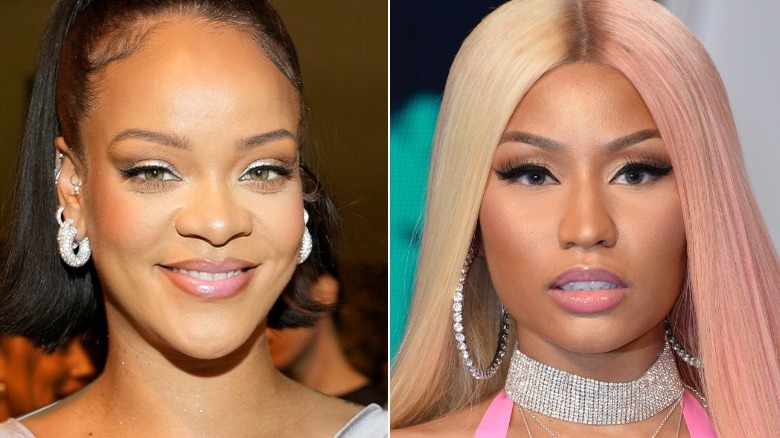 Featureflash Photo Agency/Shutterstock & Kevin Mazur/Getty
Getting a mansion and moving out can be a dream for many people. As successful as celebrities have become, they always pay respects to their roots and sometimes even go back to what they call home. Rihanna and Nicki Minaj have become incredibly successful musicians but always reflect on their time when they were "island girls." In fact, the two's roots helped to bond them closer together.
As many may know, Rihanna was born in Barbados. Minaj's IMDb also shows the star was born on an island in St. James, Port of Spain, Trinidad & Tobago. In an interview (via MTV), Minaj shared how much she adored the singer and how she was similar to her. Minaj shared, "I wanted to work with Rihanna for a long time. I'm very proud of her accomplishments; especially since she was born on an island like me." Things between the two artists seemed to be going well as they decided to collaborate on the 2010 track "Fly" from Minaj's debut album. Rihanna and Minaj formed a friendship that resulted in another collaboration in the form of "Raining Men." 
Rihanna, too, has related to Minaj because of their background. In 2021, Minaj posted a video of the two to her Instagram. In the video, Rihanna says, "Caribbean things, you know what I'm sayin'?" (via Yahoo!).
From alleged feuds to dinner dates
Friendships are put to the test just like relationships. You have good days and bad days, some friendships don't overcome the bad days, and before they know it they're strangers. Nicki Minaj and Rihanna's friendship was tested when they were allegedly feuding with one another.
Rihanna and Minaj were pretty close having several collaborations under their belt. However, according to unconfirmed reports by The Things, the two had a four-year feud. There was a lot of speculation as to why the two stopped talking to each other. From Rihanna's relationship with Drake or Minaj's feud with Remy Ma, everyone thought they knew as to why the two stars weren't friends. Minaj only fueled the speculation while recording an episode of her "Queen Radio" show.
The rapper had fans calling in to ask her questions, and nothing was off limits, including Rihanna. A fan called into the show and asked Minaj if "the Rihanna situation ever gonna be cleared up" (via The Things). In true Minaj fashion, the rapper replied, "What Rihanna situation?" before hanging up on the caller. If there was any feud between the two, neither one spoke about it. It was all put to rest in 2021 when the two artists reunited. Minaj sent fans into a craze when she posted a photo on her Instagram of her and Rihanna. "#CaribbeanGirlsRunit," said Minaj. The reunited photos of the two seem to have put any alleged feuds to bed.