Pro-Golfer Aaron Cockerill's Wife May Have Saved His Job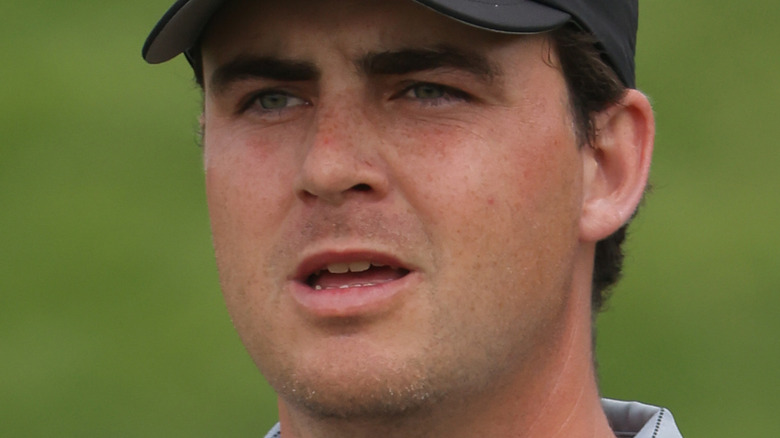 Jamie Squire/Getty Images
Professional golfer Aaron Cockerill now has another reason to love his wife, Chelsea Cockerill. The Canadian athlete has had an eventful season, but has miraculously thrived considering his lack of professional training. According to Tennis World USA, Aaron taught himself to golf at the age of 15. "I never paid him a teacher, I couldn't afford it," his mother Kate said.
Aaron went on to serve as team captain at his high school, where he won four zone championships and was named Manitoba Golfer of the Year, per his collegiate profile. After high school, he enrolled at the University of Idaho and joined their men's golf team.
Aaron is now a professional golfer and has since married his college sweetheart. In 2021, the longtime beaus took their relationship to the next level by tying the knot in a beautiful autumn wedding ceremony. Now, Chelsea has proven her devotion to Aaron in an even bigger way.
Chelsea Cockerill found Aaron's missing golf clubs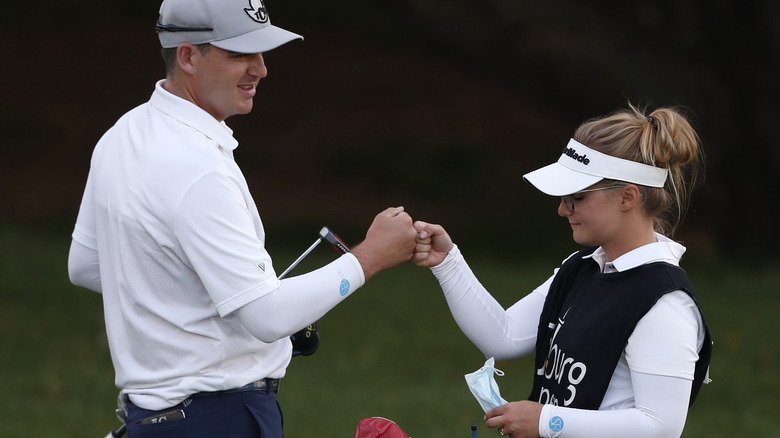 Luke Walker/Getty Images
According to Chelsea Cockerill's Twitter account, she's a former accountant who now works as a realtor. She also quipped that she "moonlights as [Aaron Cockerill's] caddie on the DP World Tour." However, it appears Chelsea's declaration was no joke, as she was spotted on the field with her husband in 2019. Chelsea even joked about her golfing duties after a match in March 2021. "I was there and can attest to these claims," she tweeted in response to Aaron. "@A_Cockerill forgot to mention the insultingly hot temperature. I don't think caddying in the desert is for me long term!"
These days, Chelsea is awaiting the arrival of the couple's first child. However, that hasn't stopped her from coming to her husband's rescue. The family recently traveled to Spain for the Mallorca Golf Open, but Aaron's golf clubs got lost in transit, according to Golf Channel. After tweeting to Air Canada that he could "really use" his equipment, the golf clubs somehow found their way to Madrid — 450 miles away from where the golf tournament was being held. Chelsea then swooped into action, taking an hour and 20-minute flight to obtain the golf clubs, and returned in time for the afternoon session. "Refused to board the plane until I saw this," Chelsea tweeted alongside a video of the golf clubs being loaded onto the plane. Sounds like she's on par to win the best caddie of the year award, if you ask us!