What Vicki Gunvalson's Son Michael Is Doing Today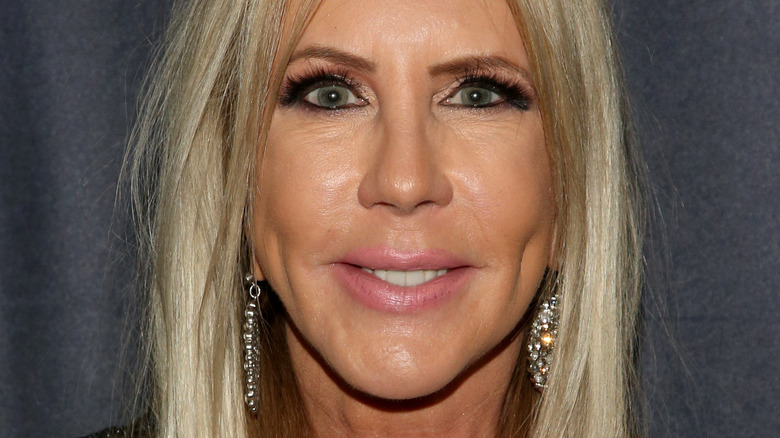 Gabe Ginsberg/Getty Images
Few cast members from "The Real Housewives of Orange County" have the sass and spunk of OG cast member Vicki Gunvalson. As one of the show's first five housewives, Gunvalson's appearance on "RHOC" dates back to 2006, when it premiered. From her countless feuds with other housewives, to her high-strung personality and never-ending thirst for drama, Gunvalson was, for many years, the blueprint for other housewives... until she wasn't. In 2019, E News! reported that Gunvalson had been demoted from full-time cast member to a "friend of" the housewives. And then, in 2020, Gunvalson announced her official departure. "It's been an incredible ride for 14 years and I want to thank all of you for your support, for your love and for 'whooping it up!" she wrote in a heartwarming Instagram post.
While on the show, fans also saw Gunvalson navigate her rather chaotic love life, as well as her life as a mother. Previously married twice, the "RHOC" alum shares two kids, Michael  Wolfsmith Jr. and Briana Culberson, with her first husband, Michael J. Wolfsmith. During Gunvalson's time on "RHOC," Michael Jr. and Briana made appearances on the show — a gig that reportedly earned them a daily income of $3,000, per Reality Blurb. 
These days, however, Briana's busy raising a family with her husband, Ryan Culberson. Wolfsmith on the other hand, has been up to a lot — and no, it's not reality TV!
Michael Wolfsmith has moved states
In the time since we last saw Michael Wolfsmith on "The Real Housewives of Orange County," he has been making moves — literally. In 2018, Gunvalson proudly took to Instagram to reveal that Wolfsmith bought a house in San Diego. "Woo hoo! Congratulations @mikewolfsmith on his new home in Pacific Beach," she wrote. "3 story, 3 bedroom, 3 bath. It's only 50 steps to Mission Bay." According to Bustle, Wolfsmith made the big move with Danielle Golden, his girlfriend at the time.
It appears, however, that San Diego was not a permanent stop, as Wolfsmith has yet again moved to a new state. In July 2021, Gunvalson shared pictures of herself hanging out with her son and some of his friends. In the caption, the Real Housewife revealed he'd moved to Hawaii. "Thanks, @mikewolfsmith for taking me out tonight to meet your new friends," she wrote. "It's good to know your in good hands here in Waikiki, as it seems you have met some great people who love you."
As seen on his Instagram, Wolfsmith loves a good adventure, and has traveled to different parts of the United States, as well as the likes of Mexico, Spain, and Ibiza.
Michael Wolfsmith's finding love again
Though we're unsure when his relationship with girlfriend Danielle Golden ended, Michael Wolfsmith's on the lookout for a new partner — and he's apparently taking action toward his goal. In October 2021, Page Six confirmed Wolfsmith was on the dating app Hinge. But, not only is Wolfsmith looking for love, he already has a long list of things he can do with his future partner, including using his "neglected Southwest companion pass."
Clearly one to put his mom's fame to good use, Wolfsmith's profile included sprinkles of details pointing to his relationship with his mom, "The Real Housewives of Orange County" alum Vicki Gunvalson. Amidst a few solo pictures was a photo of the former "RHOC" star posing with her son on a beach. This move was apparently deliberate, with Gunvalson hinting that Wolfsmith was using her to land a few dates. As for what she thought of her son's fun, Gunvalson was indifferent at the time. "I haven't spoken to him and don't really care if he does that," she told Page Six.
Only months prior, Reality Blurb noted that the "RHOC" alum had a falling out with Wolfsmith over their vaccination beliefs. Gunvalson, a notorious anti-vaxxer, was not too pleased with Wolfsmith's decision to get vaccinated in August 2021, reportedly telling him he 'broke her heart."