What Really Happened To Steven Seagal's Failed Reality Show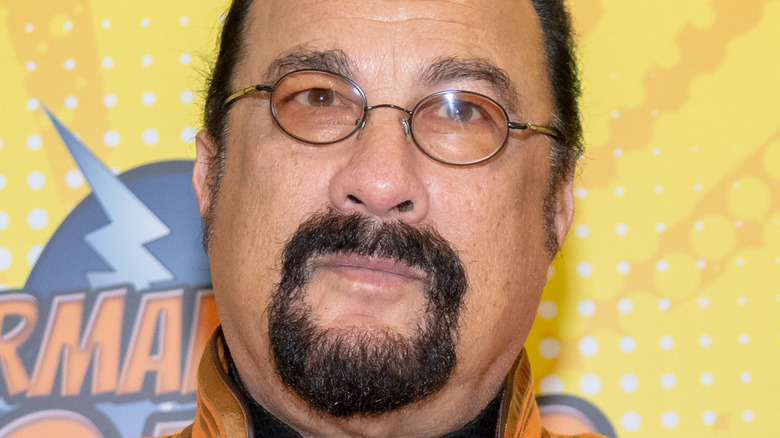 Markus Wissmann/Shutterstock
When it comes to cleaning up the mean streets of Jefferson Parish, Louisiana, there is nobody better equipped for the job than Steven Seagal — according to Seagal. For three gripping seasons of "Steven Seagal: Lawman," fans got a good look at the shady side of Seagal in addition to his terrifying and nail-biting duties as a reserve Deputy Sheriff.
Per Channel Guide, the first two seasons aired on A&E. Still, despite the network filming and promoting Season 3, they suddenly pulled the show without explanation. The controversial third (and last) season was filmed in Maricopa County, Arizona. Reelz ultimately picked up the show; however, they only aired three of the five remaining episodes. The Reelz website still has a gushing synopsis of the show online, which you could almost imagine being written by Seagal himself. The "international movie star, martial arts expert, and experienced law enforcement professional" is also hailed as a musician and devoted philanthropist.
The synopsis promises front-row seats as Seagal and his "hand-selected elite team" respond to intensely dangerous crimes. Seagal never missed a chance to tackle felons, bust out his inner samurai, exterminate rodents, save wounded puppies and stare menacingly while telling his team about the danger they were about to face. The end result (presumably unintentionally) was "Brooklyn Nine-Nine" crossed with "Reno 911!" with a touch of "Cops" thrown into the mix. So, what really happened to Steven Seagal's failed reality show?
Steven Seagal's reality show was a legal nightmare
Steven Seagal's reality show opened to excellent ratings. TV Guide reports 3.4 million watched the premiere. It scored the highest ratings ever for A&E but was far from a hit with the critics. "'Steven Seagal: Lawman' was not intended to be a comedy; however, Seagal may be the star of one of the more humorous shows on TV this season," Mass Live opined. Meanwhile, The Wrap noted the show fell in the "it's so bad it's good" category.
It didn't take long to see why Seagal is considered one of Hollywood's most arrogant celebrities. He was at his swaggering and pompous best throughout. Seagal constantly showed he was the smartest and savviest. In one scene, during a drugs den raid, cops failed to notice a bulging oven glove in the kitchen. Luckily, Seagal did because it was filled with a massive bag of crack — just one of many scenes that came across as scripted proof that reality TV is totally fake.
The New York Daily News reports A&E was sued in 2011 over an allegedly staged arrest after Seagal and his team drove a tank into a house, shot a puppy and killed hundreds of birds when they "unlawfully raided" Jesus Llovera's home on the pretense he was breeding roosters for fighting. According to The Hollywood Reporter, Seagal and A&E were also slapped with a multi-million dollar "idea-theft" lawsuit from producers who alleged they'd pitched the show premise years previously.
Steven Seagal's reality show failed because of politics
It's hardly surprising that A&E decided "Steven Seagal: Lawman" was more drama than it was worth. From the get-go, it was clouded in controversy. Seagal told the L.A. Times he was handed a badge and granted permission to choose his team of deputies by Sheriff Harry Lee. Seagal's martial arts training had impressed Lee so much that he'd brought him onto the force two decades ago. L.A. Times noted the Peace Officer Standards & Training organization had no record of Seagal ever being accredited as an officer.
However, the actor boasted to The Washington Post he'd arrested an innumerable amount of highly dangerous "murderers, bank robbers, rapists, and kidnappers." The Guardian wrote a scathing takedown of the show, questioning if any of it was actually factual. "They've allowed him on real-life major cases? And they've managed to keep it a secret all this time?" They wrote. "Hasn't anyone ever popped up on the local news and said, 'And then Steven Seagal broke into my house with a battering ram and said I was under arrest'?"
Seagal hit back at the haters. "Once they ride with me, see how I shoot, see how I fight, see how I interpret the law, see how I interact with the community and the good guys and bad guys," he told Channel Guide. "They know right away that I'm a cop." Meanwhile, Seagal claimed the show was dropped because of "politics."