What We Know About Avril Lavigne And Chad Kroeger's Mysterious Divorce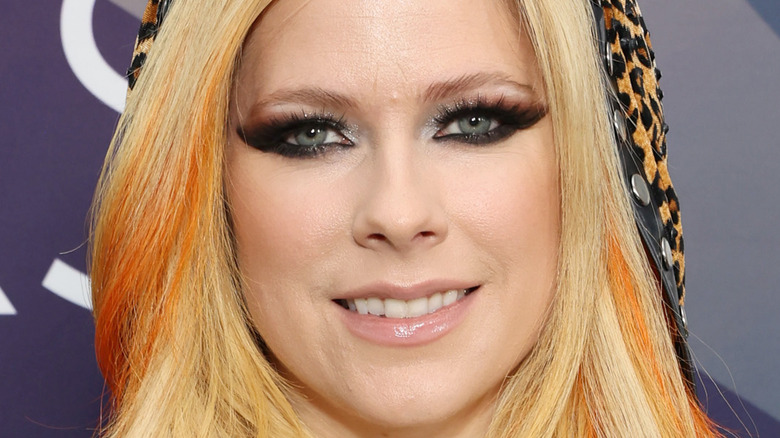 Jason Kempin/Getty Images
While Avril Lavigne isn't one for exploiting her relationships with the public, she has found herself dating and marrying a couple of fellow rock stars.
Lavigne's first marriage in 2006 was to Sum 41 musician Deryk Whibley. However, after many years of knowing one another, they filed for divorce in 2009. "Deryck and I have been together for 6-and-a-half years," Lavigne told fans on her website, via OK!. "We have been friends since I was 17, started dating when I was 19, and married when I was 21." The "I'm With You" hitmaker expressed how grateful she was to have Whibley in her life and stated they remained on friendly terms. 
After news broke in 2014 that Whibley had been undergoing treatment for alcoholism, Lavigne told Kiss 92.5, according to Hello, that she still has nothing but love for her ex-flame. "I was able to visit with him and his mom and he's doing well. I'm proud of him for taking this step," Lavigne explained, adding, "I love Deryck very much. He's family to me ... He's a good guy and I want him to be happy and healthy."
Following her split with Whibley, Lavigne chose to walk down the aisle once again, this time, with Nickelback frontman Chad Kroeger — however, their relationship wasn't meant to be either.
Avril Lavigne and Chad Kroeger got engaged real quick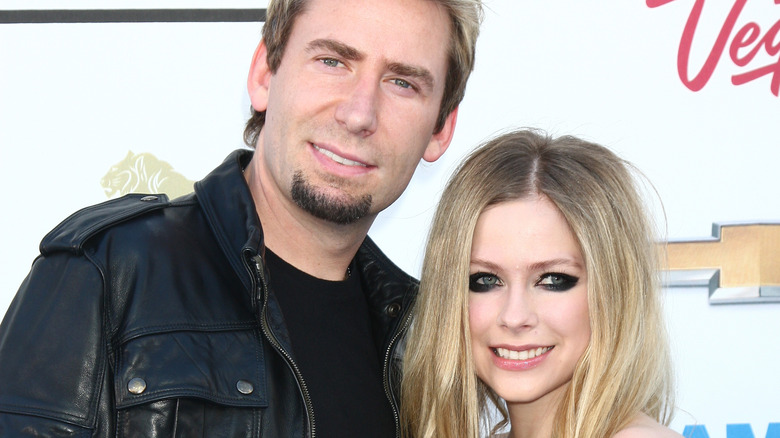 Kathy Hutchins/Shutterstock
Less than four years after announcing she would be divorcing Sum 41 star Deryck Whibley, Avril Lavigne chose to get re-married to Nickelback singer Chad Kroeger in July 2013. In an exclusive with Hello! Canada, the couple revealed they tied the knot at a medieval castle in Cannes. Despite being an intimate ceremony of 110 guests, they honored the occasion with a three-day celebration. "I wanted to make sure it's a crazy vacation and an experience of a lifetime for our guests," Lavigne told the magazine.
Months after falling for the "Hot" hitmaker, Kroeger proposed to Lavigne while they were in Paris. "It was very natural. We were friends having a good time and then it just happened," she explained. "It felt like fate was intervening and I was just being given this wake-up call: don't let this one get away."
Lavigne and Kroeger not only hit things off on the romantic side but also professionally. For Lavigne's 2013 self-titled album, the pair collaborated on the ballad, "Let Me Go." In fact, during an interview with Mario Lopez for Extra, Lavigne revealed the first time they properly met was in the studio cooking up some music. While Lavigne had hopes of staying with Kroeger, she announced in a now-deleted Instagram post, via People, in September 2015 that they had separated. "Through not only the marriage, but the music as well, we've created many unforgettable moments," she wrote before thanking everyone for their ongoing support.
Avril Lavigne apparently broke their 'marriage rules'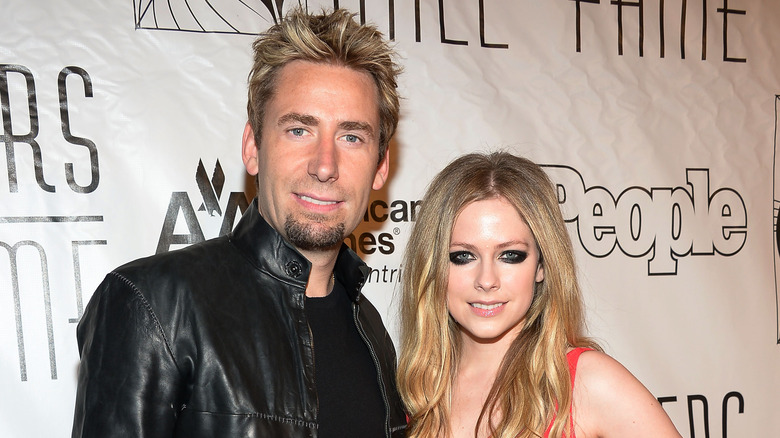 Theo Wargo/Getty Images
Avril Lavigne and Chad Kroeger may have found love quickly, but reports suggested their marriage was in trouble soon after their wedding. As reported by People, Kroeger had previously told the magazine that they have a strict marriage rule that they would not drink without the other being in their company. However, a little over a year after tying the knot, Lavigne was caught drinking with a group of friends without Kroeger, suggesting their relationship was on the rocks. As noted by the outlet, they hadn't been seen together in public for a little while, giving fans the impression that they might have already split. All things considered, they didn't reveal their divorce to the public until another year.
To this day, neither of the singers have confirmed the real reason why they decided to end things. Lavigne, however, has remained positive about her previous divorces in recent years and shared nothing but love towards her ex-husbands, specifically Kroeger. "They're just good people," she told USA Today in 2019. "Chad, in particular, we're actually really close, because that was a more recent relationship. He was with me through a lot and is a really protective person in my life. He's still like family."
Following Lavigne's collab with Kroeger in 2013, the pair have continued to work on music together. For Lavigne's 2019 album "Head Above Water," he provided backing vocals on the album title track and allowed the "Girlfriend" hitmaker to use his studio for the creative process.